Walsh won't alter hitting approach, expand zone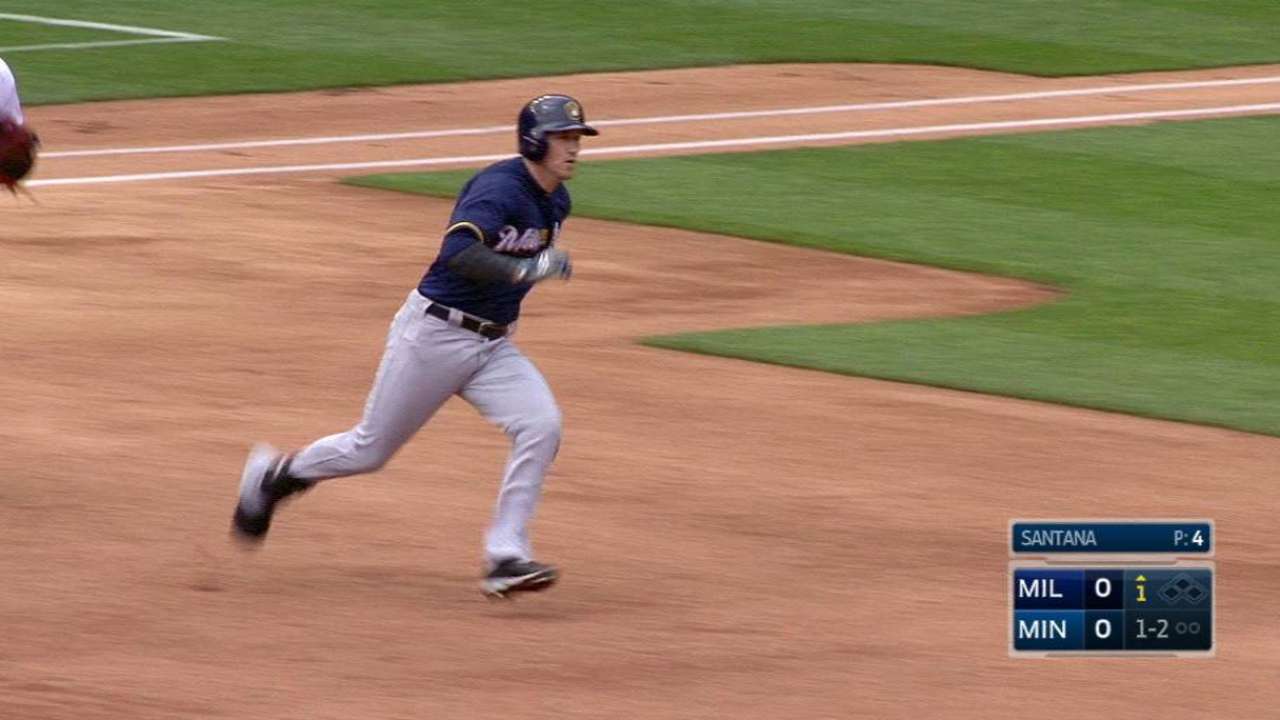 MILWAUKEE -- Three weeks into his Major League career, Brewers rookie and Rule 5 Draft pick Colin Walsh was not about to criticize any umpires. But he was also unwilling to compromise his patient approach at the plate, even in light of some close called third strikes.
One of them came in Friday's 5-2 loss to the Phillies at Miller Park, when Walsh, a switch-hitter who was batting left-handed, was called out on an Aaron Nola pitch that appeared well off the plate. He was called out on strikes again in Saturday's 10-6 loss, when Walsh went 0-for-2 and walked twice. Of Walsh's first eight strikeouts in the Majors, five have been called -- the first four on borderline pitches.
"I feel like I've always had a good grasp of the strike zone. That's been my biggest strength. It's one of the biggest reasons I'm here," Walsh said. "So if I adjust and try to become a different hitter, I'm giving in to factors out of my control. I think I have to continue to take my at-bats the way I've always taken them."
The Brewers plucked Walsh from the A's organization in December's Rule 5 Draft on the strength of his plate discipline. At Double-A Midland last season, Walsh led the Texas League with a .447 on-base percentage and 124 walks. He also tied for the league lead in doubles, a sign he was not up at the plate hunting for walks.
Walsh impressed the Brewers enough in Spring Training to win a roster spot. But Walsh, who must log 90 days of active duty in the Majors this season to remain Brewers property, has one hit in his first 18 big league at-bats, with six walks and eight strikeouts.
"If I adjust and try to become a different hitter," Colin Walsh said of these called third strikes, "I'm giving in." pic.twitter.com/dObTQeho33

— Adam McCalvy (@AdamMcCalvy) April 23, 2016
"One thing for young players is there are less cookies [in the Major Leagues]. Less balls right down the middle," manager Craig Counsell said. "So there's that cat-and-mouse game that the pitcher and hitter are playing. These guys learn to make that adjustment to what is a 'good pitch to hit.' That's why they're big leaguers, because they can handle a little more of the strike zone. That's a little bit of the learning process, I think."
Walsh, however, did not sound ready to expand his zone.
"I remember Joey Votto got interviewed and they said, 'You walk too much, Maybe you should start swinging at close pitches to try to drive runners in,'" Walsh said. "He said, 'Well, if I hit .220 on that pitch, that's really saying that I have no confidence in the guy behind me getting into a good hitter's count and hitting .360 on something.'
"It's kind of selfish to assume I can do more with a [borderline] pitch than the next guy can do with a fresh count. If I start swinging at that pitch, then I'm going to start swinging at pitches even further after that, and chasing pitches I have no chance to hit. My entire philosophy with two strikes is to not swing at pitches I can't put in play hard."
Adam McCalvy has covered the Brewers for MLB.com since 2001. Follow him on Twitter @AdamMcCalvy, like him on Facebook and listen to his podcast. This story was not subject to the approval of Major League Baseball or its clubs.