Hundley starts road back with rehab stint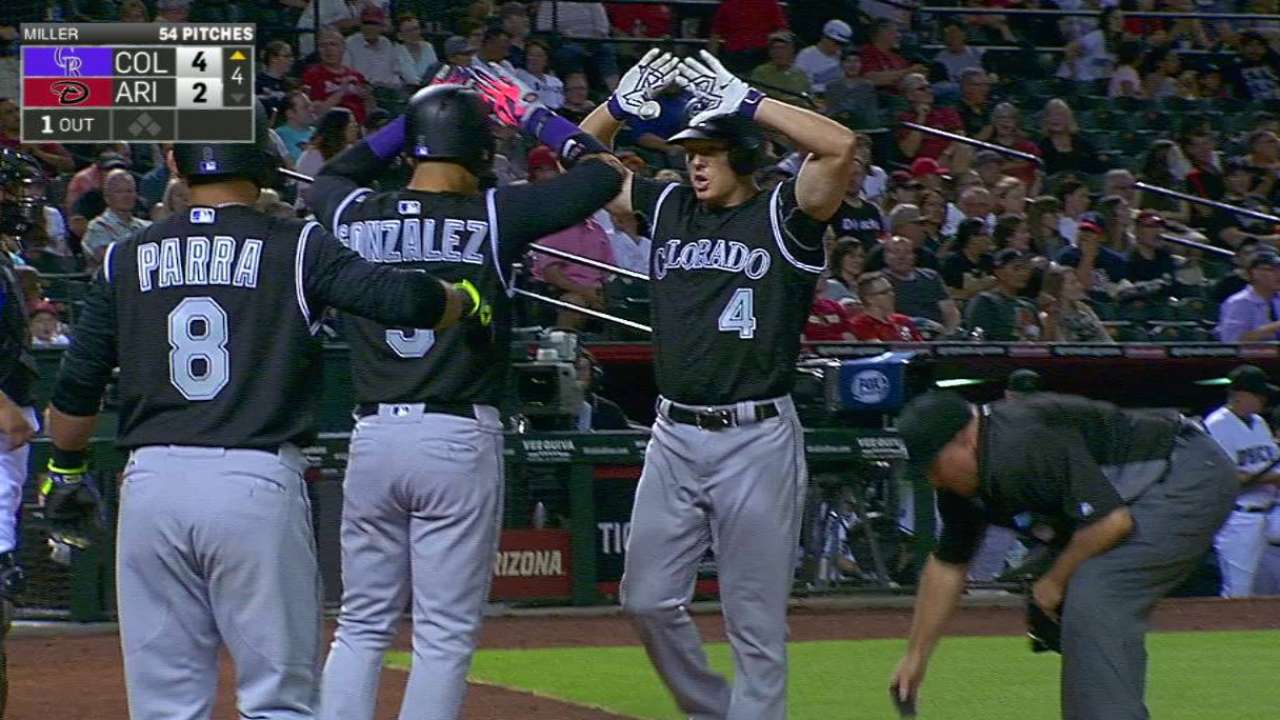 DENVER -- The Rockies moved a step closer to having their roster at full strength Saturday, sending starting catcher Nick Hundley to Las Vegas to join Triple-A Albuquerque for a two-game rehab assignment. Hundley has been on the seven-day concussion list since April 14.
"We could have plugged Nick in, but with a concussion, we look at the protocol a little bit different," Rockies manager Walt Weiss said before Saturday's game with the Dodgers.
"We wanted to get him in a more controlled environment where he can play half the game. Do the same thing again tomorrow. Test out a new mask that he's going to be wearing. It's tough to do those things at the Major League level. That was the biggest reason. He hasn't been out all that long -- you could plug him back in and he'd be fine. But with a head injury it's a little different."
The new mask is something Rockies head athletic trainer Keith Dugger has helped design.
"It's nothing elaborate," Weiss said. "I think there's just a little more padding in there."
Tony Wolters has taken the bulk of the catching duties in Hundley's absence, with Dustin Garneau coming up from Albuquerque and making two starts. The Rockies have won six of Wolters' seven starts, and pitchers have gotten comfortable with him quickly.
"This is the first time I've thrown to him," said Rockies pitcher Jon Gray, who made his season debut Friday, striking out a career-high 10 en route to a 7-5 victory over the Dodgers. "Man, he [Wolters] does a great job. He's a really smart guy. He understands a lot. He understands me and how I work. We had a pretty good connection."
If all goes well in Las Vegas, Weiss said he expects Hundley to be activated Monday for the Pirates series.
The other missing piece from the Rockies lineup is leadoff man and center fielder Charlie Blackmon, who has been out since April 14 with turf toe. The Rockies are hopeful 15 days on the DL will be enough to get Blackmon healthy again.
"Charlie's doing well," Weiss said. "There's a chance we could get him out on a rehab sometime next week. Play a couple games.
"The fact that he's feeling as good as he is right now gives us hope that maybe this thing's behind him. But with foot injuries, plantar fasciitis, turf toe, those things can come back in time."
Owen Perkins is a contributor for MLB.com based in Denver. This story was not subject to the approval of Major League Baseball or its clubs.