deGrom recalls newborn son's emergency
Pitcher rejoins Mets after scary introduction to fatherhood
ATLANTA -- Jacob deGrom remembers intensely watching the monitors at the Halifax hospital in Daytona Beach, Fla.
In the first few days following his son's birth, deGrom witnessed his child go through an MRI, blood work and X-rays. The Mets pitcher's eyes were fixated on the screen filled with moving electronic lines.
"He's in there hooked up to those monitors, so you find yourself constantly watching these monitors, and you're just hoping they don't go back down," deGrom recalled.
Following the birth of Jaxon Anthony on April 11, complications ensued. The newborn child was facing breathing complications, which the doctors described as "apnea." deGrom and his wife, Stacey, first realized the problem while the two were eating.
Stacey's sister Amanda, who is a respiratory therapist, was holding the child when she noticed a change in skin coloring. The medical phenomenon, known as becoming "dusky," happened a second time when deGrom was holding the child later that night.
Another occurrence called for action, as the family asked the nurses to monitor Jaxon for the night.
"When he would fall asleep, he would stop breathing," deGrom said. "We wanted him to be looked at and make sure everything was fine. We gave him to the nurses one night, and it happened a couple times, so they decided it was best that he was monitored."
The child was checked into the neonatal intensive care unit, and he needed to go five days without having an episode before he could be released. deGrom said the problems worked themselves out, and he and his wife returned home with the baby on Monday.
deGrom, who has been away from the team since April 11 after being put on MLB's family-emergency list, returned to the Mets on Saturday, and the right-hander is scheduled to make his second start of the season Sunday against the Braves.
Even while going through the stressful time, deGrom was able to find time to put in work in Port St. Lucie, Fla.
"It was tough to leave, knowing Stacey was going to have to be in there and having to keep going up there with him," deGrom said. "But I knew I had to go get some work done, and I think it was a time, a little bit to get my mind off of things and get away for a little bit. I think that helped me out."
Prior to his son's complications, deGrom had been dealing with a strained right lat muscle suffered in his lone start of the season on April 8. After taking approximately four or five days off from throwing, deGrom said the pain subsided.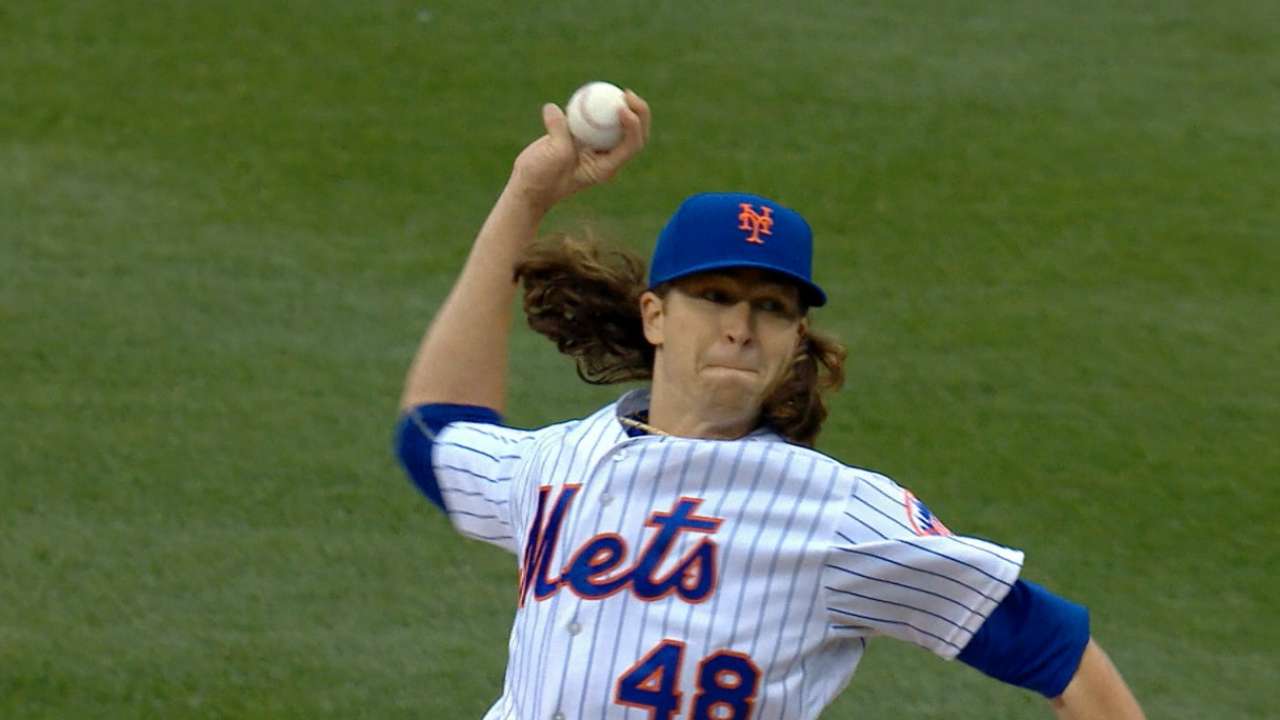 He was also able to work on some mechanical issues while away from the team after noticing that he was throwing off a stiff front leg in his opening start against the Phillies. Now back with the team, deGrom is confident heading into Sunday's start.
"I feel good," deGrom said. "The last few bullpen sessions have been good. I threw what, five innings down in St. Lucie and I felt good there. We were working on some mechanical things too, which I think kind of made the lat a little sore early on.
Other than the initial scare, deGrom has enjoyed fatherhood and is having fun with it. Well, everything except the whole diaper thing.
"That I am still struggling with," he said with a chuckle.
Connor Smolensky is a contributor to MLB.com based in Atlanta. This story was not subject to the approval of Major League Baseball or its clubs.