Sanchez looking to find his footing after latest outing
DETROIT -- Anibal Sanchez is searching for answers. He's far from the only Tigers starter doing that this week.
But the way the team's rotation is set up, Sanchez's search might be the most important. The unraveling that followed his third-inning exit, culminating in Saturday's 10-1 loss to the Indians, reflected it.
"I try my best all the time when I'm on the mound. I know everybody tries," Sanchez said. "We have a pretty good team. When I'm on the mound and I'm not able to throw more than three innings, it's really bad for the team -- especially for the guys on the field."
Jordan Zimmermann has yet to give up a run in three starts as a Tiger. Justin Verlander has struggled, but his seven strong innings on Friday night showed signs of him pitching like a frontline starter again. After that, Detroit has questions.
An effective Sanchez gives the Tigers a trio to help them endure the ups and downs from the rotation's bottom two spots and not overtax their bullpen. Their conundrum on Saturday night, searching for fresh arms for relief with no off-day for another week, reflects the trickle-down effect of Sanchez's struggles.
Through 16 games, just two starters have pitched seven innings in a game -- Zimmerman and Verlander once apiece.
"Our pitch counts have gotten up quick, early," manager Brad Ausmus said. "There's no question about that. If it's a trend that doesn't stop, it's going to be a bigger issue down the road -- not only for our starters, but for our bullpen, too."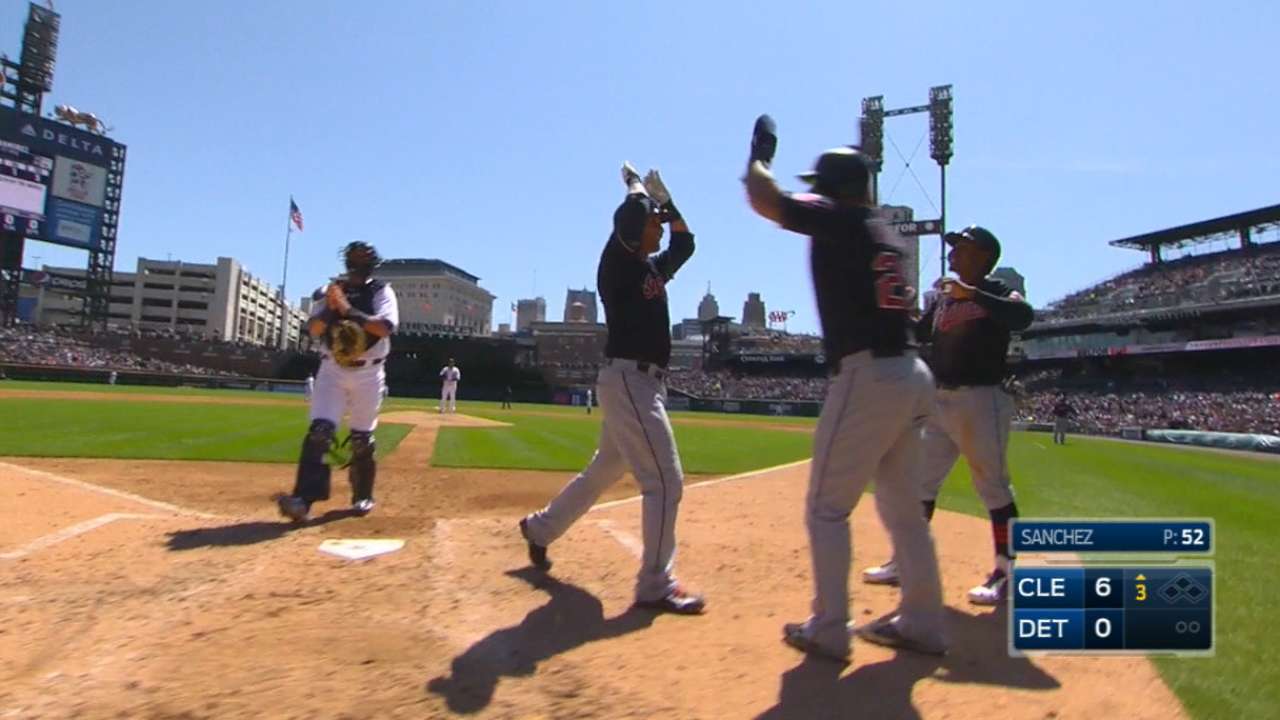 The fact that Sanchez is healthy makes him believe he can be that consistent, effective starter that solidified the Tigers' rotation in 2012 and '13. The fact that he's not effective, struggling with the quieter delivery he has worked on since Spring Training, makes it more frustrating for him.
"I feel really, really good, better than in many years, and it's still happened," Sanchez said.
Sanchez was strong for five-plus innings in each of his first two starts before tiring in the sixth. It wasn't as good as he wanted, but it was deep enough for the Tigers to take a lead and carry it -- winning both times.
Sanchez has struggled in the first inning during each of his last two starts -- 25 pitches and two runs last Sunday against the Astros, 32 on Saturday against the Indians. He was ahead in two-strike counts against five batters, but gave up three hits -- including back-to-back RBI singles by Yan Gomes and Jose Ramirez. Neither was hard-hit, but for someone averaging eight strikeouts per nine innings for his career and the season, it reflected a struggle to finish hitters. Only one of Sanchez's first 32 pitches generated a swing and miss.
Sanchez needed just 11 pitches in the second inning, but the Indians didn't need to work the count the second time through the order. Two singles, a Gomes home run and a Lonnie Chisenhall triple chased him with one out in the third, tying his shortest start as a Tiger.
"I feel sometimes good, and other times it's not good," he said of his mechanics. "There's no blame. I'm struggling location-wise. I'm playing against a big league team that took advantage of all my mistakes."
Jason Beck has covered the Tigers for MLB.com since 2002. Read Beck's Blog, follow him on Twitter @beckjason and listen to his podcast. This story was not subject to the approval of Major League Baseball or its clubs.