Lindor leads Indians' D from seat of his pants
Shortstop's second highlight-reel play comes after he's knocked over by smash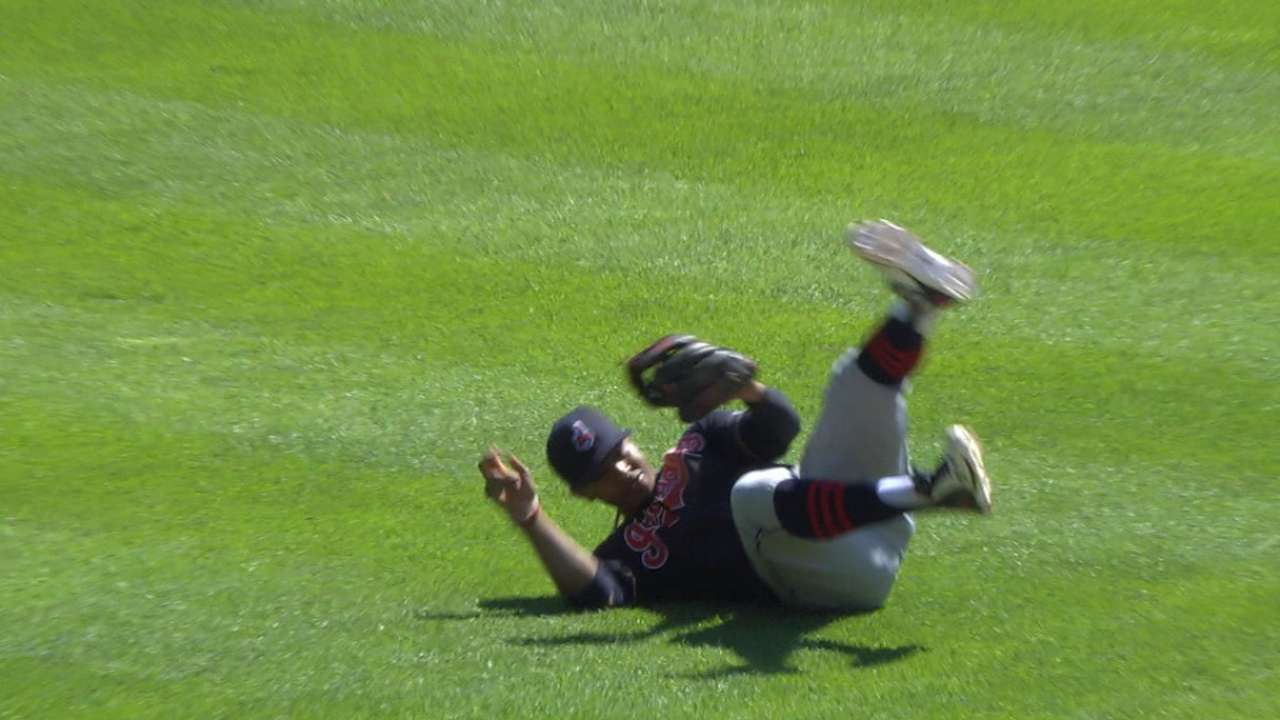 DETROIT -- Francisco Lindor could not stop laughing. The Indians shortstop dropped to a knee in the outfield grass, covered his face with his glove and, while his teammates smiled and shouted playful jabs in his direction, he allowed himself to enjoy the moment.
It was a fun moment for Cleveland within its 10-1 romp over the rival Tigers on Saturday afternoon at Comerica Park. In the seventh inning, a well-struck one-hopper off the bat of slugger Miguel Cabrera ate Lindor up and knocked him over. And, somehow, Lindor once again defied the odds with some defensive wizardry for an improbable out.
"I think the ball caught him," Indians pitcher Corey Kluber said with a smirk.
Leading off the seventh, Cabrera pulled an 0-1 pitch from Kluber directly towards Lindor on the left side of the infield. According to Statcast™, the baseball rocketed off Miggy's bat at 106.6 mph. The shortstop froze for a second before taking a quick step back to try to absorb the ball on the short hop.
At the last possible moment, Lindor got the leather up in time.
"He put his glove out," Indians catcher Yan Gomes said. "If not, it's going to hit him right in the stomach."
The force of the sharply hit ball, combined with Lindor's momentum, led to a near-backwards somersault for the shortstop. When he looked up and saw his spikes above him, Lindor knew he might be in trouble.
"The only thing I saw when I looked up were my toes, the white part of my cleats," Lindor said with a laugh. "I was like, 'Uh oh!' So I got up and threw the ball."
Lindor swiftly shifted his left foot under him and used that leg to push himself up into throwing position. After a quick shuffle of his feet, the shortstop uncorked an 83.3-mph throw to first baseman Mike Napoli, who gloved the ball a step ahead of Cabrera for the out. Per Statcast™, Lindor was given a route efficiency of 89.7 percent, and he covered 10.1 feet on the play.
There is no doubt that the tumble docked some percentage points.
"That was an interesting play," Indians manager Terry Francona said. "I don't know if he stayed in front of it or he couldn't get out of the way of it, but he gathered himself and made a play."
It was the second highlight-reel play of the day for Lindor, who also made a diving stop up the middle to end the fifth inning. For that out, the young shortstop ranged to his left and snagged a sharp grounder off the bat of Detroit's Andrew Romine. That chopper came with an exit velocity of 103.3 mph, but Lindor's quick jump, diving grab and fast exchange led to another great play.
"When you have a guy that makes all the plays and maybe and then some," Francona said, "it certainly adds another dimension to the defense."
Jordan Bastian has covered the Indians for MLB.com since 2011, and previously covered the Blue Jays from 2006-10. Read his blog, Major League Bastian, follow him on Twitter @MLBastian and listen to his podcast. This story was not subject to the approval of Major League Baseball or its clubs.