Mazara's leaping grab caps day of great D
Desmond, Andrus, Moreland and others also shine with glove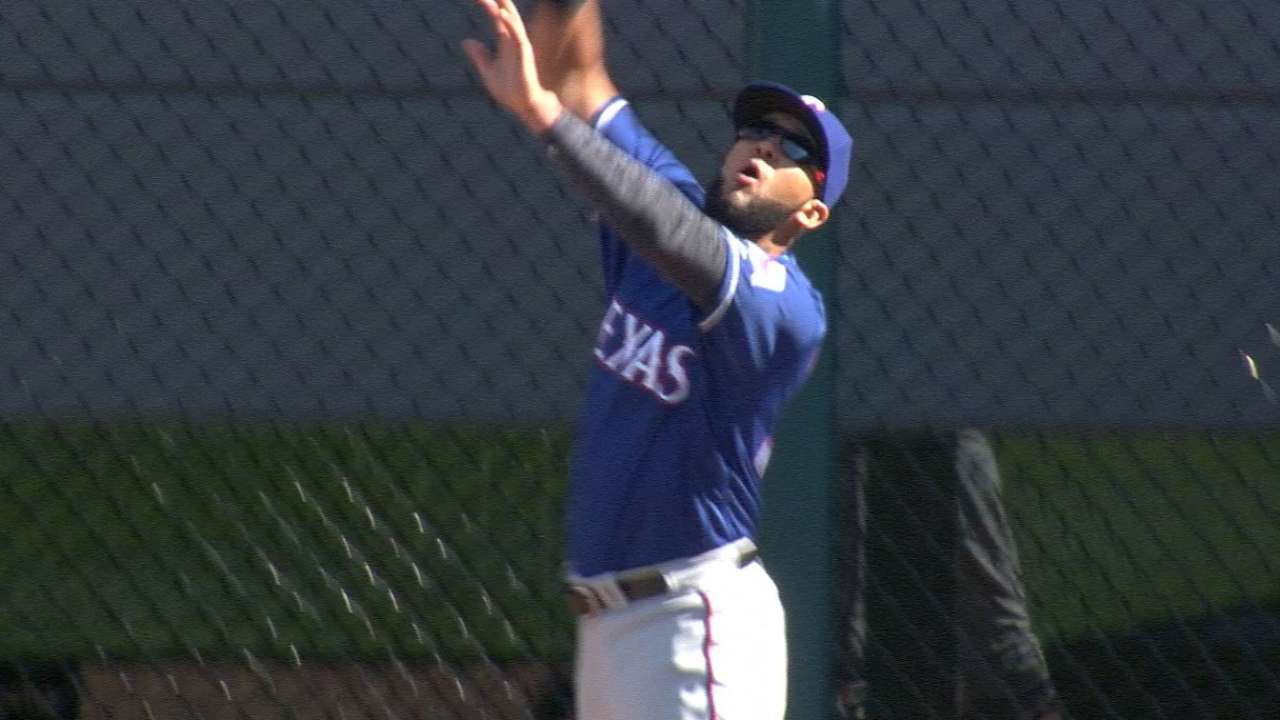 CHICAGO -- The play of the day in the Rangers' 4-3 loss to the White Sox was outfielder Nomar Mazara's catch in the bottom of the ninth inning.
The Rangers and the White Sox were tied, 3-3, with two outs when Todd Frazier drove a ball to deep right field. Mazara jumped up and caught the ball, possibly taking away a game-winning home run.
"Yeah, I think it would have been out," Mazara said.
"It looked like from my vantage point that he robbed a home run," Rangers manager Jeff Banister said. "A great catch."
As it turned out, Mazara's catch only delayed the final outcome, as the White Sox pulled out a walk-off victory in the bottom of the 11th. But the play was just one of many on an amazing afternoon of baseball at U.S. Cellular Field.
"Just a great game," outfielder Ian Desmond said. "That's why we play the game. It was fun, exciting, intense, coming down to the end, mano a mano. That's fun right there."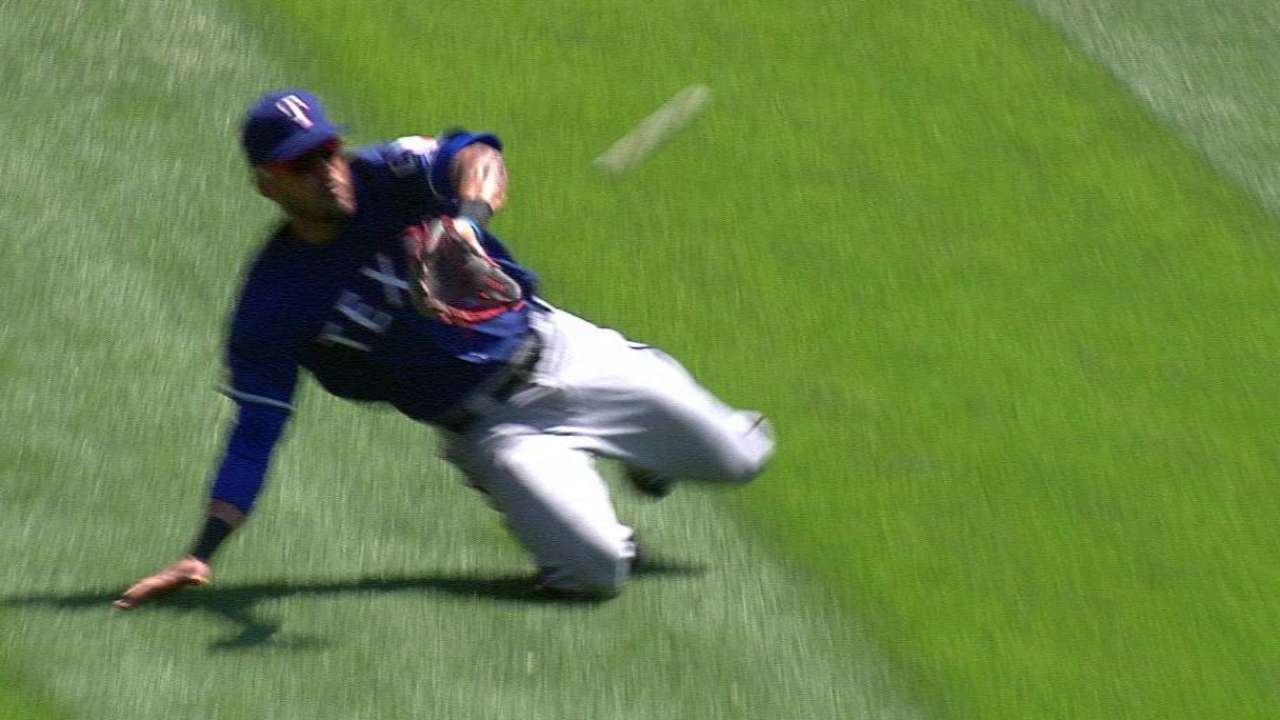 Desmond had a terrific afternoon, recording a home run, three walks, three runs, two stolen bases and a diving catch in left. Elvis Andrus drove him home twice, once with a triple in the seventh and another with a sacrifice fly in the ninth.
Andrus also made a terrific diving catch in the third inning behind Rangers starter Colby Lewis, snagging Jose Abreu's line drive. Lewis was also good, allowing one run through six innings in a pitchers' duel with White Sox left-hander Carlos Rodon.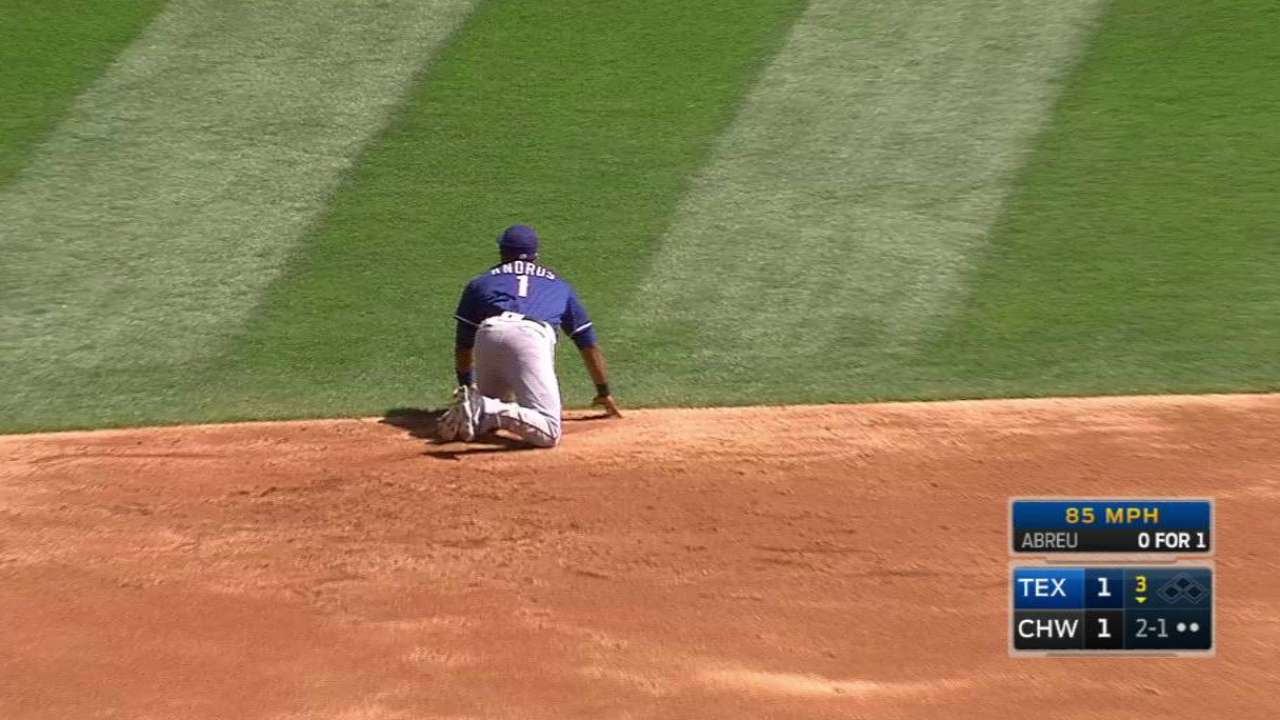 "Great baseball game … little bit of everything," Banister said. "Well-pitched by two starters, nice relief work, good baserunning, timely hitting, two comebacks, great defense.
"I'm proud of our guys, how they came back and battled and stayed engaged. That's a tough ballgame to lose but a lot of positives came out of it. That's a great character builder for our ballclub."
The Rangers led by a run going into the bottom of the eighth before the White Sox scored two off reliever Sam Dyson. The defense saved a bigger inning. The White Sox had runners at the corners with one out when Austin Jackson dropped a squeeze bunt, but first baseman Mitch Moreland jumped on it quickly and threw home for the out.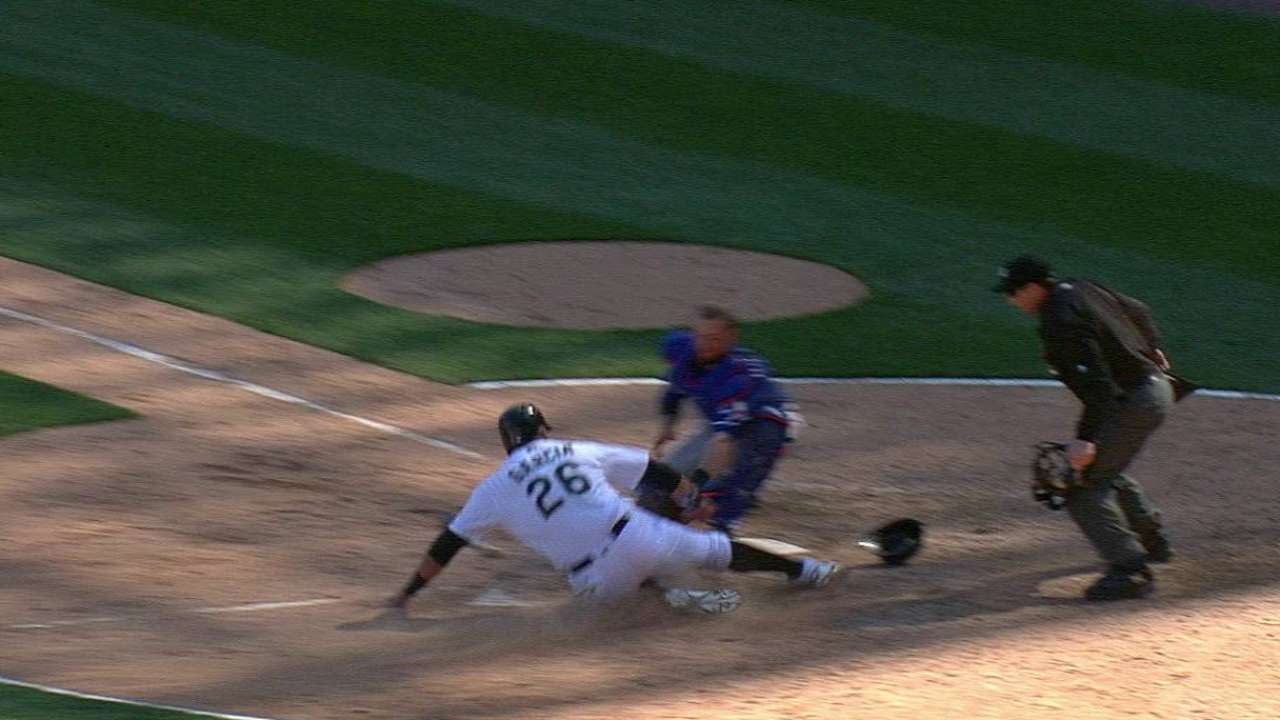 Adam Eaton followed with a single to center, but Delino DeShields threw out Dioner Navarro trying to score to end the inning.
DeShields' play kept it a 3-2 game, and the Rangers tied it in the top of the ninth against White Sox closer David Robertson. Desmond walked, stole second and went to third on Navarro's throwing error. Andrus drove him home with the sacrifice fly. That set up Mazara's game-saving catch in the ninth.
"Too many good things happened to ponder the negatives," Banister said. "A well-fought game by two ballclubs. If you're a fan today and walked away unsatisfied, you don't like baseball."
T.R. Sullivan has covered the Rangers since 1989, and for MLB.com since 2006. Follow him on Twitter @Sullivan_Ranger and listen to his podcast. This story was not subject to the approval of Major League Baseball or its clubs.