Astros roll by Boston on Colby's slam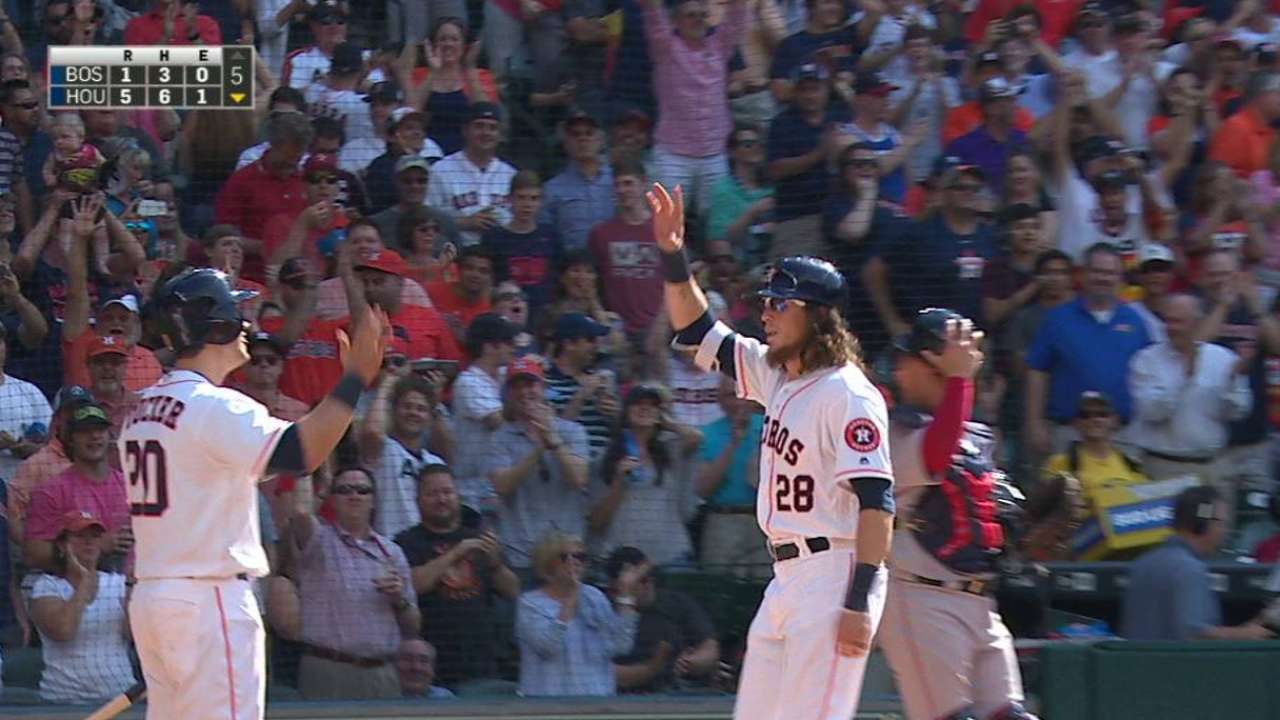 HOUSTON -- Colby Rasmus finally got the big hits the Astros have been waiting for, launching a go-ahead grand slam in the fifth inning and driving in five total runs to propel Houston to an 8-3 win over the Red Sox on Saturday afternoon in Minute Maid Park. The victory snapped the Astros' four-game losing streak and backed up Mike Fiers' 5 1/3 innings of two-run ball on the mound.
After Houston entered the day hitting just .171 with runners in scoring position, Rasmus jumped on Red Sox starter Clay Buchholz's 2-2 two-seam fastball in a 1-1 game with a no-doubter beyond the right-center-field bullpen.
"There was a little bit of an exhale getting a big hit with runners in scoring position to change the score against a good pitcher and somebody that Colby hasn't hit in the past," Houston manager A.J. Hinch said. "A lot of things lined up there, and just an overall good win for us."
• Grand slams mean 40% off pizza
"Me and Colby have faced each other a lot," Buchholz said. "He got me today. … Just one pitch, one swing, four runs. That's why baseball's a hard game."
The Red Sox jumped out to a 1-0 advantage thanks to David Ortiz's RBI single in the opening inning, giving Buchholz an early edge. Other than an RBI groundout in the second, Buchholz was cruising through the Houston order prior to the bumpy fifth inning. He took the loss, and the Red Sox are now winless in his first four 2016 starts.
"The linescore is going to say five runs, but the way he threw the ball today coming off a [good] start against Toronto, he was making very good progress," Boston manager John Farrell said. "The one inning today bit him."
Brock Holt and Josh Rutledge plated runs for Boston in the later innings, but Rasmus, Luis Valbuena and Jose Altuve countered with RBI doubles in the eighth to pad the lead.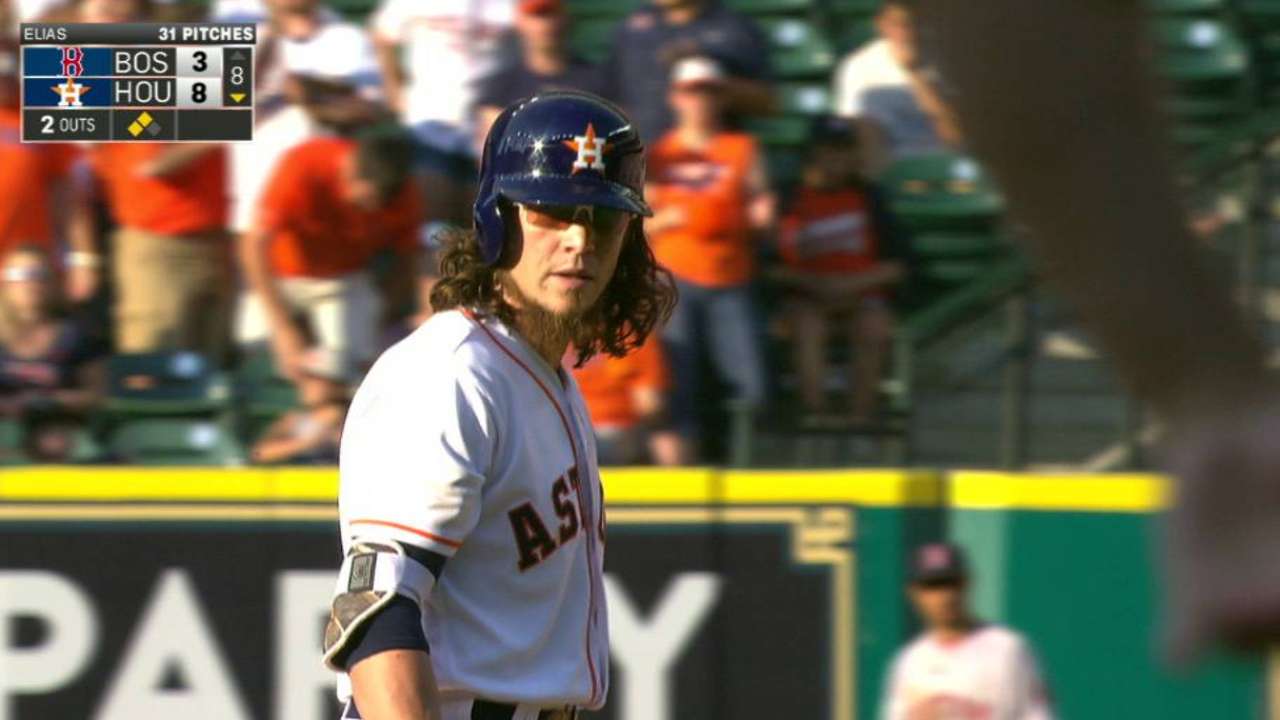 MOMENTS THAT MATTERED
Rasmus rocks it: Rasmus' tie-breaking grand slam off a Buchholz fastball gave the Astros a 5-1 lead and provided a big boost to a team that entered the game last in the American League in hitting with runners in scoring position. Rasmus' sixth home run of the season and fifth career slam scored Altuve, George Springer and Carlos Correa. In the first inning, the Astros were unable to score after Altuve and Springer each singled.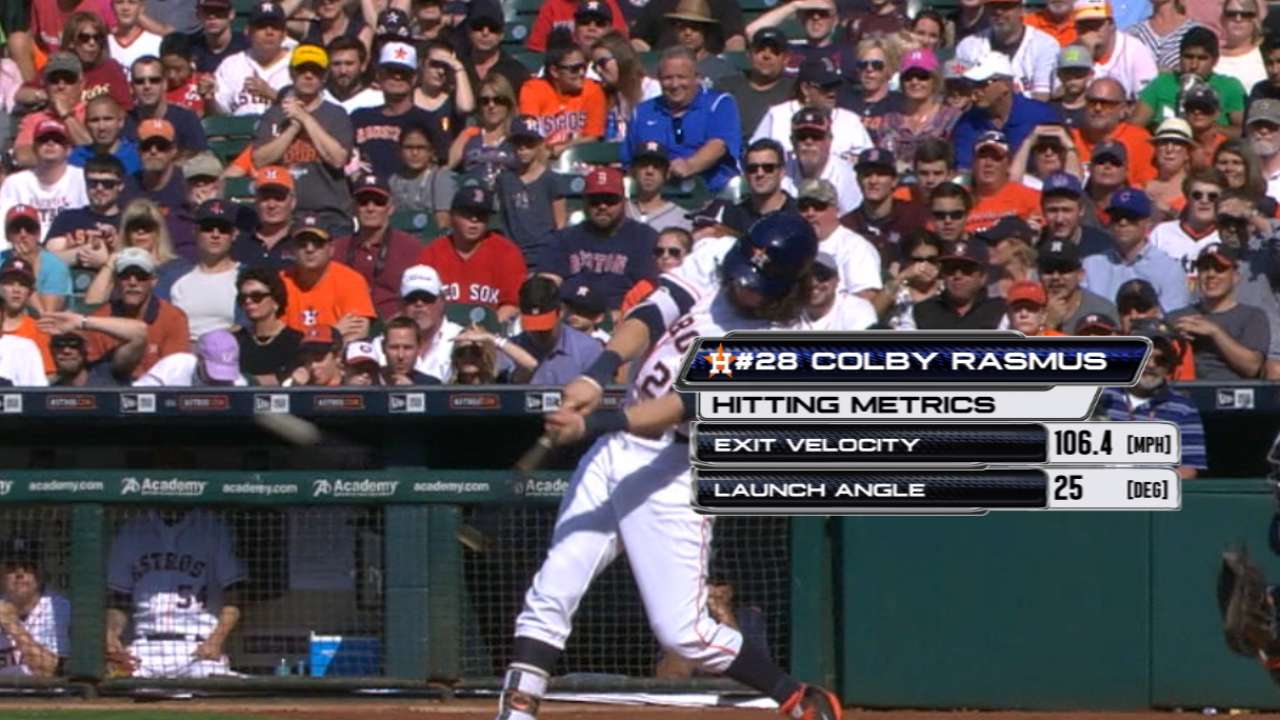 "It felt good getting those timely hits that we've been trying to get," Rasmus said. "We got the crowd going, and everybody was having a good time. It feels good to kind of put it on their throat there like teams have been doing to us a little bit."
Left stranded: Boston continued some mild struggles this series to capitalize on scoring threats. Even though they scored six runs on Friday, the Red Sox recorded 15 hits and left seven on base -- five in scoring position. The trend continued in a frustrating offensive afternoon Saturday, as they left a pair of runners on base in the first and sixth innings. Although Holt did plate a run with his warning-track sac fly, the sixth was especially costly. Only half an inning after Rasmus' big homer, Chris Young grounded out to third as the tying run. Boston left eight men on base.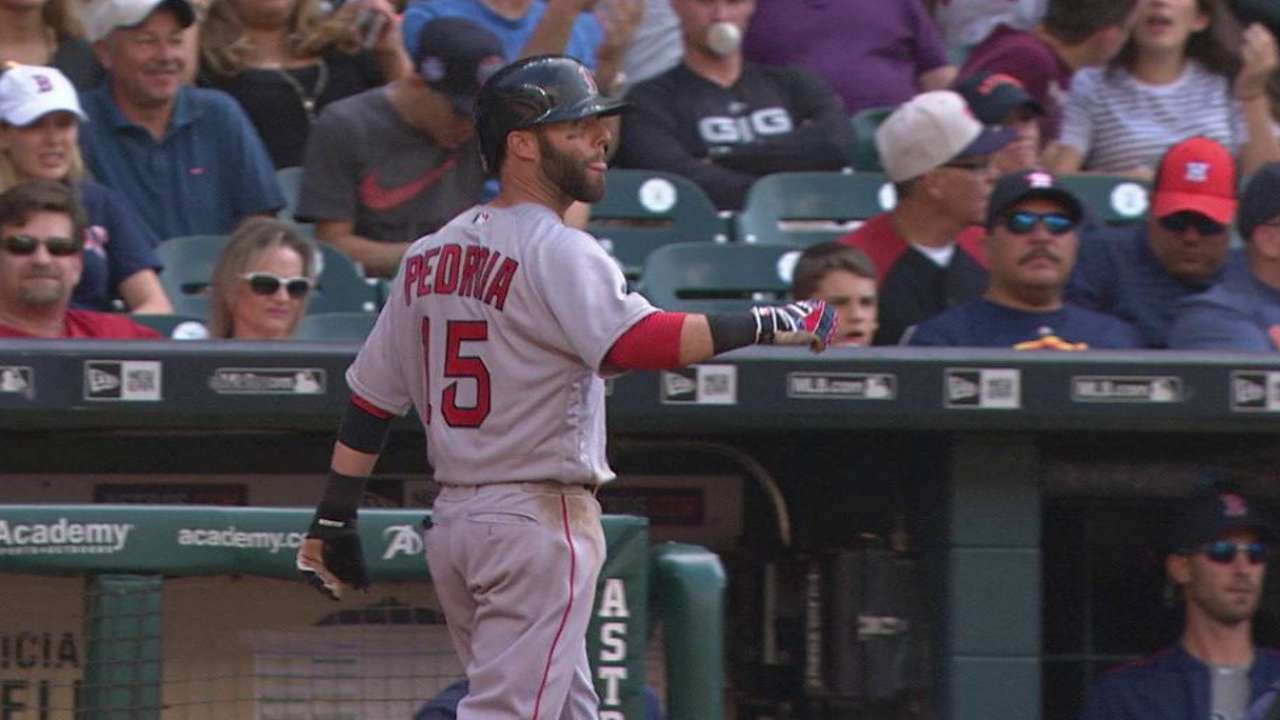 "We're creating a number of opportunities early in games to get a cushion, but we were unable to cash in fully," Farrell said. "We're having a lot of good at-bats."
Fiers keeps it together: After allowing Boston's first three batters to reach base in the first inning, Fiers settled down, allowing only a first-inning run and one more in the sixth over his 5 1/3 innings. From the second through the fifth inning, the right-hander allowed only one baserunner -- Dustin Pedroia's third-inning single. Fiers limited the damage in the first after giving up a single to Mookie Betts to open the game, a walk to Pedroia and an Ortiz single that scored Betts.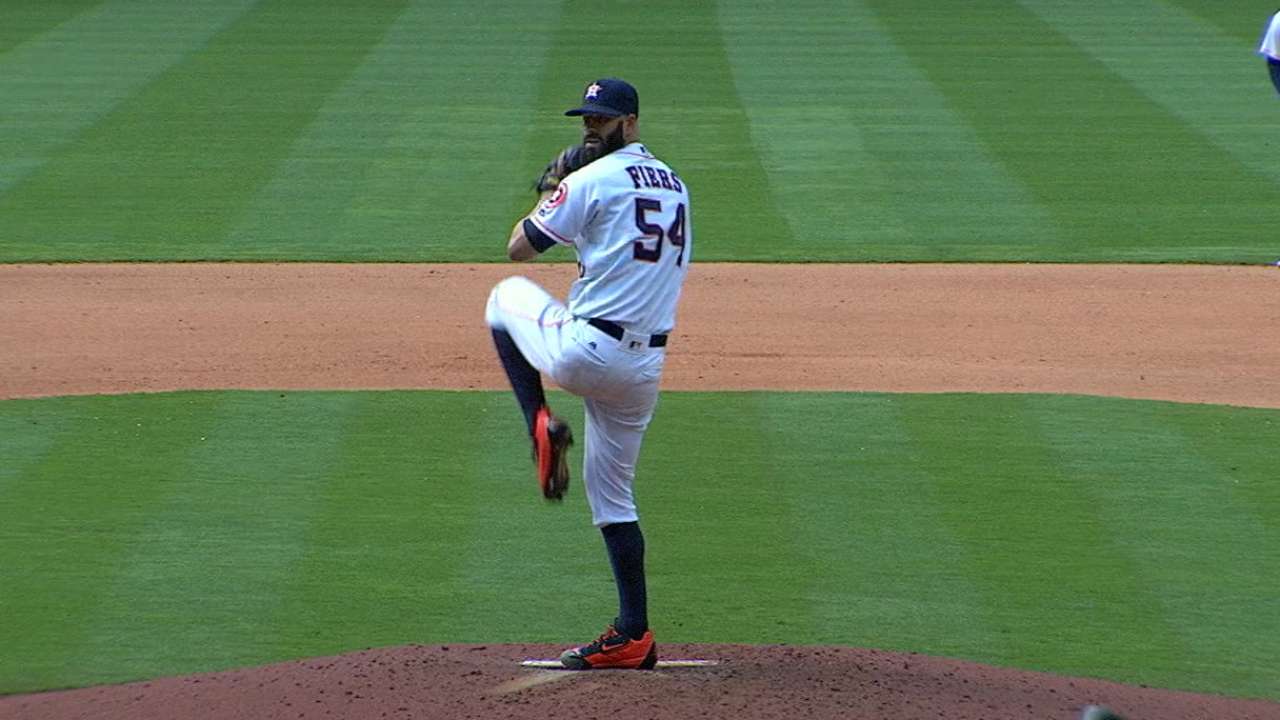 "Being a starting pitcher, what you got to do is limit the damage," Fiers said. "You got to go deeper in the game, and the bullpen came up huge again. I tried not to do anything crazy and just tried to make better pitches. I got into some trouble early on, and Colby's home run lifted us up."
Stand-up trouble: Both teams bumbled and stumbled into an odd play during the seventh inning. Altuve was thrown out at third base, getting tagged by Boston's Travis Shaw. Hinch's managerial challenge was unsuccessful and the call stood. Altuve looped a ball into the shallow right-center-field gap, but Jackie Bradley Jr. and Betts both whiffed diving for the ball. Slow out of the box, Altuve pushed toward third, then appeared to slow up without sliding, allowing a nifty 9-4-5 relay effort to barely nab him with no outs.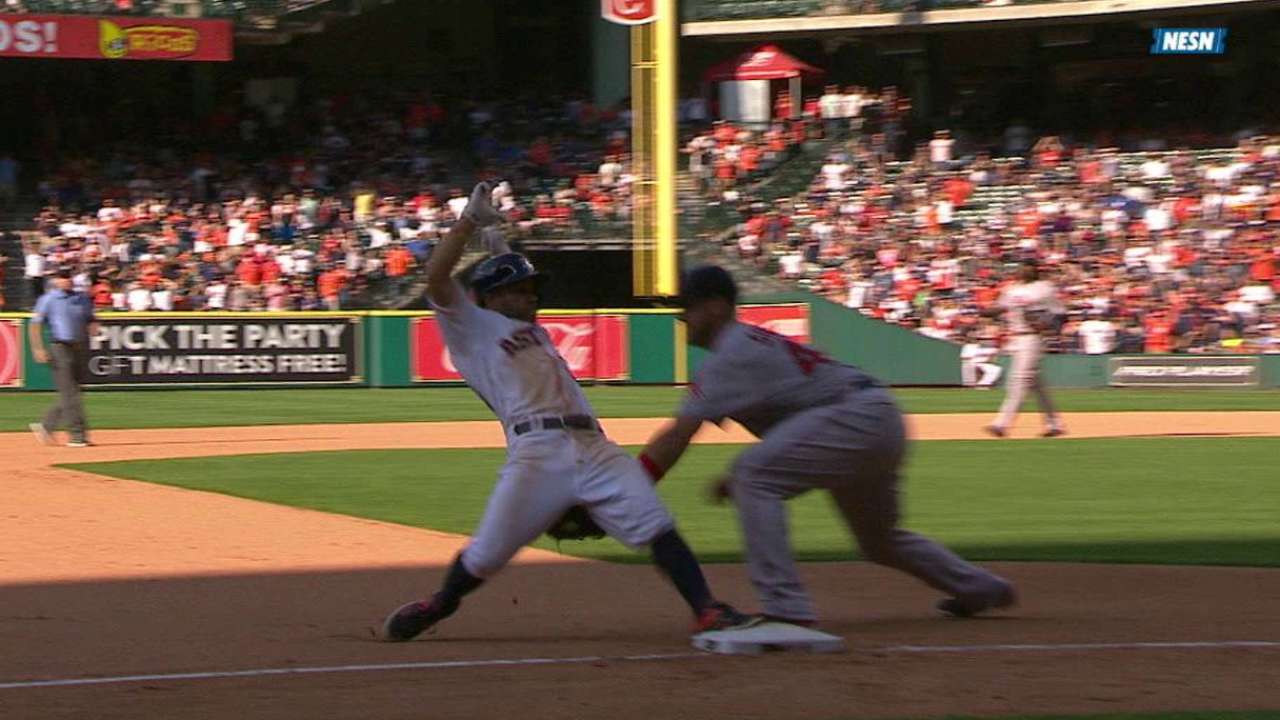 "It looked to me like he was going to be safe," Hinch said. "That notwithstanding, the ball's got to stop you, and the game didn't tell him to stop. I think he took for granted a bit the moment he thought he could cruise into third." More >
QUOTABLE
"We can't just ride a hot Altuve, a hot Springer or a hot Correa. Obviously, we haven't won games when Colby was hot, so the team offense component and putting up good at-bats in a row ... I think today was one our best days of putting up good at-bats and taking what the game gives us." -- Hinch, on breaking out of an offensive slump
SOUND SMART WITH YOUR FRIENDS
A Fort Worth, Texas, native and Rice product, Holt extended his hitting streak to 15 games against his home-state team, the longest active run vs. the Astros. Holt finished Saturday's game 1-for-3 with an RBI.
TOP OF ASTROS' LINEUP SETS TABLE
Springer, along with Altuve, keep setting the table at the top of the Astros' lineup. Springer reached base three times -- two singles and a walk -- and Altuve reached base safely three times, including two doubles and a single. Springer has reached base safely in nine straight games.
"I understand that our job is to get to first base for the guys hitting behind me," Springer said. "I've just slowed some things down [with my swing] and just do my job."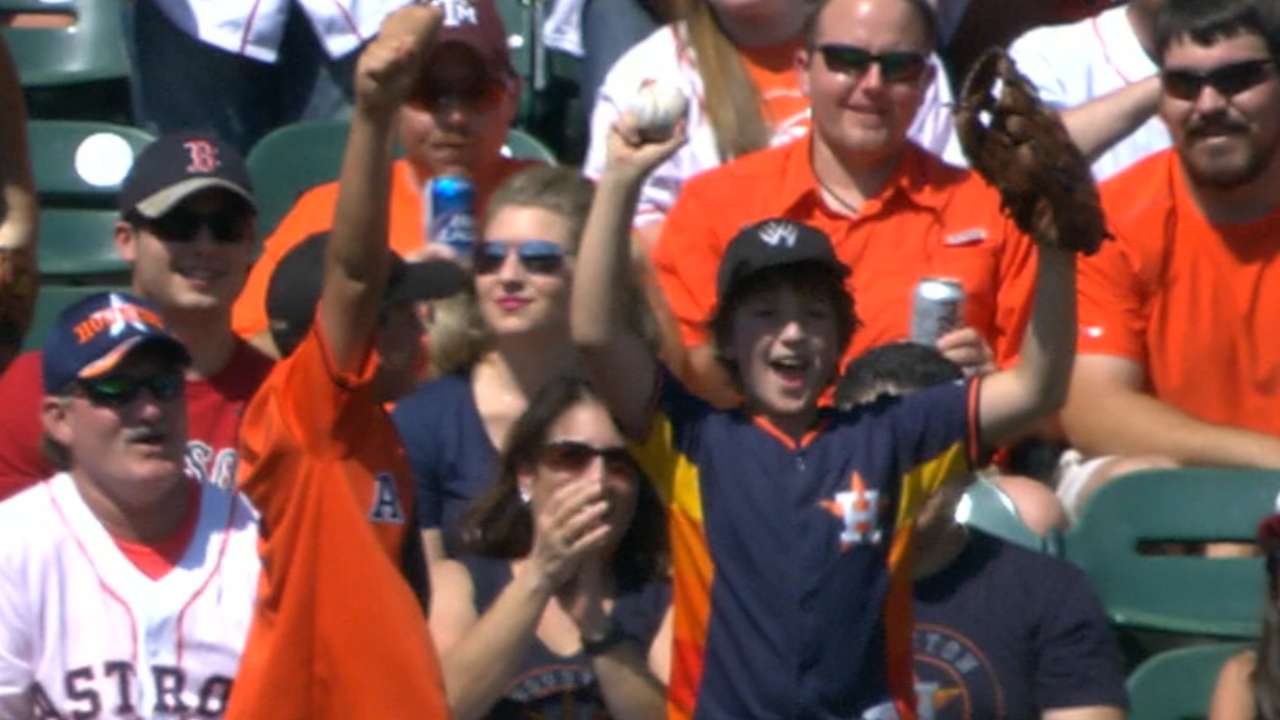 WHAT'S NEXT
Red Sox: The Red Sox turn to Henry Owens, fresh off a three-game stint at Triple-A Pawtucket to begin the season, for Sunday's rubber match at 8:05 p.m. ET in Houston. The southpaw was dominant in the Minors, sporting a 1.00 ERA in 18 innings. Still, he's had command issues all spring and was spotty in his 11 starts for Boston in 2015.
Astros: Scott Feldman, who hasn't had much success against the Red Sox, is seeking his first win in what will be his fourth start of the season at 7:05 p.m. CT. In 13 career games (seven starts) against Boston, Feldman is 1-4 with a 7.24 ERA.
Watch every out-of-market regular season game live on MLB.TV.
Chris Abshire is a contributor to MLB.com based in Houston.

Richard Dean is a contributor to MLB.com based in Houston.

This story was not subject to the approval of Major League Baseball or its clubs.