Keuchel, Altuve presented with hardware
Gold Glove Awards, Silver Slugger given pregame; Correa receives Astros Rookie of the Year award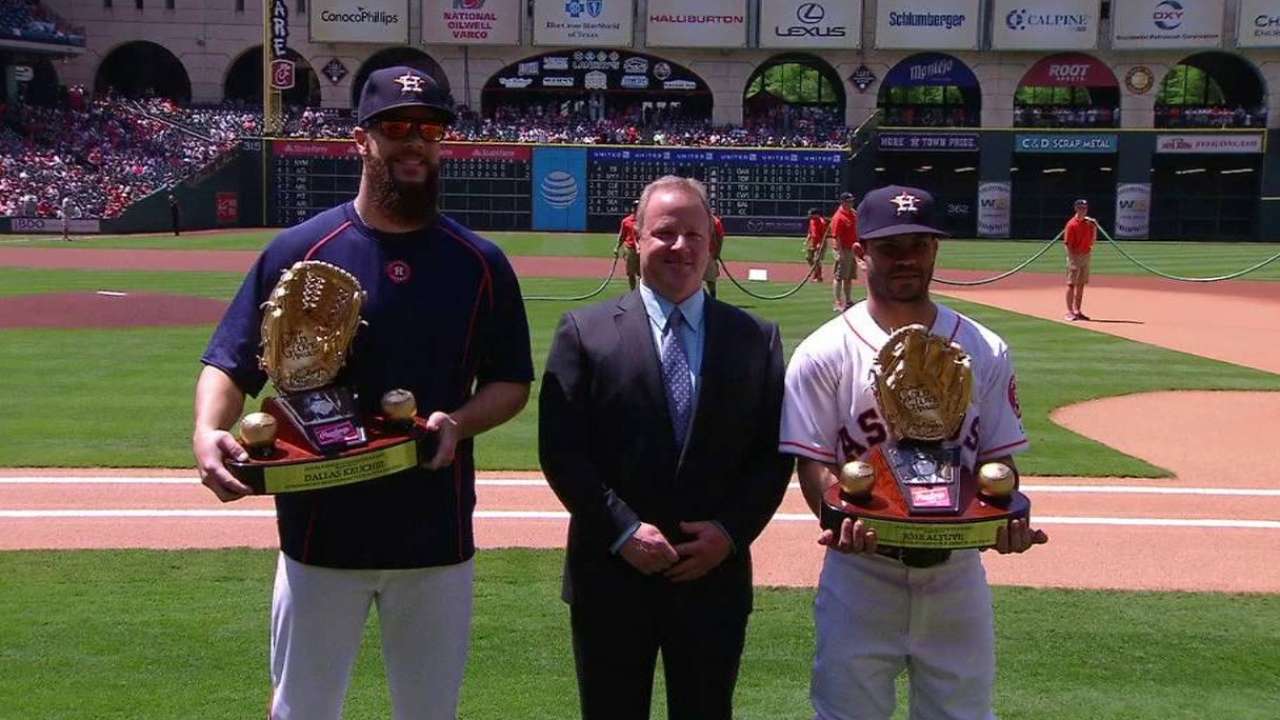 HOUSTON -- Left-hander Dallas Keuchel, second baseman Jose Altuve and shortstop Carlos Correa received hardware prior to Saturday's game against Boston.
Keuchel received his second consecutive Gold Glove Award, and Altuve, a three-time All-Star, was presented with his Gold Glove Award and Silver Slugger Award.
"Defensive excellence is very prevalent," Keuchel said. "As a pitcher, any time you can shorten the game yourself, make some plays for yourself, not have to rely on the other eight guys to do everything for you, it makes the game go a lot faster and helps your cause."
The reigning American League Cy Young Award winner, Keuchel said he takes pride in fielding because he's not a flame thrower and pitches to contact a great deal.
"I'm not a guy that's going to bring you down with velocity," Keuchel said. "So movement, change of speeds, and sometimes guys miss-hit stuff, and you got to be ready for anything that comes back to you. And more times than not, I think I'm ready and make some good plays."
In addition, the Houston chapter of the Baseball Writers' Association of America presented its 2015 awards to Keuchel (team Most Valuable Player, Astros Pitcher of the Year), Correa (Astros Rookie of the Year) and team executive Nolan Ryan (Fred Hartman Long and Meritorious Service Award).
Richard Dean is a contributor to MLB.com based in Houston. This story was not subject to the approval of Major League Baseball or its clubs.