Bogaerts likely to avoid DL after hit-by-pitch
Shortstop out of Saturday's lineup, but X-rays on right wrist negative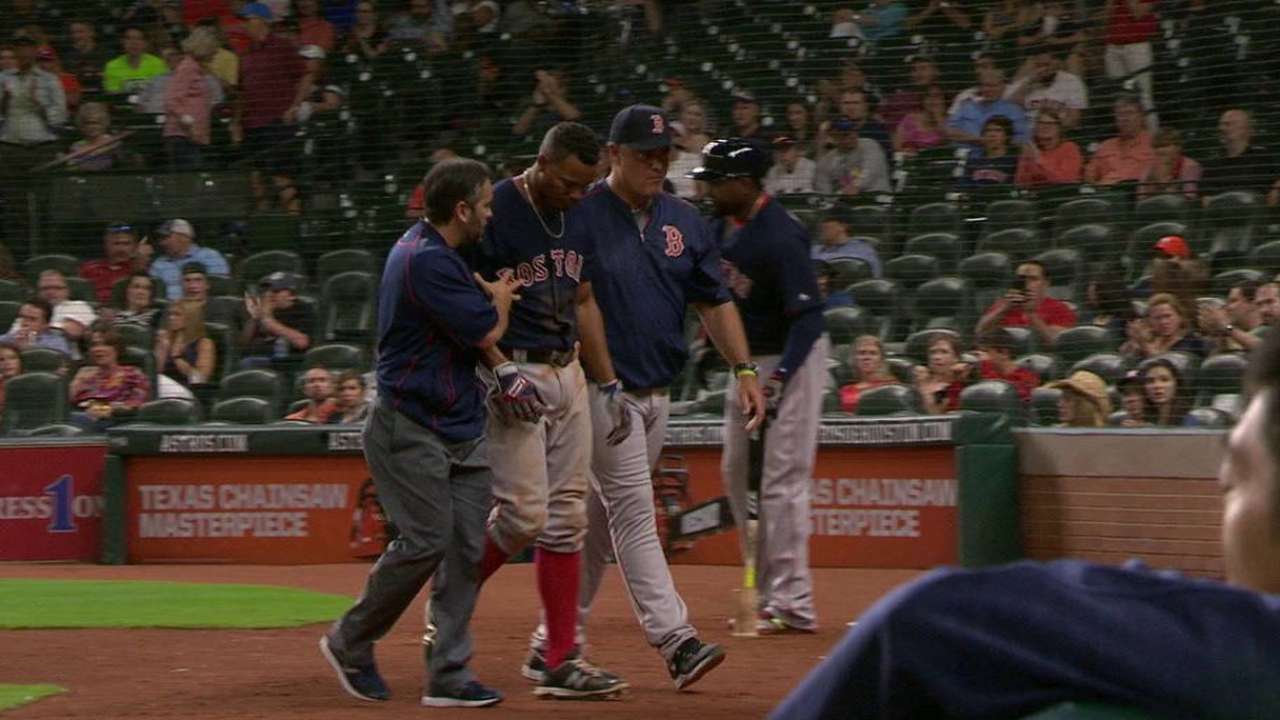 HOUSTON -- Xander Bogaerts was not in the lineup for Saturday's game against the Astros due to a sore right wrist.
X-rays came back negative, though, and a disabled-list stint doesn't seem to be on the table for the durable shortstop. Bogaerts was plunked on the wrist in the ninth inning of Friday's 6-2 win at Minute Maid Park.
"He would be available only in an emergency situation defensively," Boston manager John Farrell said before Saturday's contest. "Not going to take BP here today. But we would hopefully expect him to be back available tomorrow night in the night game."
"Thought I would be able to play today," Bogaerts said. "It's a bit sore. I have the power in it, but the mobility and flexibility is what I don't have."
According to Farrell, there is no hint of structural damage in Bogaerts' wrist, and the shortstop did throw before Saturday's game.
The hit-by-pitch itself was scary, as Luke Gregerson's high heater appeared, at first glance, to strike the infielder in the face as he collapsed to the ground in the batter's box.
Instead, it's merely a minor wrist issue, but it caused Bogaerts to miss his first game of the season.
"I can't say that was planned for today," Farrell said. "All things considered, it's a chance to get off his legs and get past the hit-by-pitch last night."
It's a rare absence for the 23-year-old Aruba native. Bogaerts has played at least 144 games in each of his first two full seasons for the Red Sox.
Chris Abshire is a contributor to MLB.com based in Houston. This story was not subject to the approval of Major League Baseball or its clubs.