Hamilton, Gimenez debut in extended spring games
Injured Rangers to continue rehab in regular Minor League games before returning to bigs
CHICAGO -- Rangers outfielder Josh Hamilton and catcher Chris Gimenez are both back playing in games in extended spring training.
Hamilton was 1-for-2 with a double and two walks as a designated hitter in a game against the D-backs on Friday in Arizona. Hamilton, who is recovering from surgery on his left knee, will play in the controlled environment of extended spring training for about a week and then begin a medical rehabilitation assignment in the Minor Leagues.
The Rangers are aiming for Hamilton to get approximately 35 at-bats between extended spring training and real Minor League games before he is considered an option at the Major League level. He missed all of regular Spring Training while dealing with inflammation in the knee.
"That's the number we'd like him to get to," manager Jeff Banister said. "But it's all about the legs and getting the body ready to perform continually."
Gimenez was playing for the first time since March 26 after being sidelined for almost a month because of an infection in his left ankle. He was 2-for-5 in the extended spring training game and caught three innings behind the plate. He could start a rehab assignment as early as Monday.
Davis activated at Round Rock
The Rangers have activated first baseman Ike Davis from the disabled list and assigned him to Triple-A Round Rock. He was 0-for-2 with a walk and a sacrifice fly in a 3-2 loss to Omaha on Friday night.
Davis was signed by the Rangers to a Minor League contract at the beginning of Spring Training, but his chances of making the team were squelched by a sprained right knee. He was already recovering from major surgery on his left hip from the previous year.
Davis' best year was with the Mets in 2012 when he hit .227 but with 32 home runs, 90 RBIs and a .462 slugging percentage. But over the past three years he has hit a combined .222 with 23 home runs, 104 RBIs and a .356 slugging percentage.
Rangers beat
• Banister on the triple play from Friday night which included baserunning mistakes by Prince Fielder, Adrian Beltre and Ian Desmond: "Three veteran ballplayers all read the ball exactly the same way. They thought it was going to be a base hit. I'm not going to criticize them if they all read it the same way. It doesn't look good, it doesn't feel good. ... There is no feeling good about it. We're an aggressive baserunning team. Sometimes being aggressive, there's a little pain with it."
• With the triple play on Friday night, the Rangers have gone 160 at-bats with the bases loaded without a grand slam. Their last one was from Rougned Odor on Aug. 27, 2014. They were the only Major League team not to hit a grand slam last season after the Rays hit one on the final day. Former Ranger Joey Butler hit it off Mark Buehrle.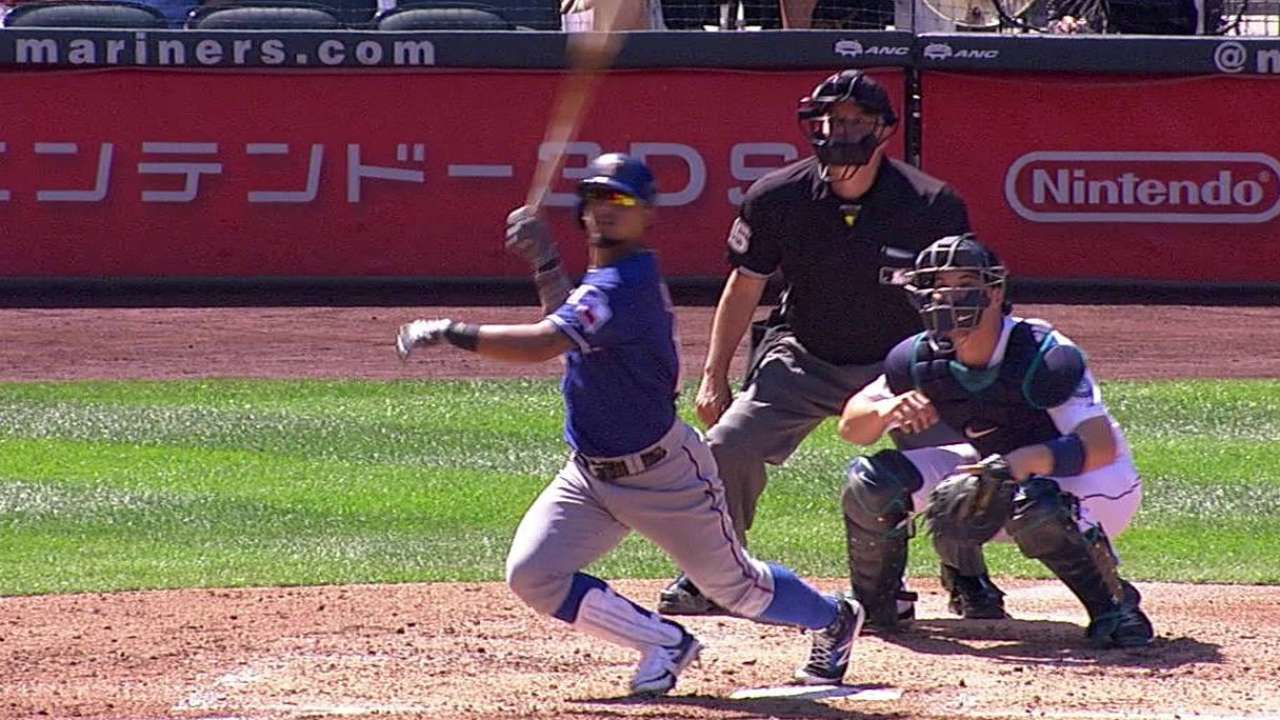 • The Rangers are the first team to have a triple play turned against them and get shut out since the Dodgers on Aug. 15, 2011.
T.R. Sullivan has covered the Rangers since 1989, and for MLB.com since 2006. Follow him on Twitter @Sullivan_Ranger and listen to his podcast. This story was not subject to the approval of Major League Baseball or its clubs.