Pelfrey working the kinks out of his sinker
DETROIT -- The first sign that Mike Pelfrey's between-starts side session was fairly serious on Saturday morning was when manager Brad Ausmus got out his mitt and a mask and caught him. The longtime catcher has done it for pitchers more than a few times the last few years, but usually saves it for when he wants to get a familiar vantage point for pitch movement.
The other sign came when Ausmus and Pelfrey went out to the bullpen and got to work. By the time they were done, Pelfrey had made more than 50 pitches. It was a Verlander-like session, especially with no extra day between starts.
It was that important for Pelfrey to get his sinker down, literally and figuratively.
Pelfrey and pitching coach Rich Dubee all looked at video of Pelfrey this season and compared it to his past, trying to figure out adjustments to make. The sinker, a pitch that was flat last summer, was flat during Pelfrey's last start. So was the splitter, which was a big pitch for him last season in Minnesota.
"The ball's not sinking. It's running more. That tells me I'm not getting on top of it," Pelfrey said, after Thursday's 4-0 loss to the Royals.
The flat trend seemed to begin near the end of Spring Training. It has continued so far. While he's inducing twice as many ground balls as fly balls, his hard-hit rate has jumped from just over 25 percent for most of his career to 41 percent in the small sample size he has assembled this season, according to Fangraphs.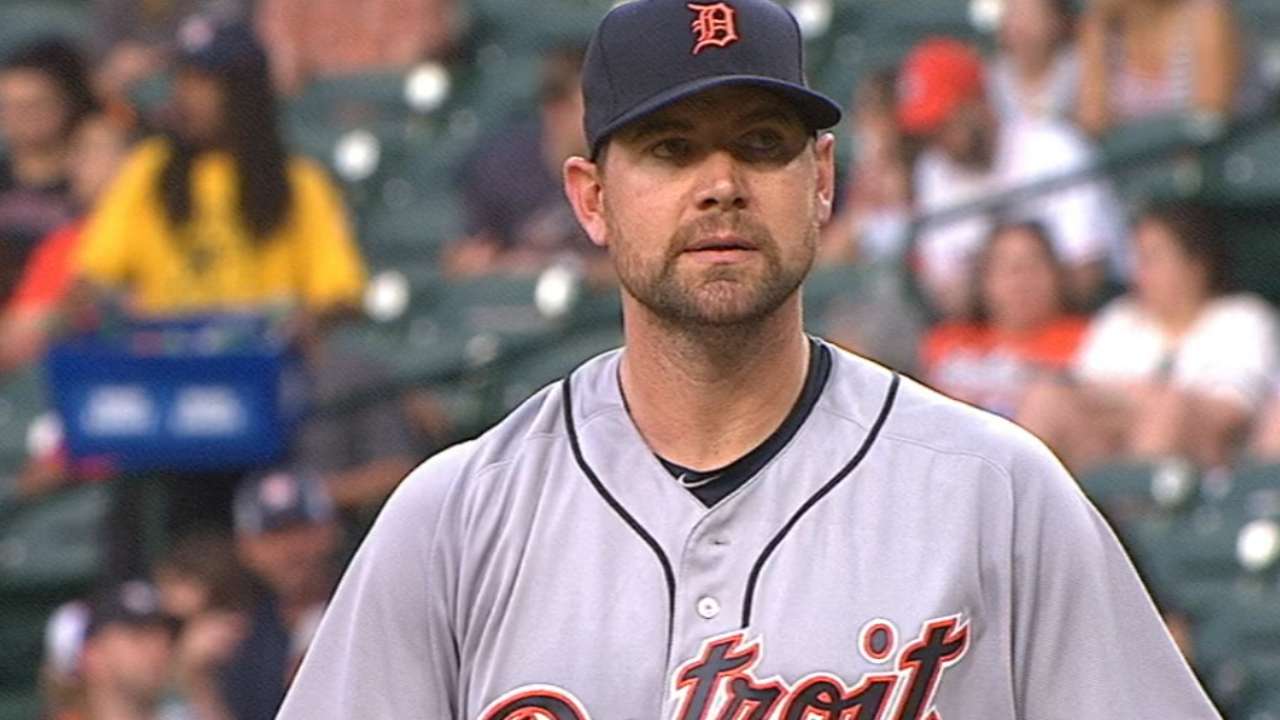 His sinker, which averaged 93-94 mph last season in Minnesota, has averaged 92.3 mph over his three starts this season, according to data from MLB.com Gameday and brooksbaseball.net.
"For whatever reason, he got away from it," Dubee said. "I don't know if he was tinkering or lost his way. We'll see. We'll keep working at it."
Pelfrey's next start is on Tuesday against Oakland at Comerica Park. He'll be pitching opposite former University of Michigan standout Rich Hill, who was similarly viewed as a risk-reward signing when the A's grabbed him off the free-agent market with a one-year deal last November.
For the Tigers to get the reward end of the Pelfrey debate, he has to get his pitches sinking again.
Jason Beck has covered the Tigers for MLB.com since 2002. Read Beck's Blog, follow him on Twitter @beckjason and listen to his podcast. This story was not subject to the approval of Major League Baseball or its clubs.