Tanner boil: Nat fans 15; Strasburg next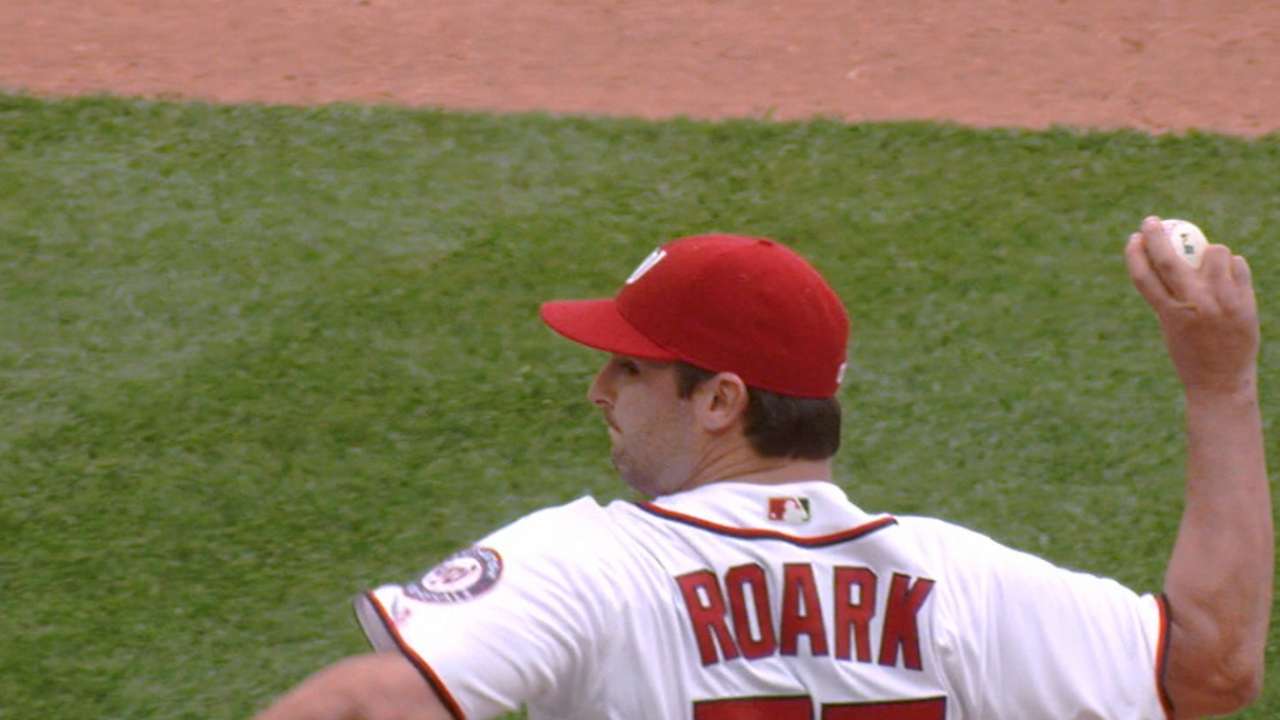 WASHINGTON -- Tanner Roark, a supporting member of a star-laden rotation, threw one of the best starts in Nationals history in a 2-0 victory against the Twins on Saturday afternoon at Nationals Park. The right-hander struck out a career-high 15 batters in seven innings, holding the Twins to a pair of hits while tossing a career-high 121 pitches.
"I was throwing four pitches to lefties and righties," Roark said. "Keeping them guessing, keeping them uncomfortable up at the plate, trying to get ahead with strike one. In the first inning, that wasn't really the case. So you really got to go after it and be aggressive, keep going at the hitters."
• Dominant Roark records 15 K's vs. Twins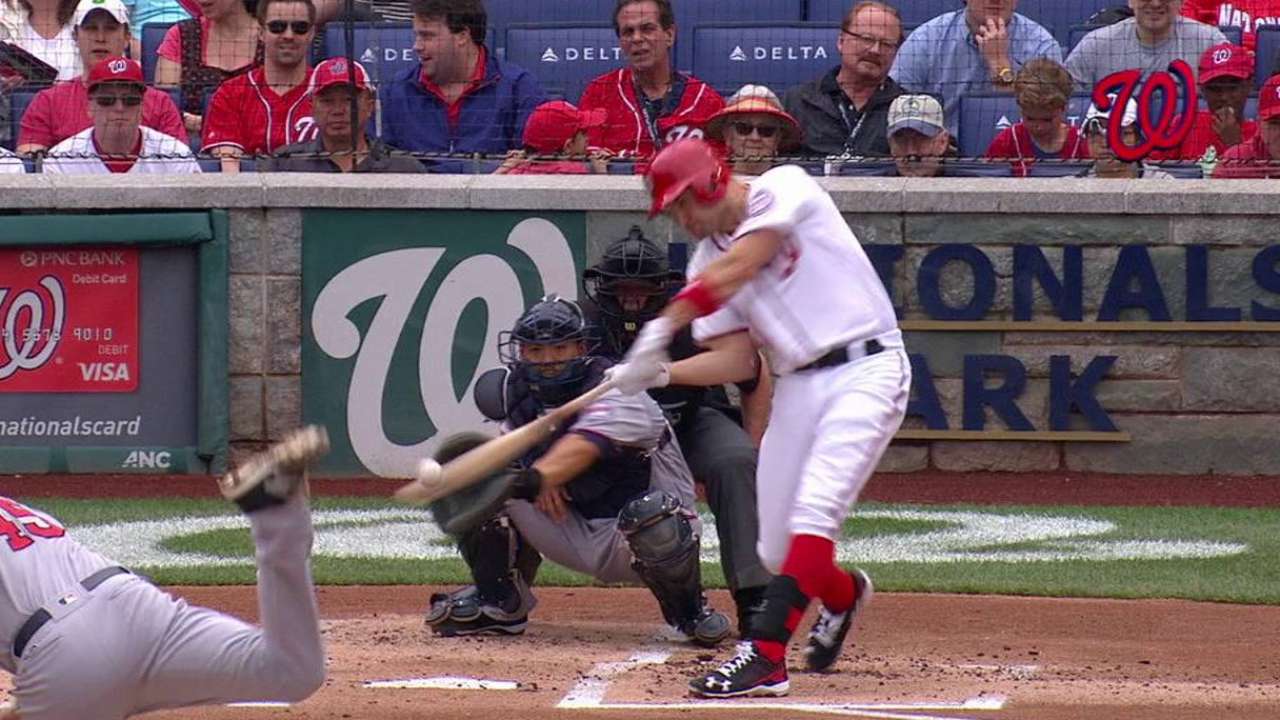 Things don't get any easier for the Twins on Sunday, as they now must face one of the Nationals' aces, Stephen Strasburg, who is already 3-0 in three starts, with a 1.25 ERA and only 21 strikeouts.
Nationals go for the sweep behind Strasburg
The Nationals gave Roark an early lead with a two-run single by Ryan Zimmerman off Twins right-hander Phil Hughes in the first inning. Bryce Harper added a pair of doubles as the Nationals improved to 13-4, which matches the Cubs (who play Saturday night) for the best record in baseball.
Hughes settled down after the first and turned in a quality outing of his own. He allowed only three hits and no runs in his final six innings of work, but the Twins offense struck out 18 times.
"I was able to keep us close, but at the end of the day, you have to tip your cap to Tanner," Hughes said. "He pitched outstanding."
• Twins' bats tie franchise record in strikeouts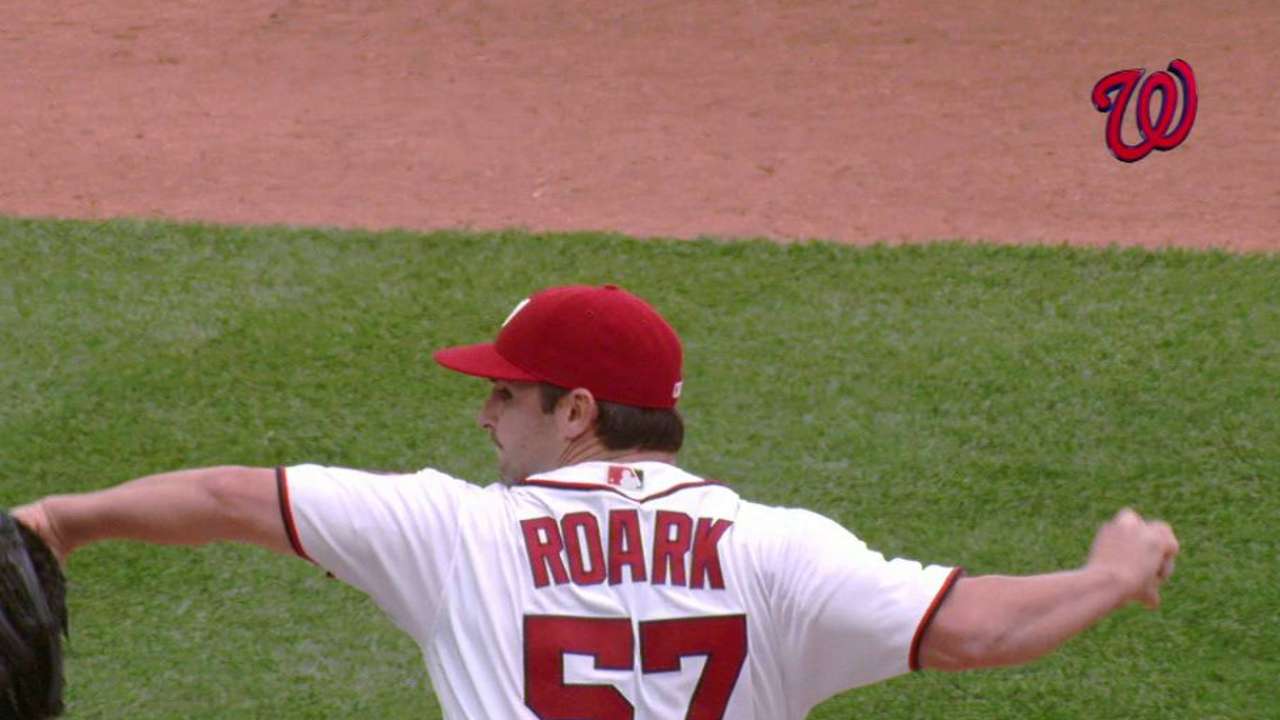 MOMENTS THAT MATTERED
Roark dominates: Roark shattered his career high for strikeouts by the fifth inning, in the second double-digit strikeout game of his career. Max Scherzer is the only Nationals pitcher to strike out more batters in a game (16 on June 14, 2015, and 17 on October 3, 2015).
"That's baseball. On a given day, anybody can be a world-beater," pitching coach Mike Maddux said. "Today was Tanner's day to do that, to have that special moment. I think Max had a couple last year, very special moments. Today was a special moment for Tanner."
Hughes the man: Hughes had his best start of the season for the Twins, throwing seven innings for the first time in 2016 and allowing fewer than three runs for the first time, as well, despite striking out only two batters.
"He was aggressive, especially inside," Twins manager Paul Molitor said. "He just did a nice job. He stayed aggressive, he was strong, kept his pitch count down. So he did everything he could to give us a chance."
• Sano starts at third base; Molitor still considers him right fielder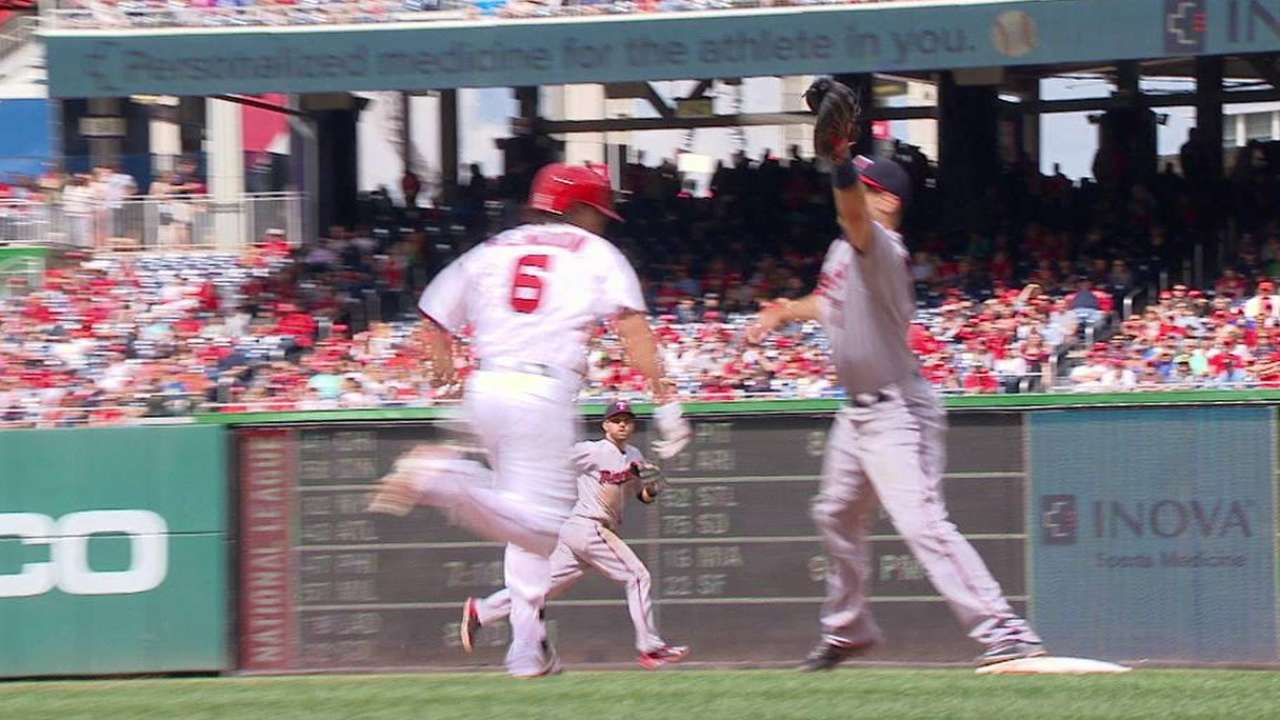 Fast start: With a pair of runs in the first inning, the Nationals have now scored 24 runs in the opening frame this season, more than any other team has scored in any inning this season. The Rockies entered the day second on the list having scored 21 times in the eighth inning.
"It's good, but we need to keep going," Zimmerman said. "We've scored some runs in the first inning and then kind of let the pitcher hang around when we had chances. I'm not going to complain about scoring first-inning runs, but we need to capitalize on some more opportunities that we've had and score some more runs in the other innings, as well."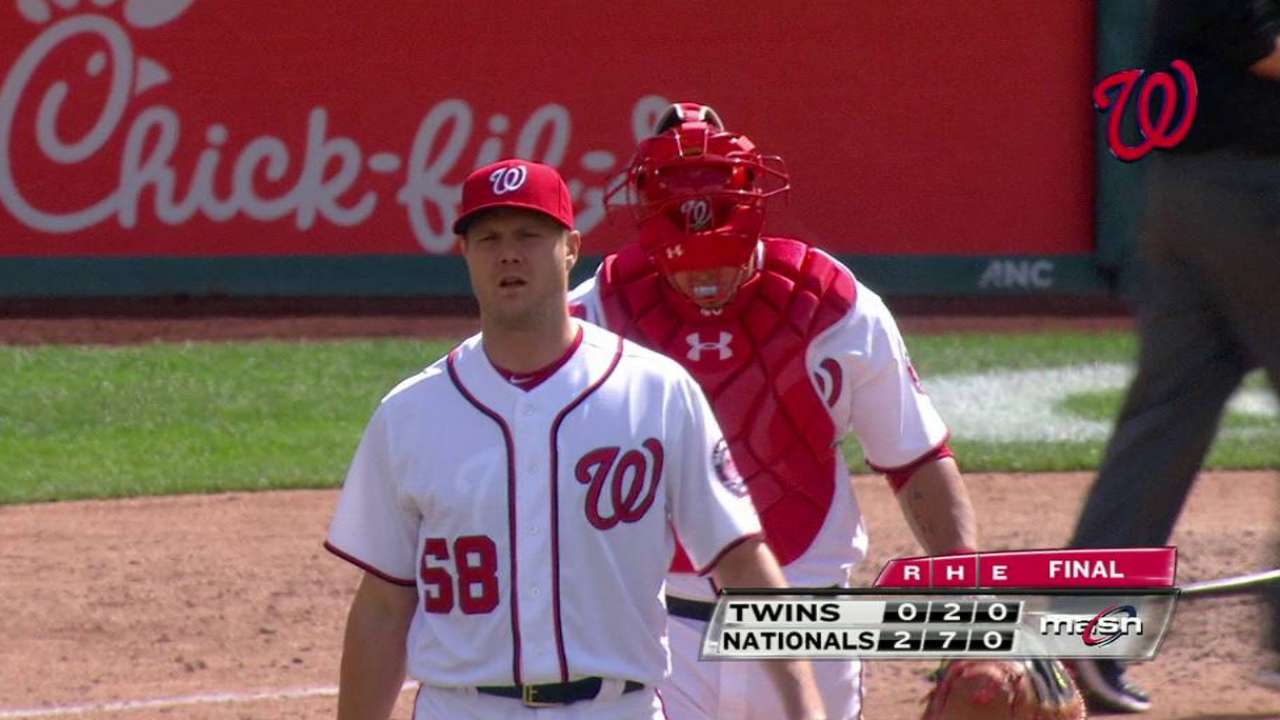 So many strikeouts: When Miguel Sano struck out against Jonathan Papelbon in the ninth inning, the Twins tied a franchise record with 18 K's on the day. Sano led the way with three strikeouts, and seven other players had two.
"Too many times. We struck out too many times," second baseman Brian Dozier said. "I know I missed a bunch of pitches to hit over the plate -- kind of tried to do too much with it -- and I feel like some of the other guys did that, as well."
• Nats to skip Ross if he can't start Tuesday
QUOTABLE
"To be honest with you, I didn't even know we struck out that many times. I heard, 'Roark with a career-high 15 strikeouts,' and I said, 'What?'" -- Dozier, on finding out Roark had 15 strikeouts by visiting the clubhouse late in the game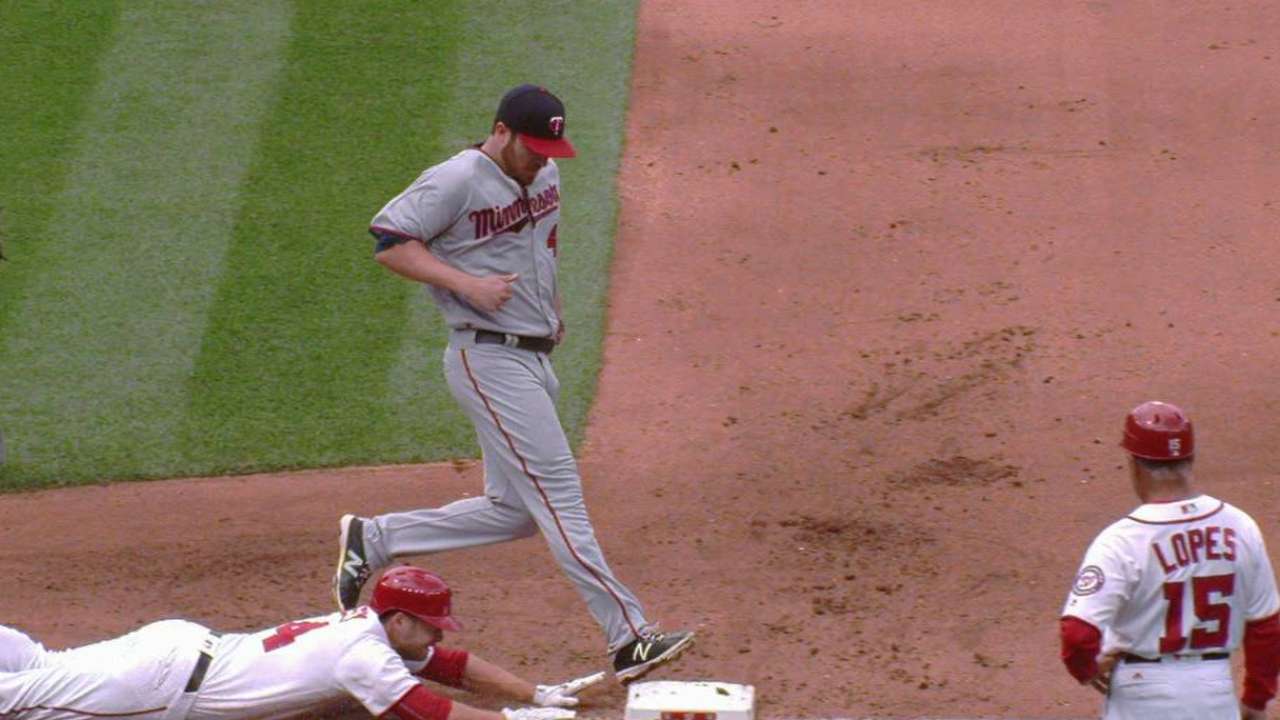 REPLAY REVIEW
With two outs in the eighth inning, the Nationals' Chris Heisey was called out on a close play at first base, after diving toward the bag in an attempt to beat out a weak grounder to first. The Nationals challenged, but the call stood, as umpires could not say with conviction that Heisey's hand reached the bag before the foot of Hughes, who was covering on the play.
WHAT'S NEXT
Twins: The Twins will call up Tyler Duffey to start Sunday at 12:35 p.m. CT against the Nationals, after Ervin Santana was scratched with lower back soreness. Duffey, who started 10 games for Minnesota last year, will be making his 2016 Major League debut after allowing only three runs in 15 2/3 innings at Triple-A Rochester.
Nationals: Strasburg will take the mound on Sunday for the Nationals at 1:35 p.m. ET to try and continue one of the best stretches of his career. In each of his three starts this season, Strasburg has allowed two runs or fewer, averaging seven innings per outing.
Watch every out-of-market regular season game live on MLB.TV.
Jamal Collier covers the Nationals for MLB.com. Follow him on Twitter at @jamalcollier.

Alex Putterman is a reporter for MLB.com based in Washington.

This story was not subject to the approval of Major League Baseball or its clubs.