Hicks might land on DL; UCL tear for Pinder
Yanks outfielder has bursitis in shoulder; righty to decide between rehab and surgery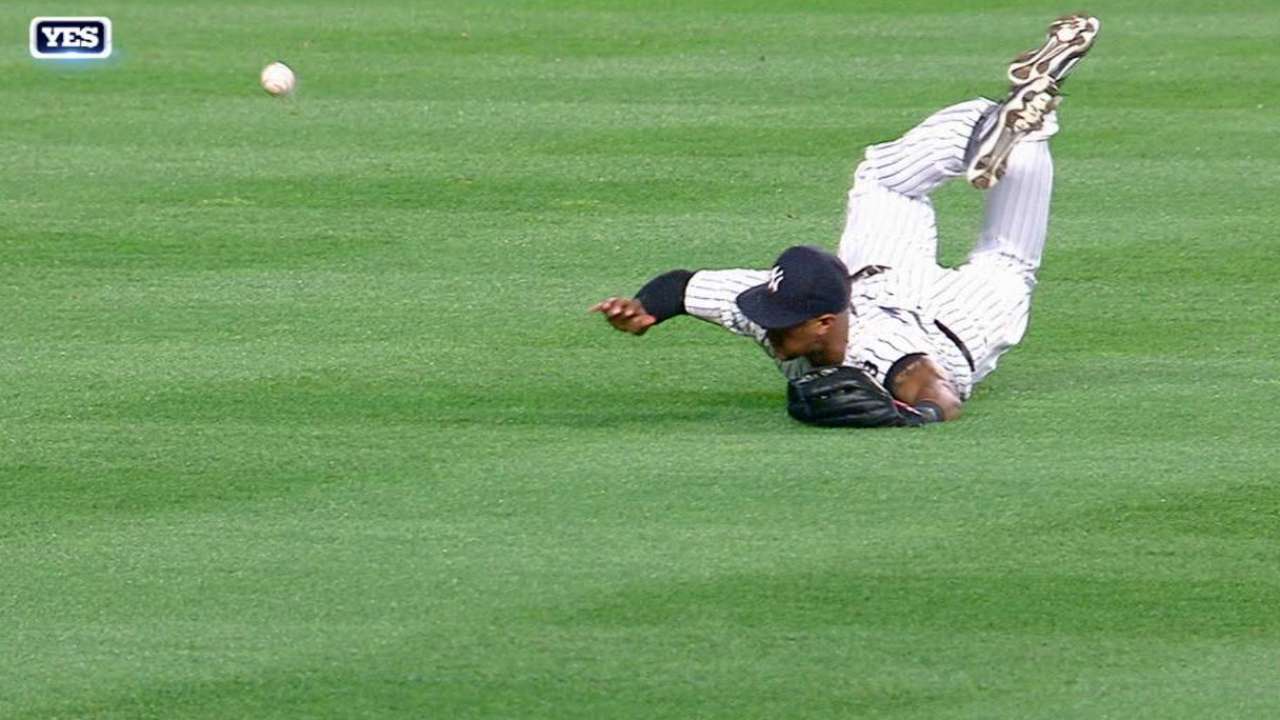 NEW YORK -- An MRI on Saturday revealed traumatic bursitis in Yankees outfielder Aaron Hicks' left shoulder. Hicks received a cortisone injection and will not participate in baseball activities for four-to-five days. The club will discuss placing him on the disabled list.
Hicks "woke up sore" a day after jamming his shoulder on a diving-catch attempt in center field during Friday's 6-3 win in the series opener, prompting the Yankees to order the MRI. Hicks left Friday's game in the fifth inning. When he woke up Saturday morning, Hicks said, his shoulder felt worse.
"I have inflammation in my shoulder. So far, that's what we've got," Hicks said after New York's 3-2 win on Saturday. "I'll be down a couple of days, and it just all depends on how I feel."
The 26-year-old Hicks, though scuffling at the plate this season, has made a pair of impressive defensive plays during the Yankees' homestand, climbing the wall in foul territory to make a catch on Thursday and nailing a runner at the plate on Wednesday with the fastest throw in Statcast™ history.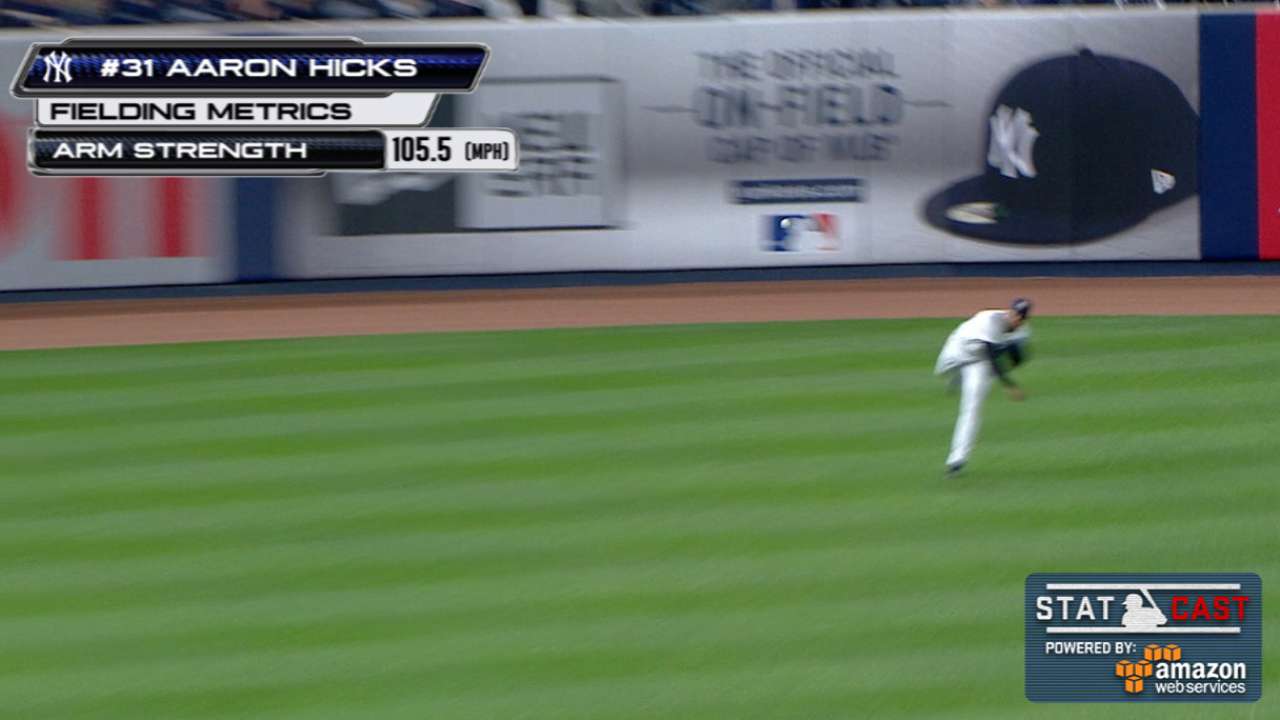 Pinder has partial UCL tear
Yankees manager Joe Girardi said on Saturday that Yankees reliever Branden Pinder, who was placed on the 15-day disabled list with a right elbow strain on Friday, has a partial tear of his ulnar collateral ligament.
The partial UCL tear leaves the right-hander with two options, Girardi said: attempt to rehab his pitching elbow or "get it taken care of" via Tommy John surgery.
"He'll probably make the decision the next couple of days," Girardi said.
The 27-year-old Pinder has pitched in one game for the Yankees -- after which he felt the soreness in his elbow -- and two games for Triple-A Scranton/Wilkes-Barre in 2016.
Pinder's injury takes another relief option away from the Yankees' bullpen, which has gotten its typical shutdown results at the back end but has more question marks in middle relief. New York had also already lost reliever Nick Rumbelow to Tommy John surgery earlier in April.
"It's two less choices that you have that you could possibly bring up," Girardi said. "That always opens the door for somebody else -- I mean, that's kind of what injuries do a lot of the time. But it's frustrating because it's two guys we felt that would help us during the course of the year. So it does affect what we could possibly do, yeah."
David Adler is a reporter for MLB.com based in New York. Follow him on Twitter at @_dadler. This story was not subject to the approval of Major League Baseball or its clubs.