Sano starts at 3B; Molitor still considers him RF
Twins manager has slugger in infield for first time in 2016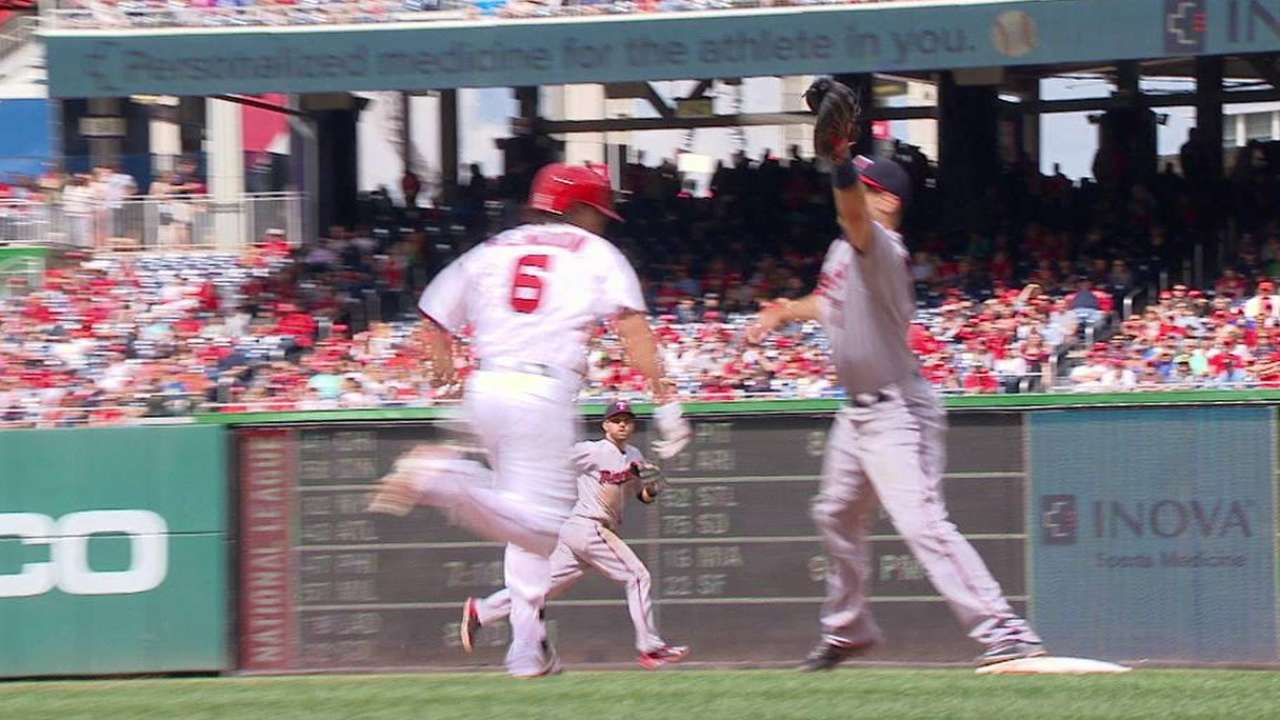 WASHINGTON -- Days after Paul Molitor said he was committed to keeping Miguel Sano in the outfield, the Twins manager has reversed course slightly.
Sano -- who has played right field exclusively this season after spending most of his Minor League career and 2015 rookie season at third base -- was in the lineup at the hot corner during Saturday's 2-0 loss to the Nationals, though Molitor wouldn't say how long he expected the move to last.
At the plate Saturday, Sano struggled, like the rest of the Twins, against Tanner Roark, going 0-for-3 with three strikeouts and a walk. He did make a couple of impressive charging plays at third base defensively.
"It's been kind of a revolving thing in terms of my lineup day to day," Molitor said. "Could it happen again? Certainly. I don't know how much it's going to happen. I still consider him to be our right fielder."
The Twins have recently been forced to adapt due to early-season injuries to third baseman Trevor Plouffe and utilityman Danny Santana. Eduardo Nunez has been getting the majority of the starts at third since Plouffe went down, but Molitor wanted to get as many lefties as possible in the lineup Saturday against right-hander Roark, so he opted to start Oswaldo Arcia in right field and shift Sano to third.
"It's not just about trying to appease him or get him in there where he's more comfortable in terms of his past history," Molitor said. "It just seemed like the right thing to try to shape the lineup today."
Molitor said earlier this week he wouldn't feel comfortable putting Sano at third for only one game, but he felt the injuries had forced his hand.
With Santana potentially set to return Monday and Nunez thriving offensively early in the season, it's unclear how much room there will be for Sano at the position.
Sano has been taking ground balls at third base the last few days in preparation for a potential start there and said Saturday he's comfortable at the position, despite not having played it since last season.
Sano, who has hit three home runs in his last five games, said playing right field vs. third base didn't make much difference, except for one thing: "Running to the dugout, right field is too long."
Alex Putterman is a reporter for MLB.com based in Washington. This story was not subject to the approval of Major League Baseball or its clubs.