MLB.com Columnist
Barry M. Bloom
Yankees have assets to spark offense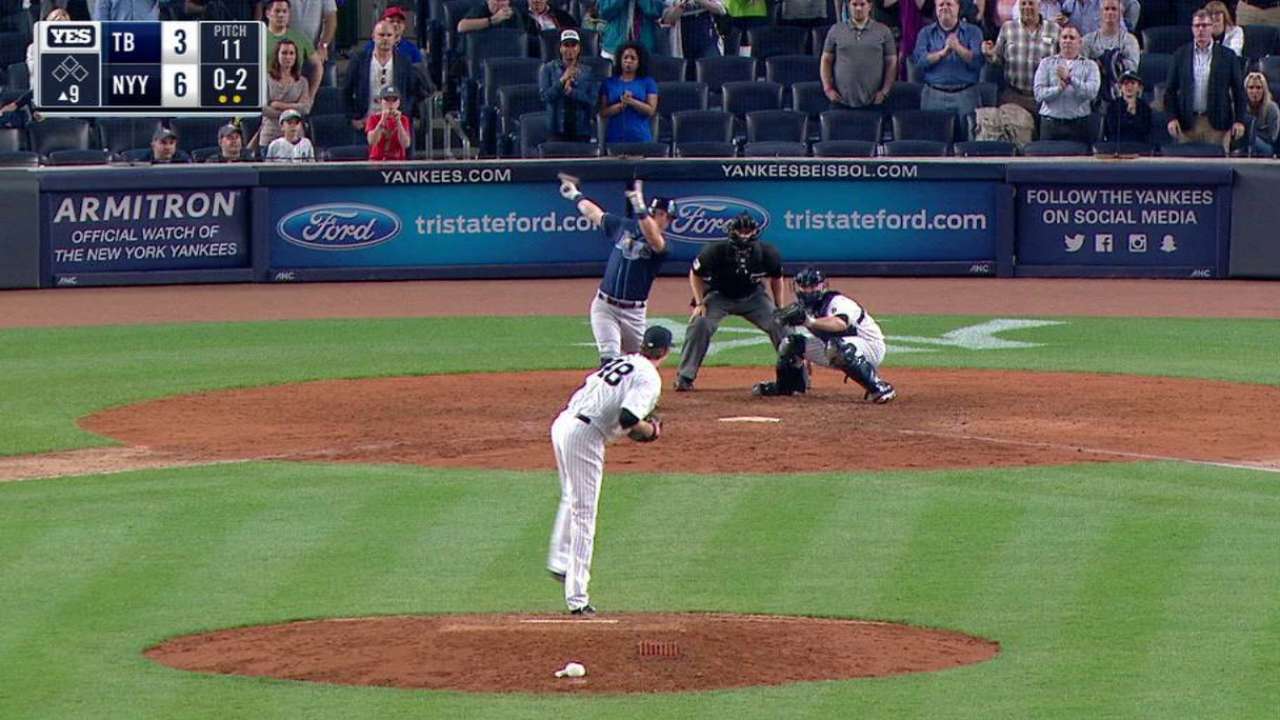 NEW YORK -- The Yankees can make two fixes to jump-start their offense almost immediately: Call up veteran switch-hitter Nick Swisher and entertain offers for closer Aroldis Chapman before he returns from his 30-game suspension on May 9.
The Yankees had lost seven of eight games entering Friday's 6-3 win over the Rays, in which Jacoby Ellsbury came off the bench and stole home to tie the score in the fifth inning. He added a pair of RBIs in the eighth inning with a double.
Swisher, the former Yankees right fielder and first baseman, was re-signed as a free agent on April 14 and has been rounding back into shape at Triple-A Scranton/Wilkes-Barre.
Swisher is batting .385 in seven games after hitting a two-run homer and going 2-for-5 in a 4-3 loss at Syracuse on Friday night. With Aaron Hicks day to day after Friday's game in the fifth due to a jammed left shoulder, the Yankees may be in immediate need of another outfielder.
Since Swisher ended his four-season tour with the Yankees in 2012, he's played for the Indians and the Braves, weathering a series of injuries. At 35, he's no long-term fix, but he could supply a quick jolt.
Swisher, like Alex Rodriguez, CC Sabathia, Mark Teixeira and Brett Gardner, was a member of the last Yankees team to win the World Series, in 2009.
Since Swisher left, the Yankees haven't won a postseason game.
Chapman is another matter entirely. The Cuban fireballer, whom the Yankees obtained from the Reds in a trade last December, will be a free agent at the end of the season. He hasn't pitched yet for the Yankees because of a suspension for violating Major League Baseball's Joint Domestic Violence, Sexual Assault and Child Abuse policy.
In his absence, the Yanks' two-headed relief duo of Andrew Miller and Dellin Betances has picked right up where it left off last season.
The pair, with a huge heaping of gap help from Ivan Nova, shut down the Rays in the final two innings on Friday night.
Betances has struck out 20 in eight innings -- including the side in the eighth inning Friday night -- and Miller has struck out 15 in seven innings.
"We like our group out there no matter who it consists of," Miller said. "I think we have some good pieces to mix and match when we do have to make moves."
The left-handed Miller, the winner of the Mariano Rivera Award as the top reliever in the American League last season, already has four saves and has allowed no runs and two hits in his seven appearances.
The Yankees' need at this juncture is not for Chapman to take over as the closer, moving Miller into a setup role with Betances as baseball's most prolific seventh-inning specialist. Batting .239 as team -- .202 with runners in scoring position -- and having scored 56 runs, they need offensive help.
Any of the three could be traded, but Miller and Betances are among the game's greatest bargains. Miller is under contract through 2018 at $9 million per year. Betances, in only his third full season, is under control for three more years, and is earning $507,500 this season.
One team that could use Chapman is the Giants, who are also struggling. San Francisco went into action on Friday night having lost five in a row.
In the past week, they have lost veteran relievers Sergio Romo and George Kontos with flexor strains in their pitching arms.
The Giants' closer -- 35-year-old Santiago Casilla -- has saved three games this season but blew one opportunity against the Dodgers.
The real question is, what would the Giants be willing to trade for the 28-year-old Chapman?
Those are the questions Yankees general manager Brian Cashman and his staff may be considering.
"Maybe they should call [the Giants] up," Miller said.
Barry M. Bloom is a national reporter for MLB.com and writes an MLBlog, Boomskie on Baseball. Follow @boomskie on Twitter. This story was not subject to the approval of Major League Baseball or its clubs.