Rodgers, Bell, Keller among top prospect performers Friday
Rockies' No. 1 prospect knocks in five, Pirates No. 3 hits for the cycle and Pittsburgh's No. 14 strikes out 10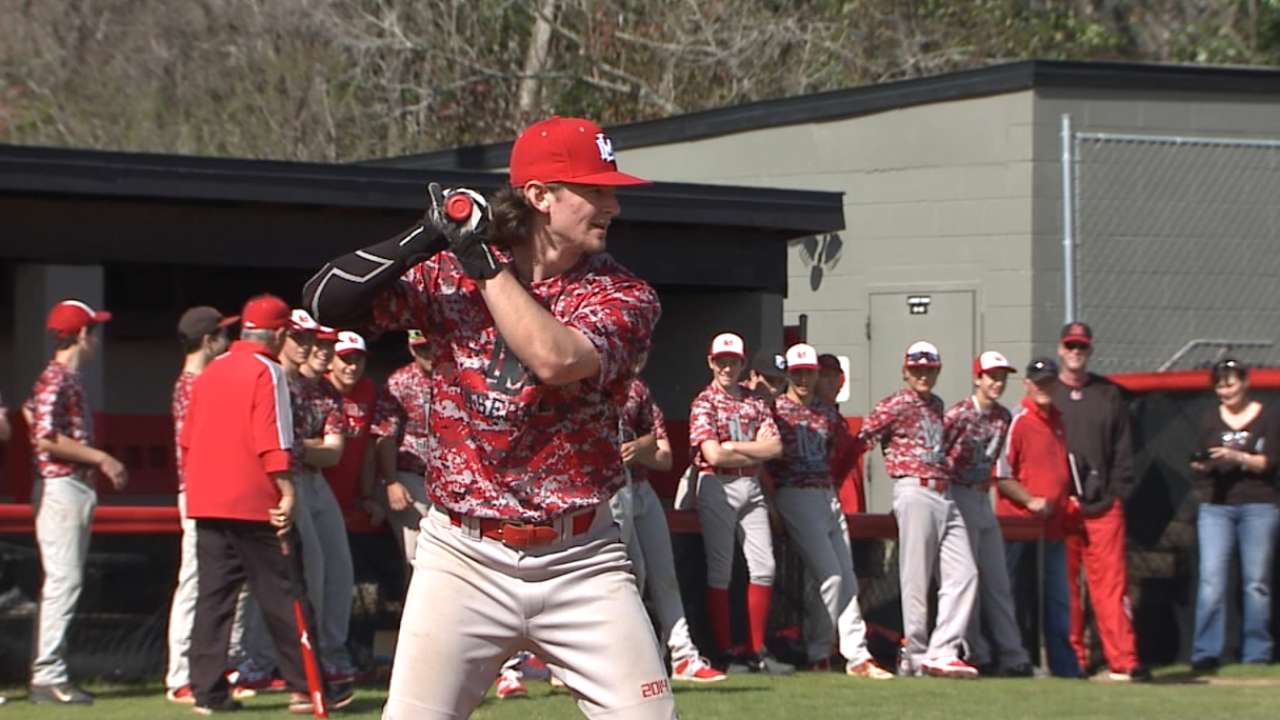 Brendan Rodgers added another chapter to his torrid start in his first full season on Friday, going 3-for-5 with a home run, two doubles and a career-high five RBIs to pace Class A Asheville in an 11-3 win over Rome. The long ball was already the fifth of the season for the Rockies' No. 1 prospect, and he's homered three times in the past four games for the Tourists.
"The home runs are going to come," Rodgers, 19, told MiLB.com after the game. "I'm just trying to stay in my own shoes and not do too much with the baseball. At this level, pitchers are coming at you from all different angles and they can paint [corners]. I'm just trying to focus on hitting the ball hard to all parts of the field and show my gap-to-gap hitting and try not to do too much with it."
Rodgers' barrage of extra-base hits began in the third inning, when he connected on a two-run home run to center field off of Rome starter Touki Toussaint (Braves' No. 6). He delivered a two-run double to left field in the following frame -- also off Toussaint -- to extend Asheville's lead and then added another run-scoring double in the eighth to conclude his five-RBI performance.
To go along with his impressive power numbers to begin the season, Rodgers, No. 10 on MLBPipeline.com's Top 100, is hitting .300 with 14 RBIs and 12 runs scored. On top of that, he's hit safely in 13 of 15 games for the Tourists, including four multi-hit efforts, while his 36 total bases is the fourth most among South Atlantic League hitters.
The rest of the best performances from top prospects Friday
• After giving up four earned runs in five innings in his last start No. 2 overall prospect Julio Urias (Dodgers' No. 1) bounced back on Friday to fire five innings of one-run ball for Triple-A Oklahoma City in a win against Memphis. The 19-year-old lefty allowed two hits, walked one and struck out eight before departing the game after five innings and 79 pitches (54 strikes). Urias has pitched a 3.00 ERA in 15 innings through three starts, with an impressive 20/2 K/BB ratio in that span.
• It took No. 41 overall prospect Brent Honeywell (Rays' No. 3) four tries, but the right-hander finally picked up his first win of the season for Class A Advanced Charlotte on Friday, when he allowed two runs (one earned) on four hits and struck out seven over a season-high 6 2/3 innings. The outing lowered the 21-year-old's ERA to 0.73 and his WHIP dropped to 0.69 on the season, and he's piled up 26 strikeouts against two walks in 24 2/3 innings.
• No. 47 overall prospect Josh Bell (Pirates' No. 3) hit for the cycle and drove in five runs to pace Triple-A Indianapolis in a blowout of Louisville. The 23-year-old first baseman, who finished 4-for-5 with a walk, blasted a grand slam for his third home run of the season, and he completed the rare feat in a dramatic fashion by hitting a two-out triple in the top of the ninth inning.
• No. 66 overall prospect Sean Manaea (A's No. 2) turned in another strong start for Triple-A Nashville, tossing six innings of one-run ball in a no-decision against Colorado Springs. The 24-year-old southpaw has yielded exactly one run in each of his three outings for the Sounds, giving him a 1.50 ERA in 18 innings to begin the season. Meanwhile, Manaea's 21/4 K/BB ratio during that time highlights the improvements he's made with his strike-throwing ability in his first Triple-A campaign. On the other side of the ball for the Sounds, No. 98 overall prospect Matt Olson (A's No. 3) went 2-for-3 with three runs scored and his second home run of the season.
• No. 90 overall prospect Hunter Renfroe (Padres' No. 3) continued his recent tear for Triple-A El Paso, going 2-for-4 with his second home run in as many games -- also his second home run of the season -- in a win against Tacoma. The 24-year-old slugger has been red hot over his last seven contests, hitting .429 (12-for-28) with seven extra-base hits and eight runs scored. No. 43 overall prospect Manny Margot (Padres' No. 1) also had a big game at the plate, going 3-for-3 with a walk and stolen base, and he's now hit safely in six straight games for the Chihuahuas.
• Blue Jays No. 3 prospect Sean Reid-Foley allowed one earned run on two hits to improve to 2-1 in three starts for Class A Lansing. The 2014 second-rounder struck out a season-high seven batters and walked two in the outing, this after he posted a 4/4 K/BB ratio in each of his first two turns for the Lugnuts. The 20-year-old righty owns a 1.72 ERA in 15 2/3 innings this season, and opposing hitters are batting a paltry .140 against him.
• Mariners No. 10 prospect Andrew Moore fired seven hitless innings for Class A Advanced Bakersfield in a shutout against Lake Elsinore. The Oregon State product issued one walk and struck out three in his fourth start of the year for the Blaze, during which he threw 70 of his 97 pitches for strikes and induced 10 ground-ball outs. After four starts and 23 2/3 innings for the Blaze, Moore owns a 1.14 ERA, 0.89 WHIP and 15/4 K/BB ratio.
• Phillies No. 22 prospect Elniery Garcia was brilliant once again for Class A Advanced Clearwater as he fired seven innings of one-run ball against Brevard County. It was the first run allowed on the season for the 21-year-old lefty, who surrendered just three hits and fanned a season-best seven batters in the outing. With his strong performance on Friday, Garcia is now 2-0 in three starts for the Threshers, while his ERA and WHIP sit at 0.47 and 0.68, respectively.
• Pirates No. 6 prospect Harold Ramirez broke out of his early-season slump to pace Double-A Altoona in a win against Richmond, as he hit a pair of triples and drove in four runs in a 3-for-5 performance. It was the second multi-hit game of the season for the 21-year-old outfielder, who is hitting .196/.224/.357 with 10 RBIs through 13 games.
• Pirates No. 14 prospect Mitch Keller added to his dominant start in his full-season debut by striking out 10 hitters over five scoreless innings as Class A West Virginia defeated Lexington, 5-1, in a seven inning game. Keller allowed two hits in the outing and did not issue a walk, throwing 51 of his 71 pitches for strikes. The right-hander has allowed neither a run nor a walk through his first 15 innings, during which he's posted a South Atlantic League-leading 0.47 WHIP with the second-most strikeouts (23).
Mike Rosenbaum is a reporter for MLB.com. Follow him on Twitter at @GoldenSombrero. This story was not subject to the approval of Major League Baseball or its clubs.