Though under radar, Nova key to Yanks 'pen
Righty bridges gap between Sabathia and late relievers with ease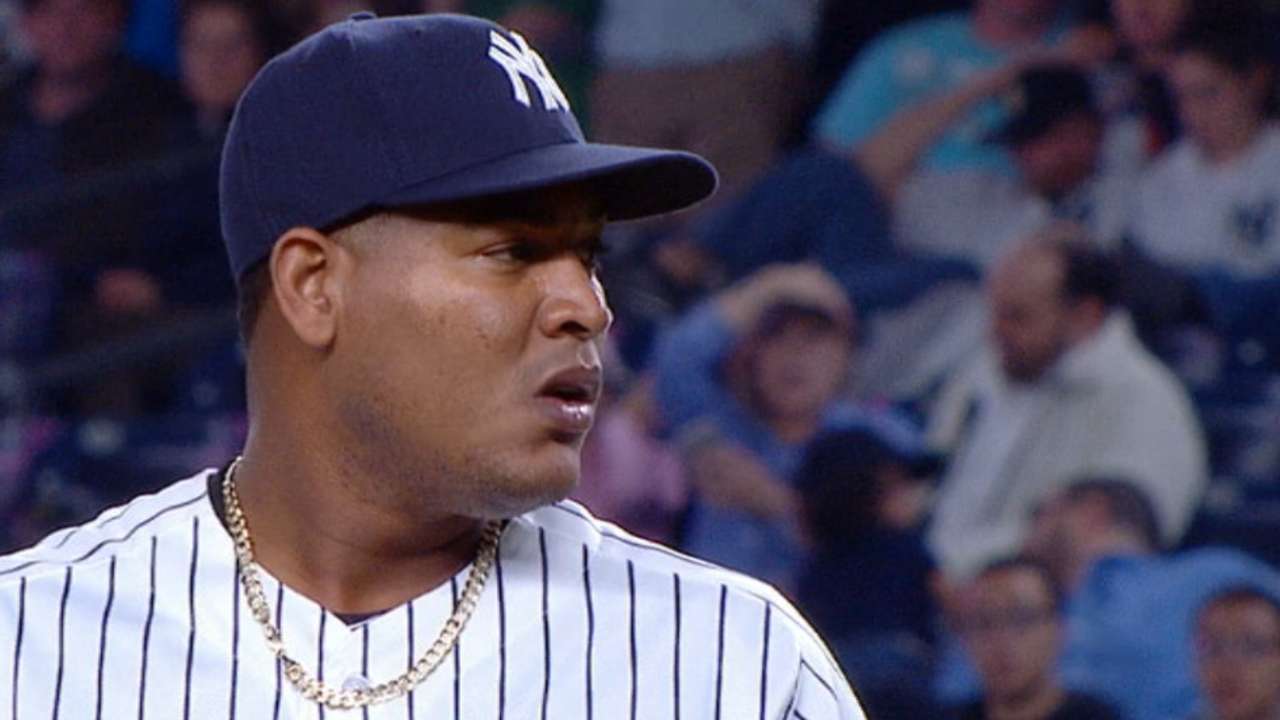 NEW YORK -- Dellin Betances and Andrew Miller wowed again on Friday, as they tend to do, clamping down the Yankees' 6-3 win over the Rays in typically suffocating style. The most important moment from the bullpen, though, in a game full of them, came from righty Ivan Nova.
With the Yankees trailing by a run in the top of the fifth, manager Joe Girardi lifted starter CC Sabathia once the left-hander allowed runners to reach first and second after getting two quick outs. Nova needed four pitches to escape the jam, striking out Curt Casali, and he gave the Yankees two more hitless innings while they battled back.
The result was Nova's first win of the season, and his second in 11 career relief appearances.
"I feel really good when I turn it over to our bullpen," Girardi said. "They've done a really good job all year, especially the two at the back end. But I think you've got to give Nova a lot of credit tonight. He did a tremendous job tonight; comes in, gets us a big out in the fifth, gives us two more innings and sets it up for those guys, and bridges the gap."
Nova was passed over for the fifth rotation spot to start the season in favor of Sabathia, due in large part to Nova's 5.07 ERA over 17 starts in 2015. If Sabathia continues to struggle -- his ERA is 5.28 ERA after three starts -- Nova could find himself piggybacking the left-hander out of the 'pen. It's a vital role if Nova can connect New York's leaky rotation to its airtight back end of the bullpen. Such assurance could give the Yankees time to rally in the middle innings.
Nova has put together back-to-back strong outings after allowing four runs in one inning on April 13 in Toronto.
"I never lost my confidence," Nova said. "I know I had a bad game in Toronto. I knew it was a bad day and I was ready for the next day. My confidence never went down, not even when I lost in Spring Training. I knew I'd have my chance and I'd just have to take advantage of it."
"It's a good step forward," Nova said. "That's what I've got to continue to do."
Joe Trezza is a reporter for MLB.com based in New York. Follow him on Twitter at @joetrezz. This story was not subject to the approval of Major League Baseball or its clubs.