Caught off guard by steal, Moore unravels
Two-out balk sets stage for Ellsbury's pivotal dash to plate
NEW YORK -- As pitchers often do, Matt Moore saw his night unravel on ball four.
But, unlike nearly every similar situation, the runner who took first base proved inconsequential. He didn't move a runner over, nor did he get to second base. No, it was Moore's approach on that seemingly run-of-the-mill, full-count pitch that led to his lead and control over the game evaporating in the Rays' 6-3 loss to the Yankees on Friday night.
Holding a 3-2 lead and one out from escaping trouble with Jacoby Ellsbury on third base and Didi Gregorius on second, Moore worked out of the windup and motioned deliberately to home plate. Catcher Curt Casali waved his hands frantically at Moore just as the lefty's hands reached over his head. Ellsbury was coming home, and, unless Moore could get the ball home as quickly as possible, the run would be his.
The run was his.
"I'm not sure if I actually saw it or felt it, but I could hear different things," Moore said. "Step off, hurry up. It was some time right about when my hands were over my head when I tried to really shorten the whole thing up and just get it there. If it was just a foot lower, Curt doesn't have to reach as high, then go back down."
Moore hurried up his motion once he sensed Ellsbury was barreling toward home. And by Moore's approximation, that rushed sensation is likely what caused the pitch to be high in the first place.
"I wasn't thinking about throwing a strike in that moment," Moore said. "It was just, 'Get the ball there.' Even if I walk him and he tags him out, we're out of the inning."
However, after more than an hour to think over the play, Moore came to the obvious realization that he didn't need to rush the pitch. All he needed to do was throw a strike. With Ellsbury coming home and the left-handed-hitting Gardner at the plate, the pressure would've been on Gardner, not Moore or Casali, to make a tough decision. Had Gardner let the pitch go, the inning would've been over. Had he swung, he would've taken the risk of hitting and injuring his teammate with the bat.
But in the moment, none of that coursed through Moore's mind. And oddly enough, the only reason Moore was in that situation in the first place was because of a mental mistake the left-hander made earlier in the same at-bat.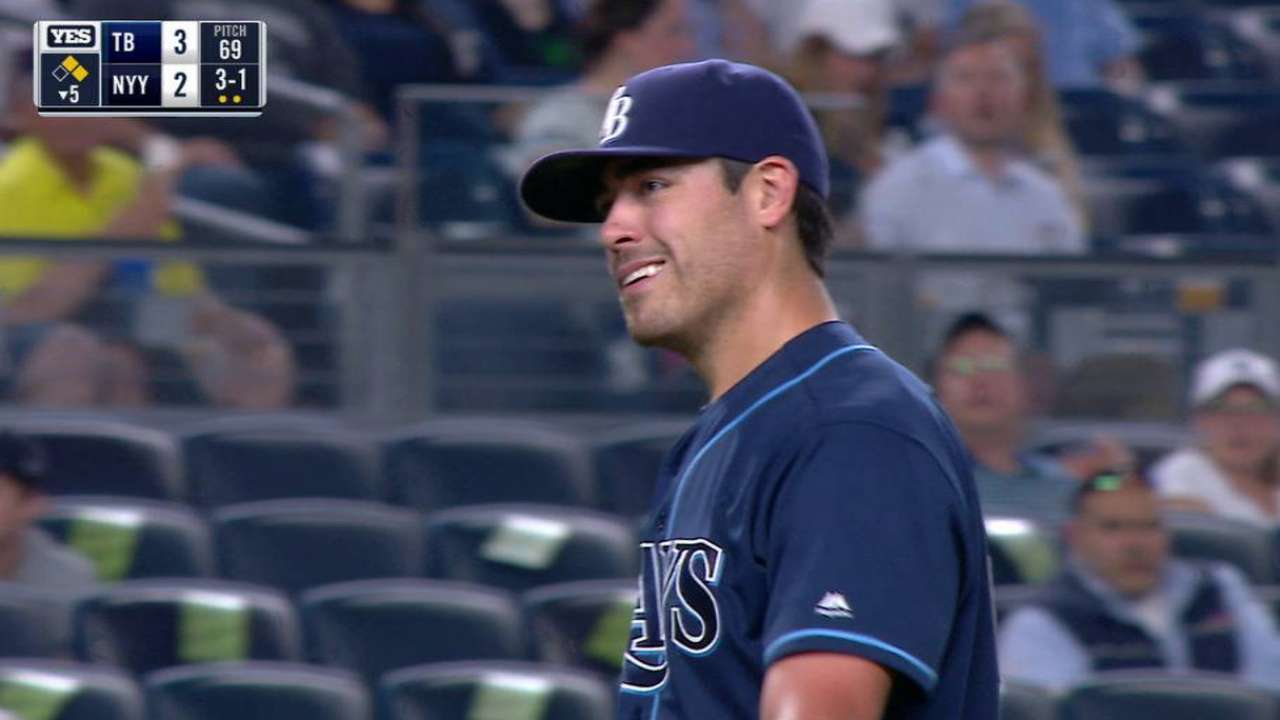 Moore was called for his first balk since 2013 when he was unable to stop his motion and, by his description, did "that bump-and-go thing." The balk put Gregorius on second base and Ellsbury on third, leading to Moore pitching from the windup instead of the stretch.
As for why Moore was in the windup in the first place, time to the plate was less of a factor for him than comfort of delivery.
"There's a reason that starting pitchers go into the windup when nobody is on base," Moore said. "You set your rhythm; you're a little bit more comfortable there. It's just one of those things where I didn't think they were going to put their scoring opportunity at risk with, especially, their center fielder. Tip the cap to him for being able to execute and take advantage of it."
Nick Suss is a reporter for MLB.com based in New York. This story was not subject to the approval of Major League Baseball or its clubs.