Early HRs lead to 'frustrating' start for Corbin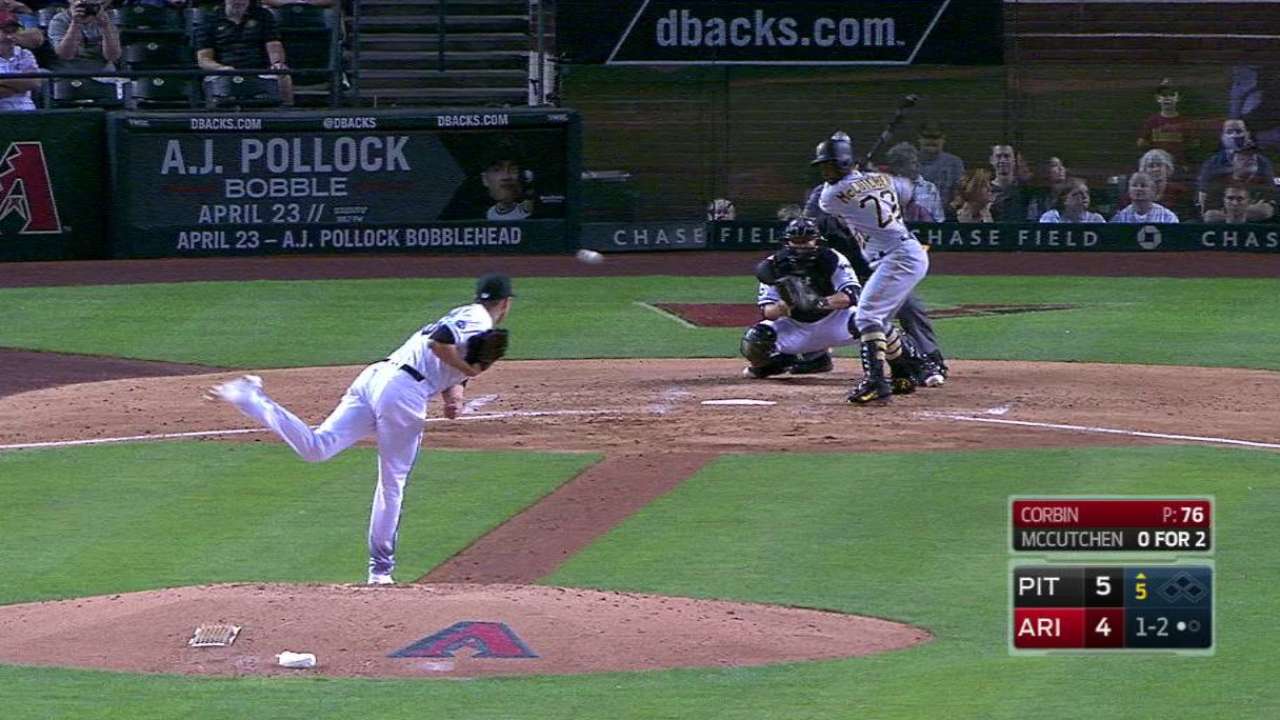 PHOENIX -- D-backs starter Patrick Corbin did it all on Friday night at Chase Field.
It just wasn't all good.
Corbin was charged with seven hits and five runs -- four earned -- in six innings in the 8-7 loss to the Pirates. The left-hander struck out three, allowed three home runs and walked one in the 95-pitch outing. He threw 59 strikes.
"I just missed some spots early and was not very good," Corbin said. "I didn't have my best stuff today. Yeah, that's pretty much it."
Corbin also had two hits -- a single in the third inning and a run-scoring double in the fourth. He scored the D-backs' second run of the game in the second inning on a single by third baseman Brandon Drury.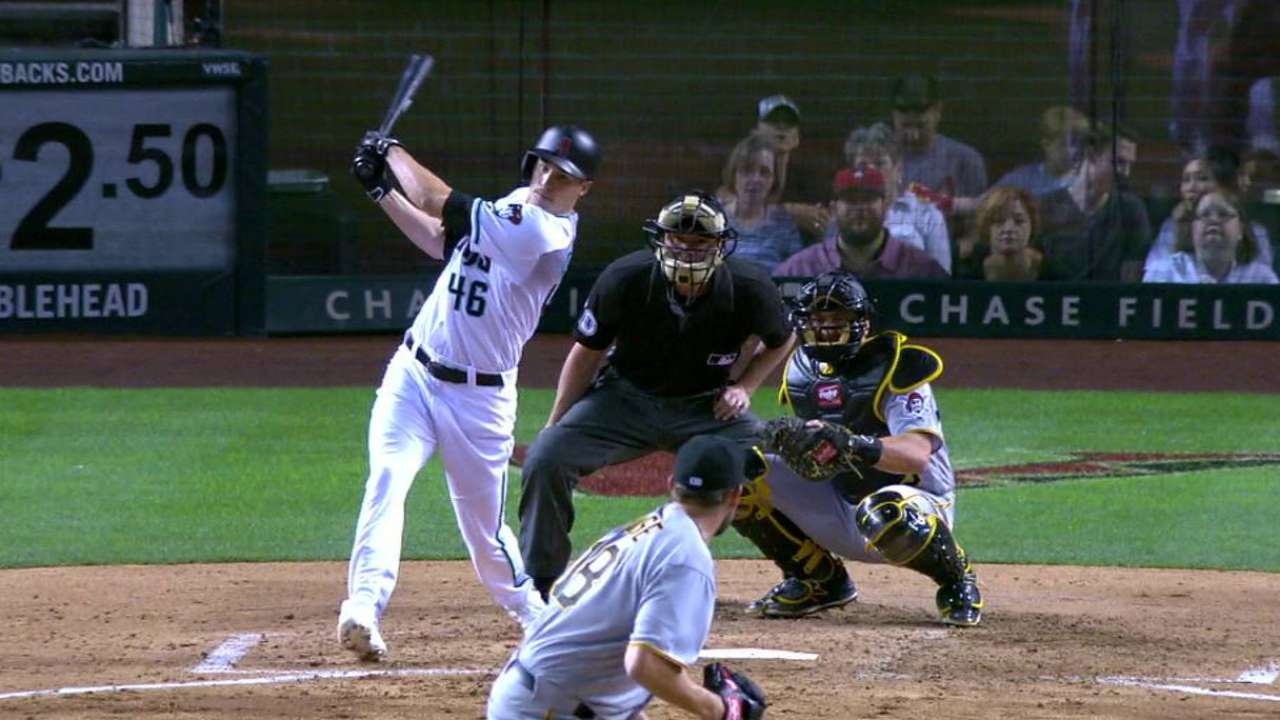 "It's the only thing I did well today," Corbin said. "It's just frustrating on the mound."
It was Pirates third baseman Sean Rodriguez and right fielder Gregory Polanco who did the damage early, hitting back-to-back homers in the second. Shortstop Jordy Mercer hit a home run as part of a two-run third as the Pirates increased their lead to 5-1. Corbin settled down and did not allow a run in the fourth, fifth or sixth innings, but it was too late.
"Giving up five runs in those first three innings, it's a little tough to come back there," Corbin said. "The offense did a good job late in the game to make a run at it. It was just a couple of mistakes early, and in this ballpark if you make mistakes, they are going to go a long way."
He's right. For all of Corbin's efforts on the mound and in the batter's box, one number -- 1,385 -- is hard to ignore. It's the combined distance of the homers hit off Corbin by Rodriguez (458 feet), Polanco (461 feet) and Mercer (466 feet).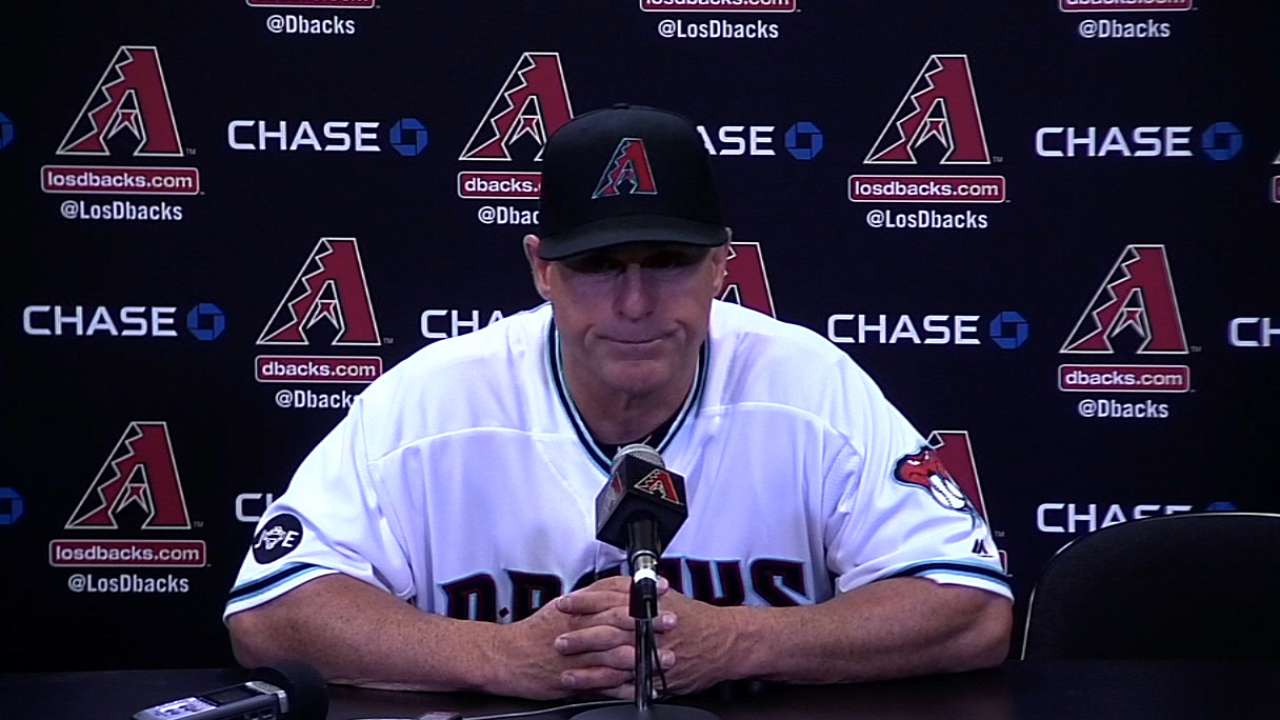 "It was tough night to pitch," D-backs manager Chip Hale said. "Obviously, the ball was really carrying with the roof open. There were some balls that were hit pretty hard, though. I don't know if any of those wouldn't have made it out."
The D-backs rallied for three runs in the eighth inning to cut the deficit to one run, but left fielder Yasmany Tomas grounded out with the bases loaded to end the inning and the scoring threat. The D-backs went down in order in the ninth.
"My sinker kept me in the game and it was the one pitch I could control," Corbin said. "This was probably one of the worst games where I wasn't able to come in. It's just something I'll work on in the bullpen and definitely get at it next start."
Jesse Sanchez is a national reporter for MLB.com based in Phoenix. Follow him on Twitter @JesseSanchezMLB and Facebook. This story was not subject to the approval of Major League Baseball or its clubs.