Bell breaks out of funk by hitting for cycle
Pirates' No. 3 prospect rips a grand slam, drives in five for Triple-A Indianapolis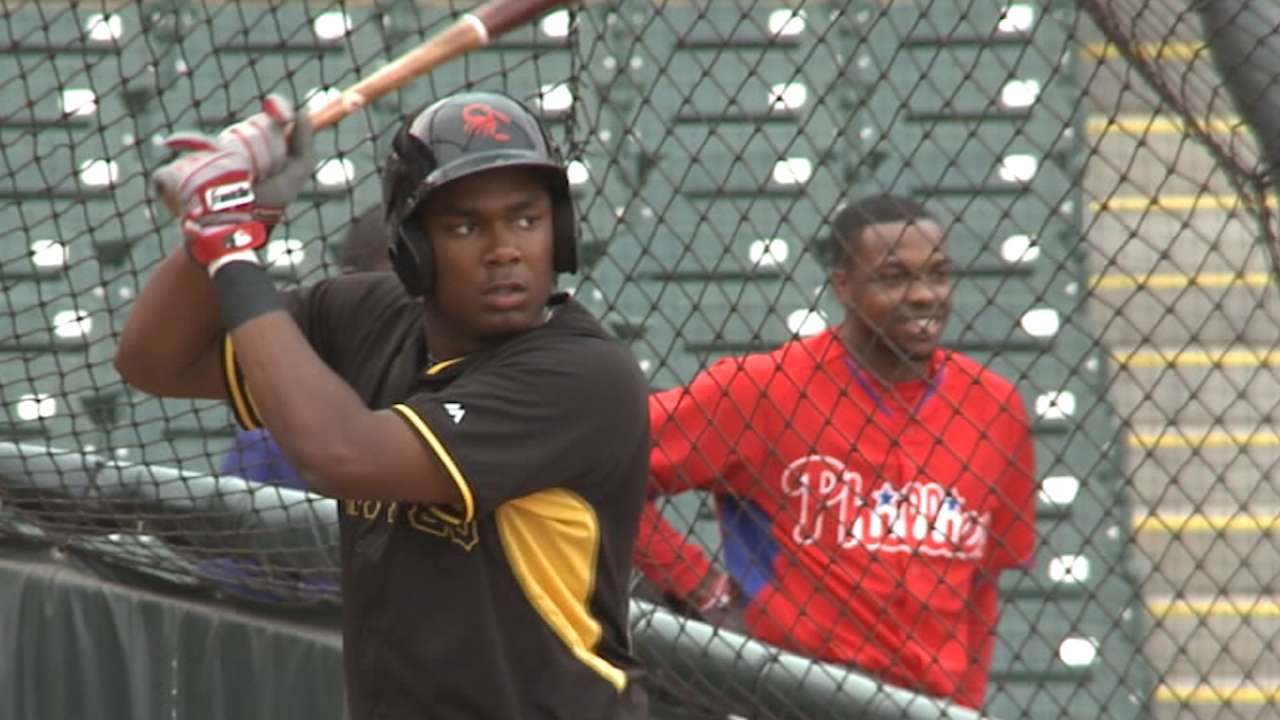 After showing signs all week that he was beginning to heat up, Josh Bell officially broke out of his early-season funk with a tremendous performance on Friday night as he hit for the cycle and drove in five runs for Triple-A Indianapolis in a win against Louisville. The Pirates' No. 3 prospect (No. 47 overall) finished 4-for-5 and scored a pair of runs in the contest.
Bell delivered an RBI single to right field in his first at-bat, plating leadoff man Alen Hanson and giving Indianapolis an early lead. He committed a one-out fielding error at first base in the bottom half of the inning, resulting in Louisville's only run of the game, though he would atone for the miscue in a big way two innings later.
• Complete Pirates prospects coverage at MLBPipeline.com/Pirates
Bell opened the third inning with a double and scored two batters later when Willy Garcia reached base on a fielder's choice. The Indians' offense erupted after that, as four of the next five hitters collected hits off of Louisville starter John Lamb to push across three more runs, while a two-out walk to Jung Ho Kang brought Bell to the plate for a second time in the inning.
The Bats brought in right-hander A.J. Morris to face the switch-hitting Bell, who, after working a 2-2 count, blasted the sixth pitch of the at-bat over the left field fence for a grand slam. The home run, Bell's third of the season, put an exclamation point on an eight-run third inning for the Indians.
Bell's only out in the contest came in the top of the fifth, when he grounded into an inning-ending double play, and he drew a four-pitch walk in his subsequent plate appearance in the seventh.
As it would turn out, Bell came to bat for the final time with two outs in the top of the ninth, needing only a triple to complete the first cycle of his career. The 23-year-old swung through the first pitch from right-hander Layne Somsen but did not miss the next, roping the 0-1 offering over the head of center fielder Bryson Smith for a triple.
"It was one of those things that it was in the back of my mind, but at the same time, you're just looking for a pitch to drive," Bell told MiLB.com. "It's pretty much the same mindset I had in my other at-bats -- try to see something up in the zone -- and I was able to get that pitch and drive it to the right-center gap. Right out of the box, I was thinking three and I ended up sliding in safe. It was a pretty awesome moment for me."
Bell continued his climb toward the Major Leagues in 2015, when he batted .317/.393/.446 in 131 games between Double-A Altoona and Indianapolis. It was also his first season as a full-time first baseman after being developed as an outfielder and, as expected, he struggled at times, ultimately committing 16 errors in 116 games at the position.
While his defense remains a work in progress, Bell appears to be nearly ready to make an impact with his bat at the highest level. With his four-hit effort on Friday, Bell is batting .292/.414/.583 with seven extra-base hits, 14 RBIs and more walks (10) than strikeouts (9) through his first 13 games.
Mike Rosenbaum is a reporter for MLB.com. Follow him on Twitter at @GoldenSombrero. This story was not subject to the approval of Major League Baseball or its clubs.