Mattingly gets 1st ejection as Marlins skipper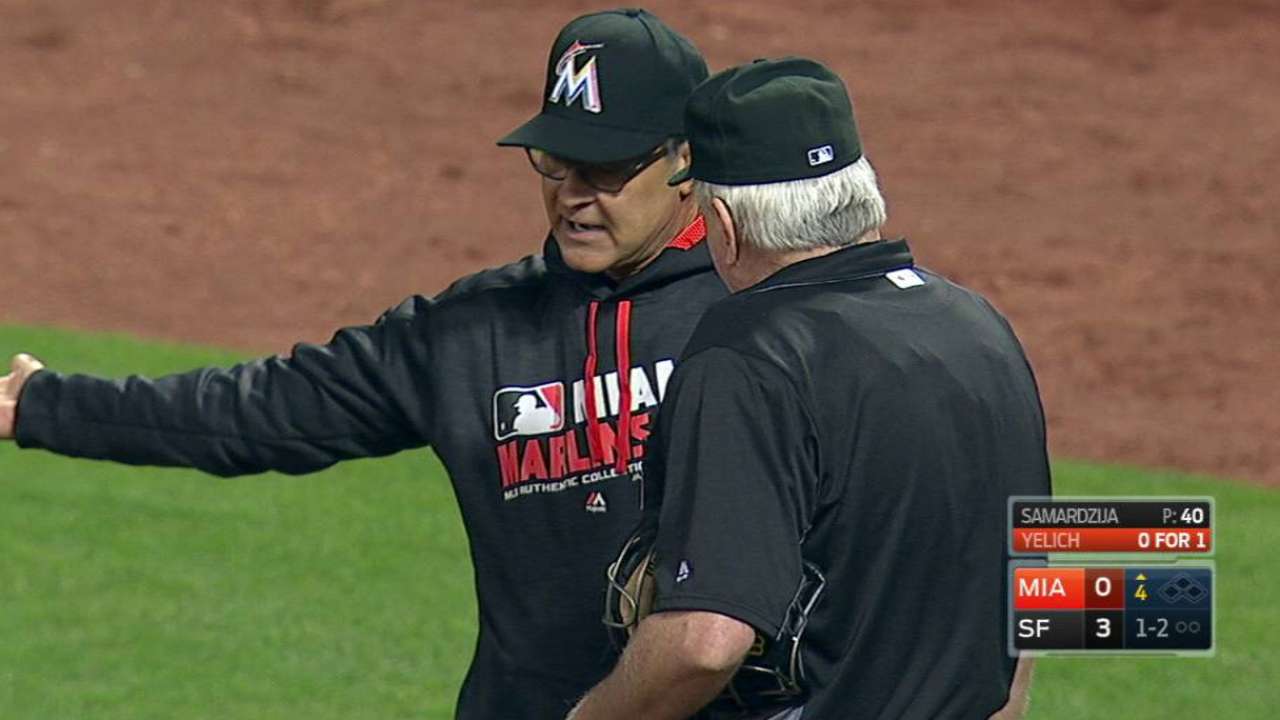 SAN FRANCISCO -- Manager Don Mattingly, feeling his team is not getting borderline calls, expressed his frustration at home-plate umpire Brian Gorman and drew an ejection in the fourth inning of the Marlins' 8-1 loss to the Giants on Friday at AT&T Park.
It was the first time Mattingly has been tossed since becoming Marlins manager and the 20th time in his managerial career, counting five seasons at the helm of the Dodgers.
Mattingly's frustration isn't just over Gorman's strike zone. He's felt in Miami's first 15 games, calls haven't gone his club's way.
"It was just a little frustration as much as anything," Mattingly said. "It's just 15 games now, and I know these guys don't mean to, but it just feels like any kind of close call or big situation, there's never a call that goes the Marlins' way. I've seen it at home and I've seen it on the road. I've seen it tonight."
One of the pitches in question was a pitch to Angel Pagan with the bases loaded and two outs in the third inning. The score was 3-0 at the time. Jarred Cosart threw a close pitch that was ruled a ball, instead of strike three. The next pitch, Pagan lined out sharply to Dee Gordon at second base.
"We see Pagan had a 1-2 or 2-2 pitch is right there, and he doesn't call it," Mattingly said.
With Miami trailing, 3-0, and Christian Yelich at the plate, Gorman turned to the Marlins dugout and signaled the ejection. Mattingly walked calmly to Gorman behind home plate and expressed his views for a couple of seconds before heading back to the dugout and turning the lineup card over to bench coach Tim Wallach.
Yelich doubled and scored on Justin Bour's single. But in the inning, Derek Dietrich was called out on a close pitch with two on base.
"Then we see [during] Dietrich's at-bat, which was big because we had first and second and one out, and he calls the same pitch for a strike," Mattingly said.
Joe Frisaro has covered the Marlins for MLB.com since 2002. He writes a blog, called The Fish Pond. Follow him on Twitter @JoeFrisaro and listen to his podcast. This story was not subject to the approval of Major League Baseball or its clubs.