Hicks' cannon arm on display before Statcast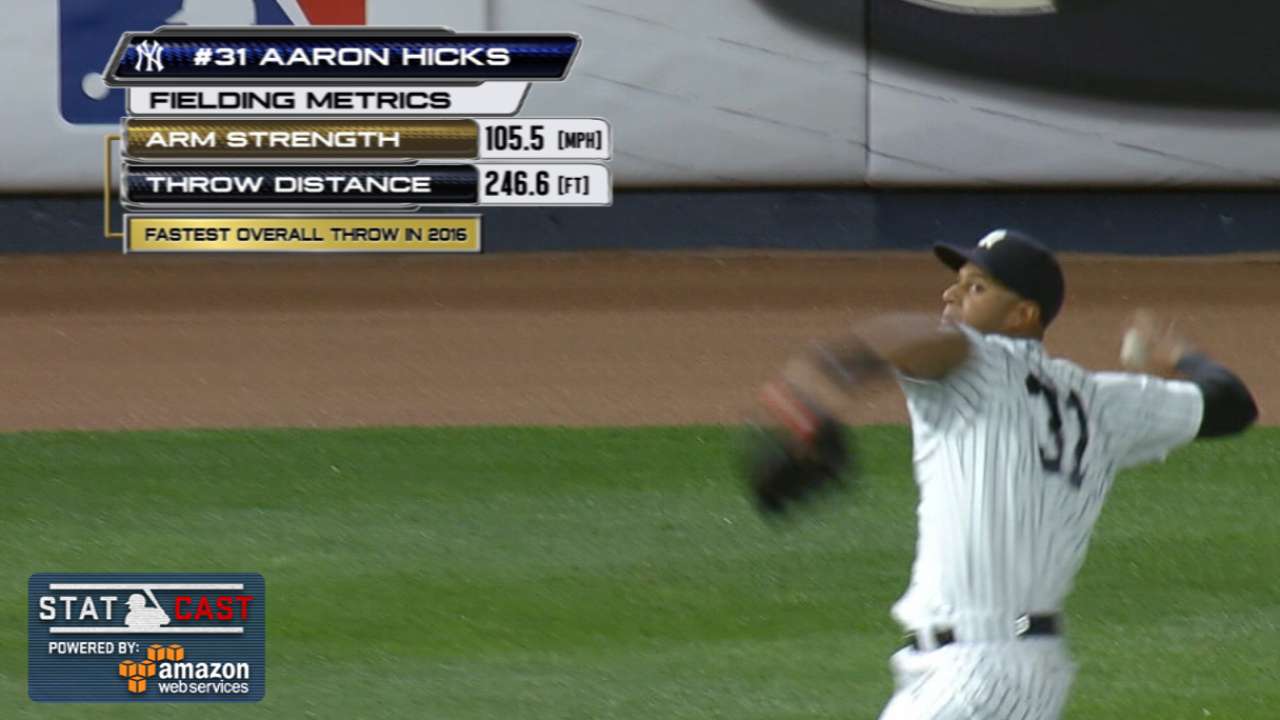 NEW YORK -- Statcast™ showed us something new on Wednesday night, when Yankees left fielder Aaron Hicks showed off his arm with a 105.5-mph throw home -- the hardest in the nascent history of Statcast™.
The velocity Hicks put on his throw may have surprised some, given the list of stars who tend to show up on Statcast™'s outfield velocity leaderboard, but maybe it shouldn't have come as such a surprise. Hicks has showed off his arm at Yankee Stadium before, most notably in an absurd pre-Statcast™ heave from center in 2013.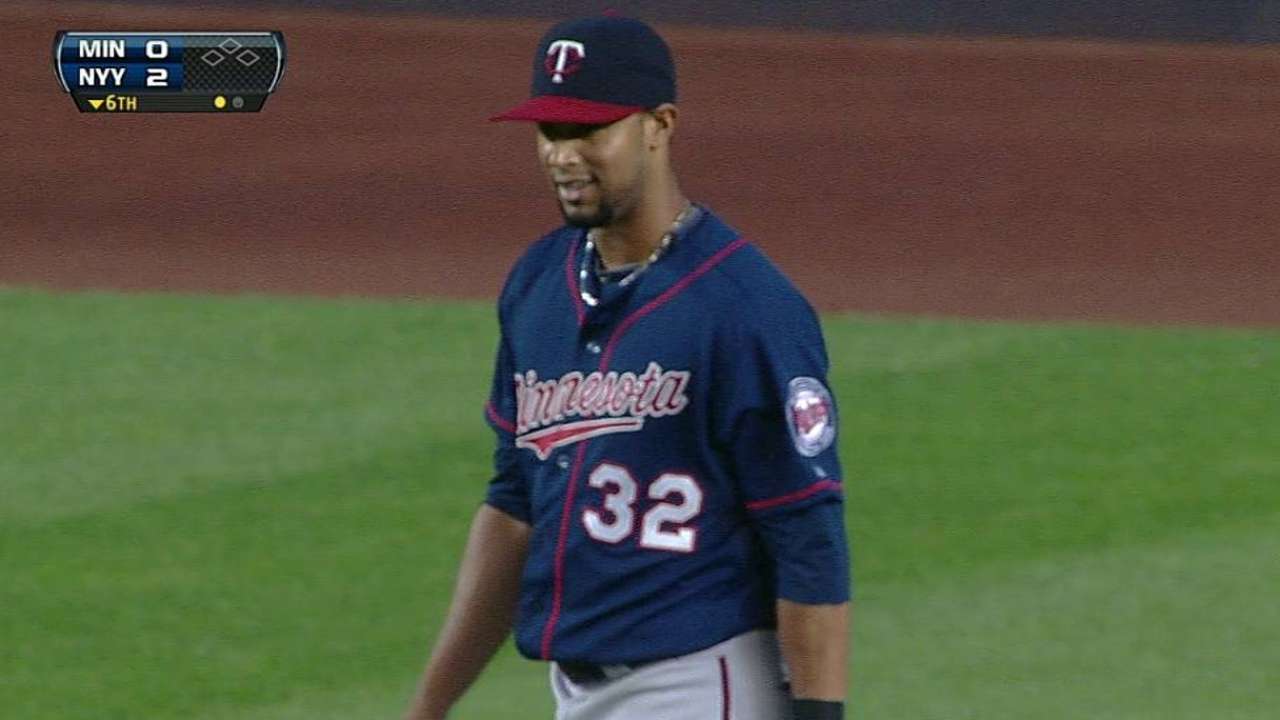 Hicks' most recent toss was catalyzed by a sound set of fundamentals -- there is his glove, hovering above his throwing shoulder, and the crow-hop performed in perfect stride. The velocity he garnered is rooted in talent that once projected Hicks as a pitcher. Hicks was a raw yet intriguing pitching prospect coming out of Woodrow Wilson High in Long Beach, Calif., in 2008, when he went 11-2 with a 1.11 ERA and 144 strikeouts in 13 starts.
• 105.5! Hicks' throw fastest in Statcast™ era
Armed with a fastball that could touch 98 mph, Hicks was eyed by several teams with selections higher than Minnesota, which took him as an outfielder with the No. 14 overall pick in the 2008 Draft.
"I threw hard," Hicks said. "I could get wild at times. I was going to come right at you. I was thought of pretty highly as a pitcher, but I told all the teams before the Draft I didn't want to pitch.
"I love hitting. I love being in the outfield. I didn't like pitching too much. It was more something to help my high school out."
• Double take: Hicks continues to star in OF
It isn't difficult to see the 6-foot-1, 205-pound Hicks coming on as a hard-throwing reliever if he chose to pursue pitching. It's more fun, though, to picture some of the real-life matchups between Hicks as a teenager against hitters along the Southern California travel circuit. Future Major Leaguers to step in against Hicks included Yankees teammate Austin Romine and Royals stars Mike Moustakas and Eric Hosmer.
It may be unlikely, but Hicks could find his way onto the mound again. Garrett Jones and Brendan Ryan logged innings for the Yankees last season in blowout games.
"I would love to," Hicks said. "But I don't know if I would actually pitch. We're used to that velocity. When guys go up there and throw 75 mph, it's actually harder to hit. We're not used to it.
"I would probably amp one up, just to have fun with it."
Joe Trezza is a reporter for MLB.com based in New York. Follow him on Twitter at @joetrezz. This story was not subject to the approval of Major League Baseball or its clubs.