Kazmir, Garcia add to Dodgers' injury woes
Starter, reliever exit early in game vs. Rockies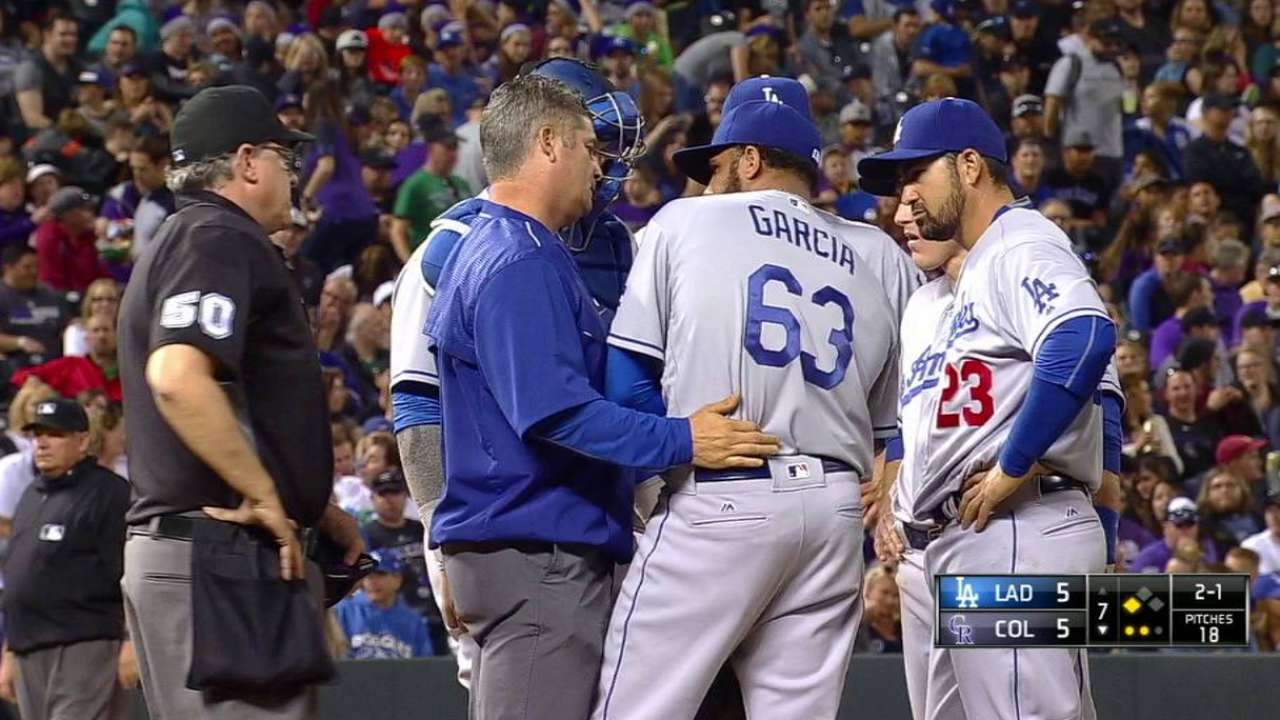 DENVER -- Obviously, there's nothing wrong with Yasiel Puig's capability to throw, but the same can't be said for Dodgers pitchers Scott Kazmir and Yimi Garcia, who left Friday night's 7-5 loss to Colorado with injuries.
Kazmir was removed after five innings with a sore left thumb that he's apparently been pitching with. He said he wouldn't use it as an excuse for allowing two home runs and giving up a 3-0 lead, but he left the clubhouse wearing a wrist brace.
Garcia's injury to his right biceps muscle appears to be worse. He left mid-batter in the seventh, saying it bothered him on his last two pitches and he had never felt anything like it. He will be examined further Saturday.
"When you've got to take a pitcher out because of soreness in the arm, yeah, there's concern for sure," said manager Dave Roberts.
The Dodgers will be calling up a pitcher Saturday, either Zach Lee or Jharel Cotton (who are scheduled to start Saturday and Sunday for Triple-A Oklahoma City) to provide long-relief support for the remaining two games at Coors Field, and be in position to take over for Kazmir if he can't make his next start.
The injuries and a bullpen setback after the relief corps appeared back on track took the luster off a game that saw Puig make a throw for the ages, while infielders Adrian Gonzalez (three RBIs) and Corey Seager (two RBIs) homered.
• Puig's epic throw not the entire Story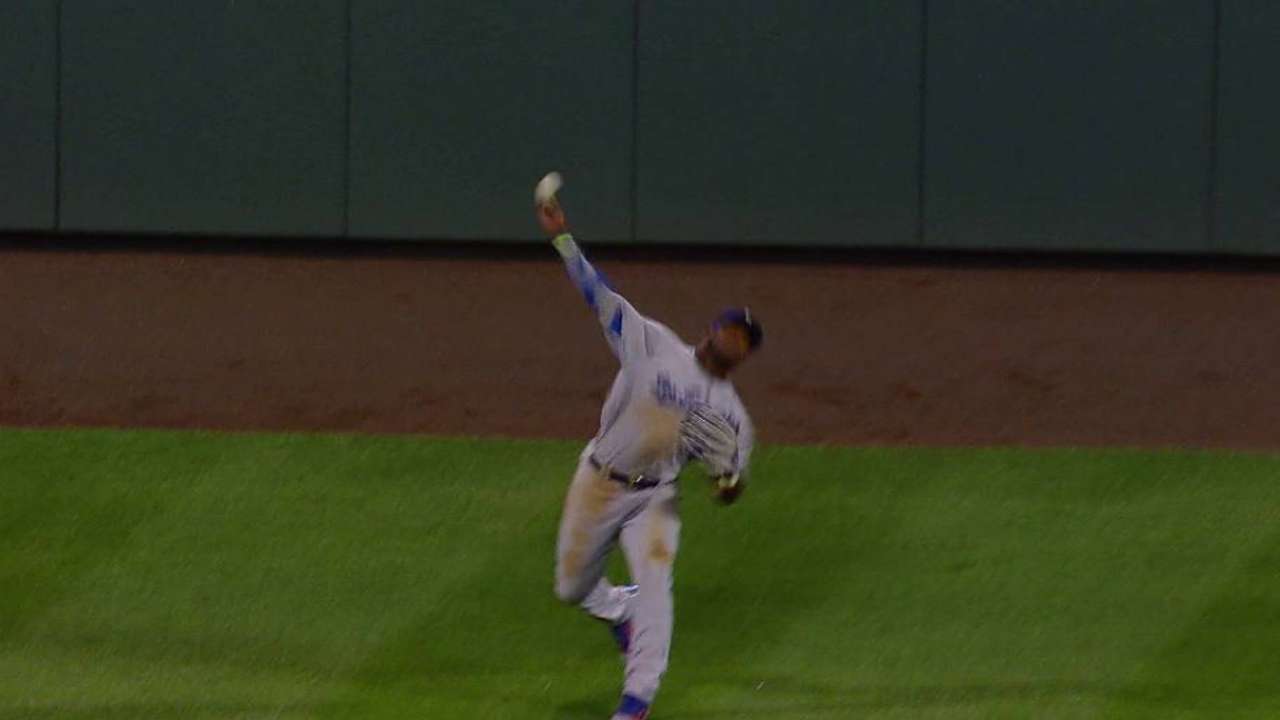 Kazmir accounted for the Dodgers' third short start in the last four games, putting added pressure on a bullpen that had allowed only one earned run in its previous 26 1/3 innings. But Garcia allowed the tying run in the seventh inning and Chris Hatcher was stung by Brandon Barnes' two-out, two-run triple in the bottom of the eighth to take the loss.
"I like the matchup, Barnes up there with an open base," said Roberts. "He gets ahead, 1-2, and just didn't make a good pitch. But I'll take that matchup every day."
Hatcher blamed bad pitch execution. "Right down the middle," he said, "and that's what happens."
On the bright side, Pedro Baez returned with a flawless inning after taking a bullpen warmup throw off the back of his head in Atlanta. Adam Liberatore inherited a mess from Garcia and put out the fire by striking out Trevor Story and Luis Avilan fanned Tony Wolters to strand Barnes at third after his triple.
Joe Blanton didn't pitch and apparently was unavailable.
Ken Gurnick has covered the Dodgers for MLB.com since 2001. This story was not subject to the approval of Major League Baseball or its clubs.