Lester's gem latest for dominant rotation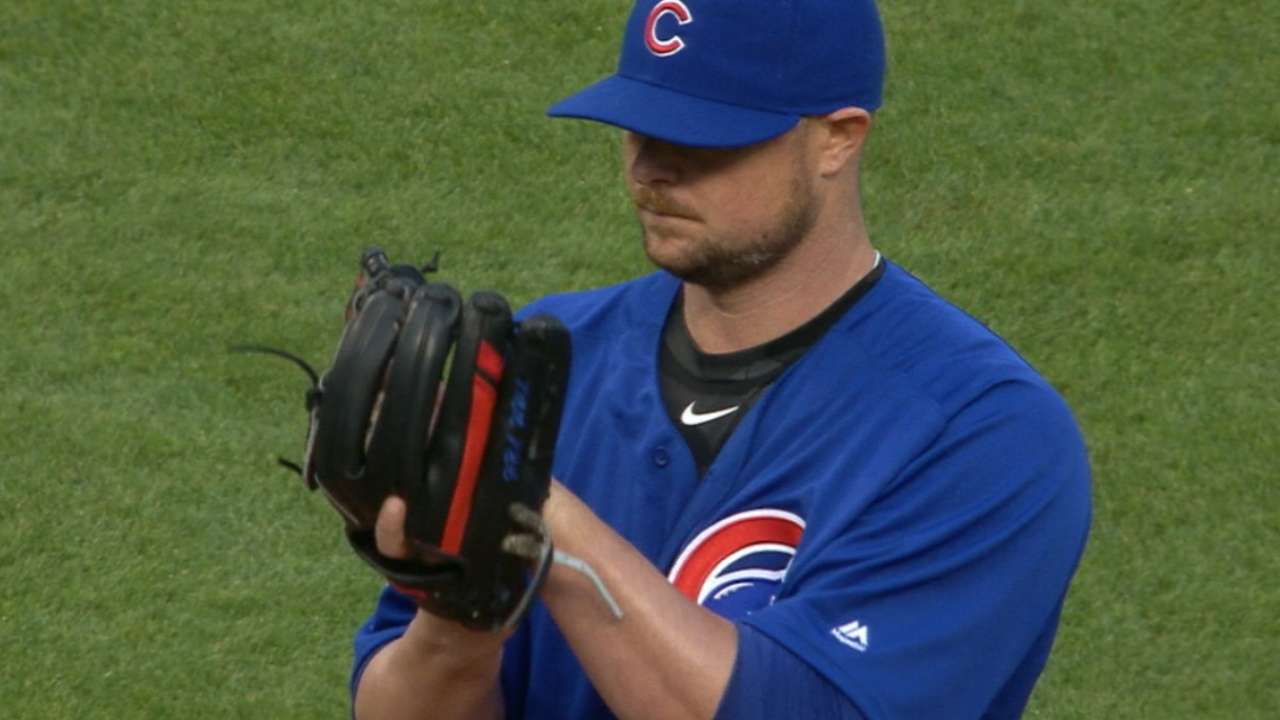 CINCINNATI -- No team has ever had no-hitters in consecutive games, but Jon Lester admitted he was thinking about following Jake Arrieta's no-no with the second of his career. Joey Votto spoiled that early Friday night.
Votto singled with two outs in the first, one of five hits off Lester, who got plenty of offensive support in the Cubs' 8-1 win. Arrieta threw his second career no-hitter on Thursday in the series opener.
"We're all human and we all think about it and the possibilities and what if," said Lester, who did throw a no-hitter May 19, 2008, with the Red Sox. "Obviously, Joey Votto erased that pretty quickly.
"That's the cool thing and the special thing about a no-hitter. Joey could've easily done that last night -- checked swing, ground ball down the third-base line for a hit. That's what makes those nights very special. Everything is right at guys or guys get great jumps or whatever it is, and you're flat-out dominant. Going in, we're all in the back of our minds, hoping."
Lester did just fine on Friday. It was the 15th quality start by a Cubs pitcher in 17 games, the most in franchise history. Chicago starters have given up just 29 runs (27 earned) and lead the Majors with a 2.13 ERA.
"We talk about the hitting a lot, but the pitching has been there every night," manager Joe Maddon said.
People talk about the hitting because the Cubs have outscored their opponents, 105-38, the best run differential in the Majors. Anthony Rizzo and Javier Baez each hit home runs Friday, and the Cubs are averaing more than six runs per game.
Back to the pitching. What does the Cubs' success mean?
"We've been consistent," Lester said. "That's been the best thing to see from my standpoint. We've consistently gone into the sixth, seventh inning, and sometimes deeper. I feel like last year, we burnt out our bullpen early on.
"We knew coming in we'd have a good staff. I've never been a part of a staff that has 1,000 innings before, and I'd like to see that. I think we have five guys who can push the envelope and do that."
The Cubs are now 9-2 on the road and 13-4 overall, and they've done that despite having Rizzo bat .194 and Jason Heyward batting .203.
"The scary part for the opponents is you look up at some of our guys, and they're not really swinging the bat too great," Lester said. "Our pitching has been really consistent, and I think that's going to be the backbone of this team, and it will take us to where we want to go. The fun part for us is knowing a lot of these guys haven't got hot yet, and you look at the start we've had. When you've had a good start, you can sit back, you're not pressing as much."
Carrie Muskat has covered the Cubs since 1987, and for MLB.com since 2001. She writes a blog, Muskat Ramblings. You can follow her on Twitter @CarrieMuskat and listen to her podcast. This story was not subject to the approval of Major League Baseball or its clubs.