White Sox turn 9-3-2-6-2-5 triple play
Eaton starts wild sequence in 7th; baserunning blunders sting Rangers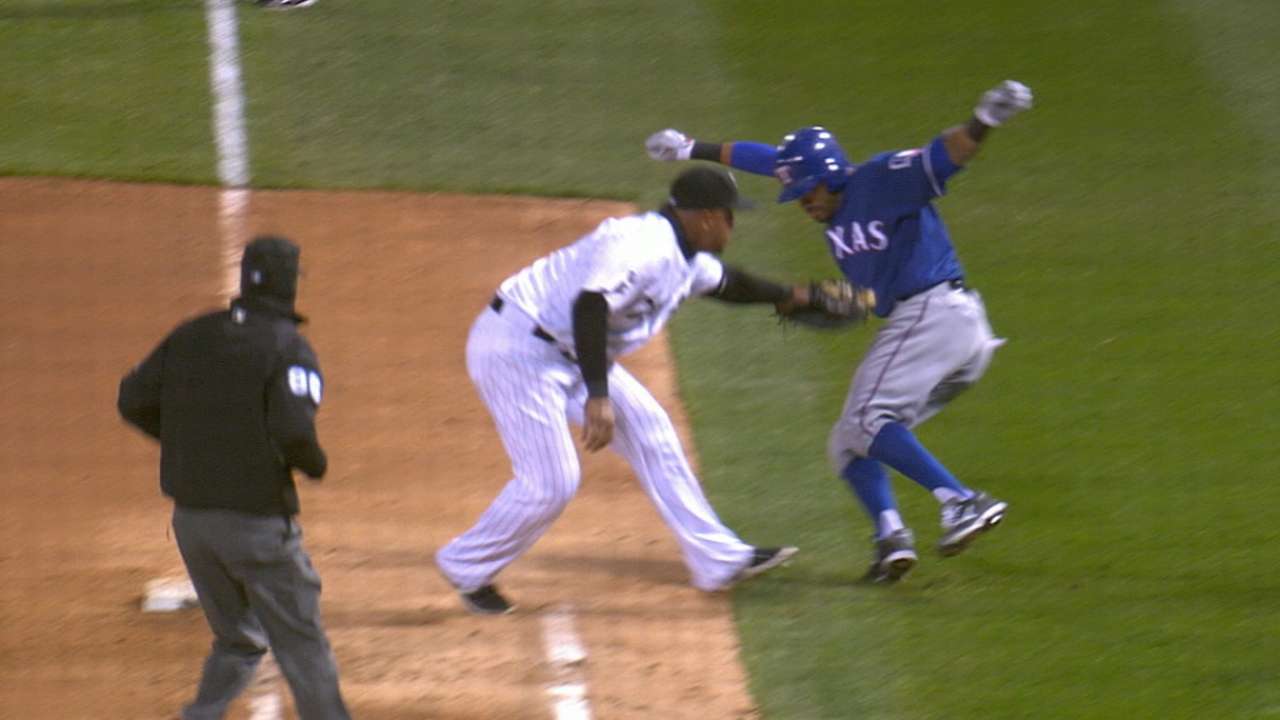 CHICAGO -- The White Sox turned such a weird triple play Friday night that Rangers manager Jeff Banister looked skyward for an explanation after Chicago's 5-0 victory at U.S. Cellular Field.
"I guess it was the full moon," Banister said. "You see some odds things in a full moon."
The triple play -- the first 9-3-2-6-2-5 triple play in Major League history -- came with no outs in the seventh inning and the bases loaded. The Rangers, trailing 5-0, should have scored at least one run on a sacrifice fly by Mitch Moreland. Instead, baserunning mistakes brought an abrupt end to the rally, the only one the Rangers mounted against White Sox starter Jose Quintana.
"I never saw that before," Quintana said. "Today that happened to me, that's so exciting. That was fun. I enjoyed this moment."
It was the first triple play turned against the Rangers since 1991. Banister wasn't really blaming it on the full moon, and neither were the baserunning culprits.
"It was a disaster by everybody," Adrian Beltre said. "All the runners screwed up. Awful baserunning by everybody."
The Rangers had loaded the bases with nobody out on a double by Prince Fielder, a single by Beltre and a walk to Ian Desmond. That brought up Moreland, and he lined out to right fielder Adam Eaton, who made a nice running catch toward the line.
That was out No. 1.
Desmond thought the ball was going to fall in and was heading to second. Eaton threw to first baseman Jose Abreu to double up Desmond and the throw was off-line. But Desmond overran the bag trying to get back. Abreu had two chances to tag him as Desmond tried to dance his way back to the bag and got him on the second try.
"Bad baserunning on my behalf," Desmond said. "I saw the ball had topspin and I thought it was going to go down. I didn't take into account they had a center fielder playing right field."
Abreu then fired home to catcher Dioner Navarro to keep Fielder from scoring. But Fielder was going back to third, only to find Beltre had the same idea coming from second. Navarro ascertained the situation and threw to shortstop Tyler Saladino, who returned the ball to Navarro.The catcher then threw to third baseman Todd Frazier, who tagged out Fielder.
"You see, the whole thing was kind of a circus play to begin because the runners kind of took off," Saladino said. "When you're in that situation, everything's in your favor as long as you get the first out and then you just take care. I've never been in a triple play before.
"And looking back on it, standing at second, I know both runners are in a bad spot at third base, but then you got [Abreu] chasing Desmond around at first, so as long as we were able to get that one there and then we manage what we have over at third, the two of them are tied up so we take care of that and then it works out that way, it's pretty exciting."
Fielder said his mistake was bolting for home right away because, like Desmond, he thought the ball was going to drop.
"Once I saw him catch it, I had to go back," Fielder said. "It was too late to go again. I didn't want to get thrown out at the plate."
Beltre admitted he should have known if Fielder went or not.
"I thought Prince had scored," Beltre said. "I looked over there and couldn't see him. I guess he must have been behind Frazier. I should have known better."
It was the White Sox first triple play since Sept. 18, 2006.
"It was crazy the way it unfolded, but obviously good for the boys and a lot of good energy," White Sox second baseman Brett Lawrie said. "It was fun to be a part of. Nobody thought the play was over at any time. Abreu did a great job of getting the ball home to give us time, get him into the rundown, and fortunately enough, they made another baserunning mistake in getting to third. We just did a great job as a group all around."
It all started with the catch by Eaton in right.
"Besides marrying my wife and the birth of my kid, to be honest with you, that's high up there," Eaton said. "It was unbelievable. I've never had that much fun on a ballfield. I'm very confident saying that. I've never had that much fun on a ballfield, and it couldn't have happened with a better group of guys."
T.R. Sullivan has covered the Rangers since 1989, and for MLB.com since 2006. Follow him on Twitter @Sullivan_Ranger and listen to his podcast. This story was not subject to the approval of Major League Baseball or its clubs.