MLB.com Columnist
Phil Rogers
Mazara making every Rangers fan a believer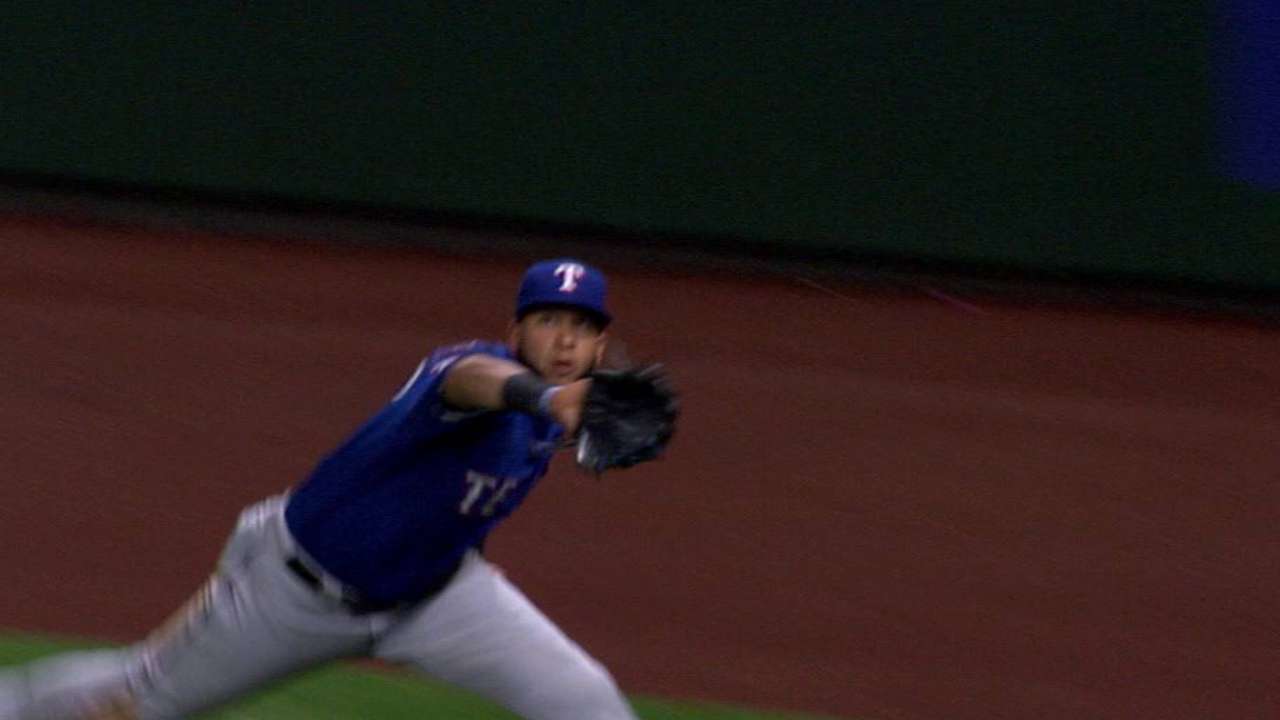 CHICAGO -- Everybody loves young players. But the Rangers and their fans have learned the hard way how they can break your heart.
If the excitement being created by 20-year-old Nomar Mazara is an indication, they're ready to start trusting again. He appears quite capable of holding up his end of the relationship.
Whether the scouting and player development was done during the regimes of Tom Grieve, Doug Melvin, John Hart or Jon Daniels, few organizations have produced more intriguing position players than the Rangers over the past 30 years.
From Oddibe McDowell and Pete Incaviglia to Ian Kinsler and Elvis Andrus, 15 Texas position players have combined for 32 seasons with 2.0+ WAR through their age-25 seasons.
Young blood helped make a previously dormant franchise become competitive in the 1990s, and more recently, helped it win back-to-back American League pennants -- the young Andrus was the shortstop on those teams in 2010 and '11. But none of those teams could give Texas its first World Series championship.
Say hello to the Rangers' new wave: Mazara, 22-year-old second baseman Rougned Odor and at least two other very promising hitters behind them in their top two prospects, according to MLBPipeline.com, Joey Gallo and Lewis Brinson.
These are guys whom Daniels wouldn't trade last summer, when he sent five prospects (including right-hander Jerad Eickhoff, catcher Jorge Alfaro and outfielder Nick Williams) to the Phillies for Cole Hamels and lefty reliever Jake Diekman.
While Gallo struck out way too many times in his first big league stint, Odor was something of a revelation when he was promoted from Double-A Frisco in 2014 (a player whom the Cubs had unsuccessfully pushed to include in the Matt Garza trade the year before). Mazara has so far been the best kind of advanced prospect -- one who is as good as advertised.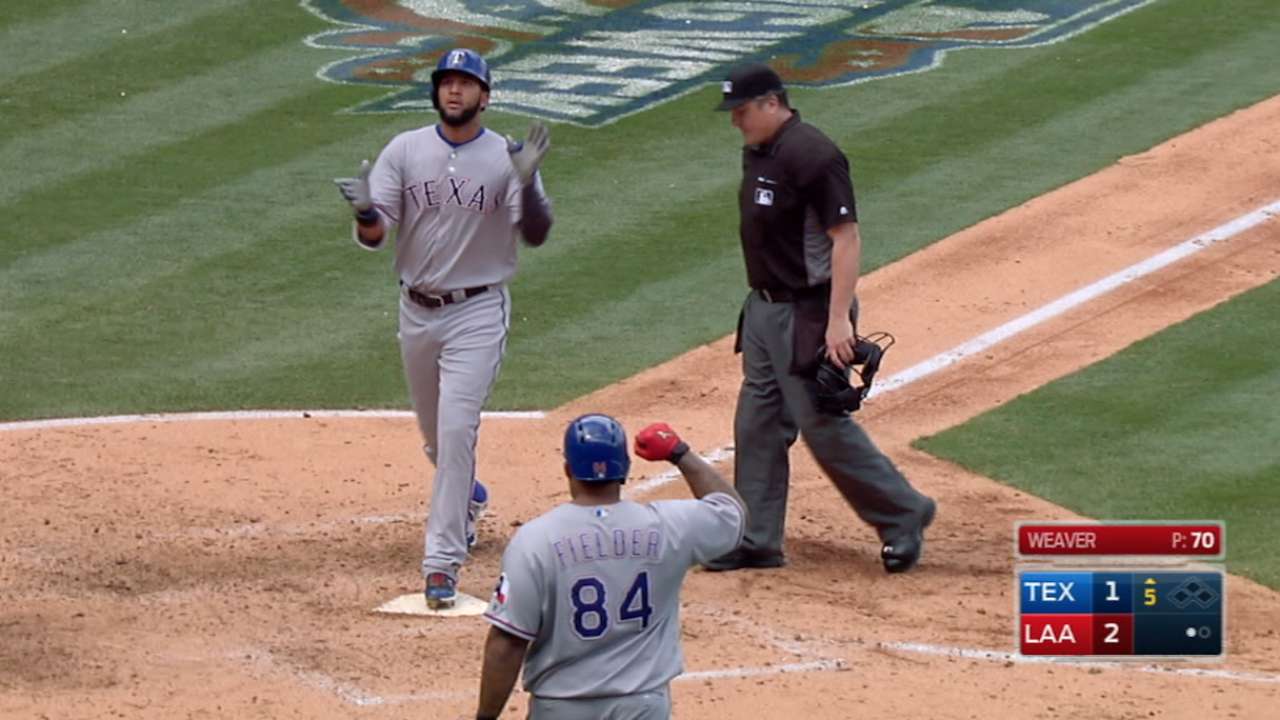 Mazara started the season at Triple-A Round Rock, but he got a phone call to report after Shin-Soo Choo went on the disabled list with a strained right calf. He's helped Texas go 7-3 when he's in the lineup, providing a presence in the No. 2 spot in the order while upgrading the defense in right field.
Mazara is hitting .378 with one home run, five RBIs and a .932 OPS, but you wouldn't know he's off to a good start by the respectful way he carries himself.
There's at least a little bit of Carlos Correa in Mazara. He was educated to be exactly where he is now, less than five years after the Rangers signed him to a $4.95 million bonus, then a record for a player from Latin America.
He converses with teammates, coaches and the media in English. That's the result of having had a tutor at home in the Dominican Republic, where his father is a high-ranking official in the Navy.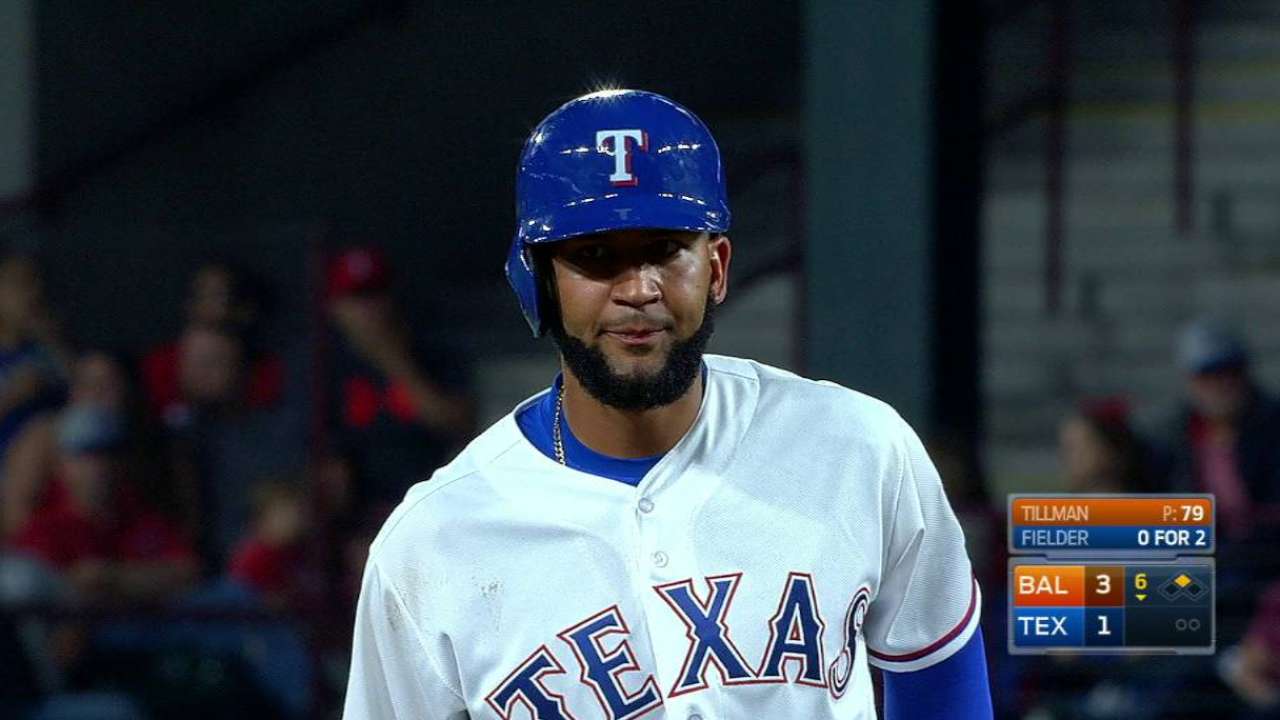 "You're in the States,'' Mazara said in the visitors' clubhouse at U.S. Cellular Field. "Everybody speaks English here. You must be speaking English so you can communicate with everybody.''
Mazara said he could understand English when he arrived at the Rangers' complex in Arizona in 2011. But he didn't start speaking his second language until after he was immersed in his new surroundings.
Discussing his sudden promotion from Triple-A, where he had played only three games this season (and 23 total), Mazara said it was a shock because of Choo's injury. But he was confident he could handle the challenge, because he had experienced success in Spring Training, hitting .375 with eight RBIs in 12 games.
"It's been awesome,'' Mazara said. "It's been a great opportunity to be here with this group of guys. It's been great so far.''
When the Rangers signed Mazara, scouts outside the organization questioned the size of the investment in him because he had a huge swing with many holes. But he replaced a big leg kick with a toe tap, and he has worked diligently -- and intelligently -- to develop an approach that can handle both velocity and nasty breaking pitches.
"I'm impressed by just how calm he is, his presence in the batter's box and running the bases,'' Rangers manager Jeff Banister said. "In the outfield, we saw the good strong throw to the plate the other day, and he's made some nice running, diving catches. I like the maturity level, how he sees the game and has a feel for the game above his [age level]."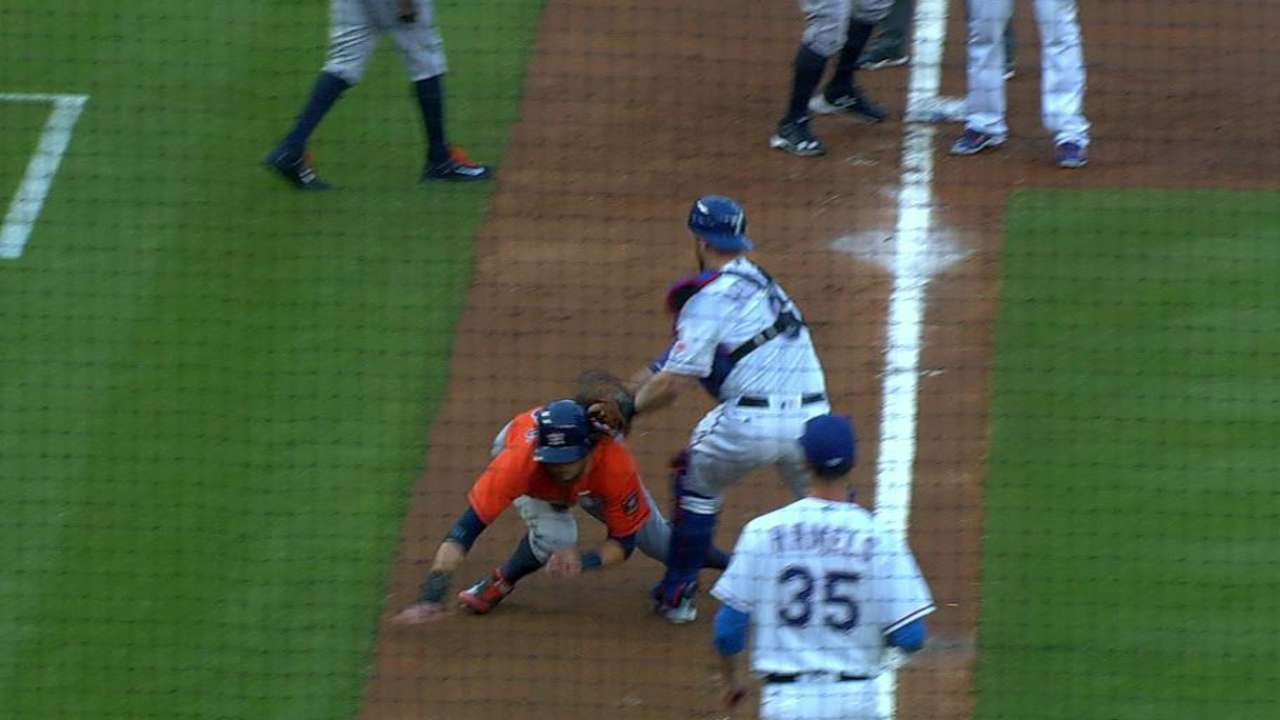 Mazara hit 22 home runs in 2014, which he split between low Class A Hickory and Double-A. He almost always was a middle-of-the-order hitter in the Minors, but Banister put his left-handed bat in the second spot between leadoff man Delino DeShields Jr. and the Nos. 3-4 combination of Prince Fielder and Adrian Beltre.
"They just told me I was going to hit two-hole, just go out and have fun, do what you normally do,'' he said. "Have fun and do what I do best, play baseball.''
Simple as that, and so far, Mazara has been making it look pretty simple.
Banister believes Mazara has benefited from both strong parenting and good work by the Rangers' Minor League coaches.
"Our development people have done a great job on how they brought him along,'' Banister said. "Meeting his parents the other day, there's no doubt why he is a good person and why he has a good calm demeanor. They are very impressive people. A lot of factors have allowed him to be prepared for this arena, and physically, he has the skill-set to be here."
Mazara has no promises from the organization about his spot on the roster. He could return to Triple-A when Choo gets healthy -- he's believed to be at least a month away from returning -- but seems to dig his roots a little deeper every day he's in a Rangers uniform.
For Mazara and his team's fans, this looks like the start of a beautiful relationship.
Phil Rogers is a columnist for MLB.com. This story was not subject to the approval of Major League Baseball or its clubs.