MLB.com Columnist
Tracy Ringolsby
These Rockies are built to win
After 5 straight losing seasons, this team feels different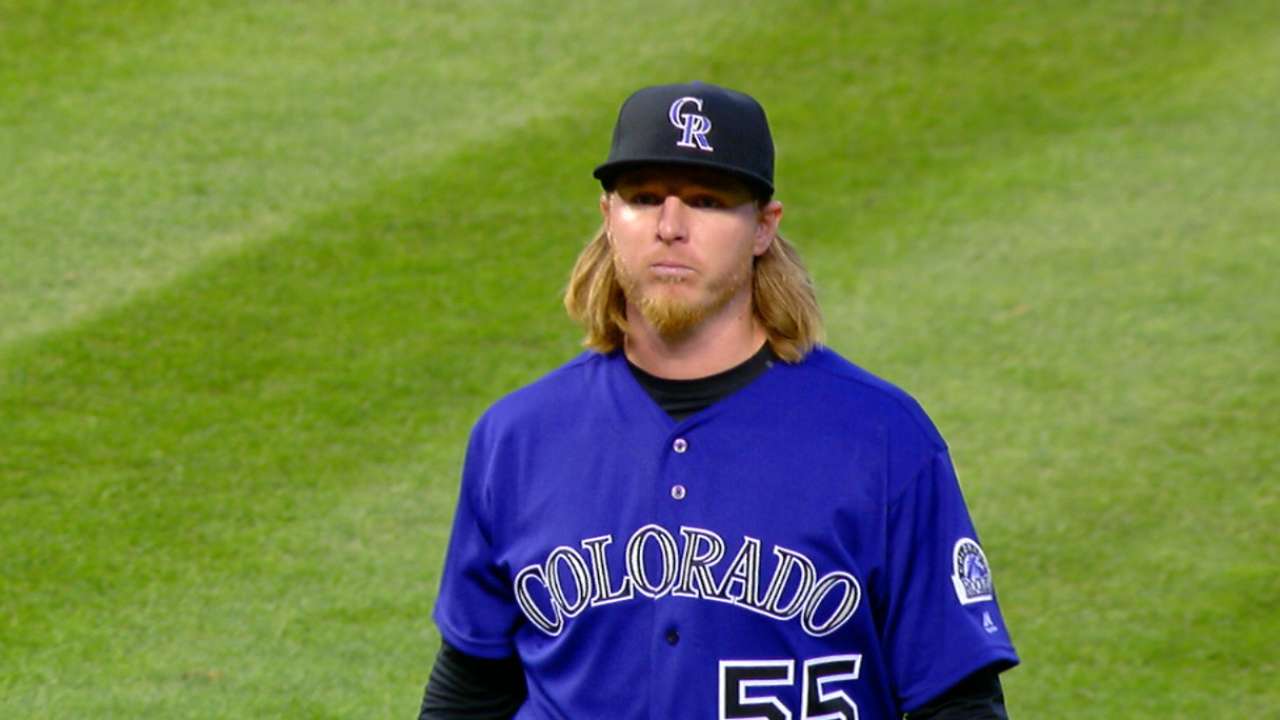 DENVER -- There's something different about the Rockies this year. And they like it.
"I think our mindset is right," said second baseman DJ LeMahieu. "I don't think we make excuses. We have a lot more talent than before and everyone sees that."
So far, so good.
Coming from behind twice on Friday night, the Rockies pulled out a 7-5 victory against the Dodgers in the opening game of a three-game series at Coors Field. It's yet another test for Colorado against a team that came into the season with great expectations.
And the Rockies passed -- at least for one night.
"We've got a good group," manager Walt Weiss said. "I talked about our vibe this spring and how much I liked it, and these guys have carried it into the season. We've got a long way to go, but I like what we're made of. I've seen it several times already this year. I saw it especially this last road trip. Even in the games we got down, guys fight until there are no more outs left. That's a nice come-from-behind win right there."
Now, it's not like there's any rush to print up playoff tickets. Three weeks into the season, there are a few issues that Colorado knows have to be addressed.
Yes, the Rockies opened the season in Arizona, and they won two of three from the D-backs. Oh, the Giants did come to Coors Field earlier this month, and the Rox won two of three from them. And then they went into Wrigley Field, got shut down by Jake Arrieta, which is not unique to them, but won the two other games, including a 2-0 series finale victory against Jon Lester when Nolan Arenado hit two home runs.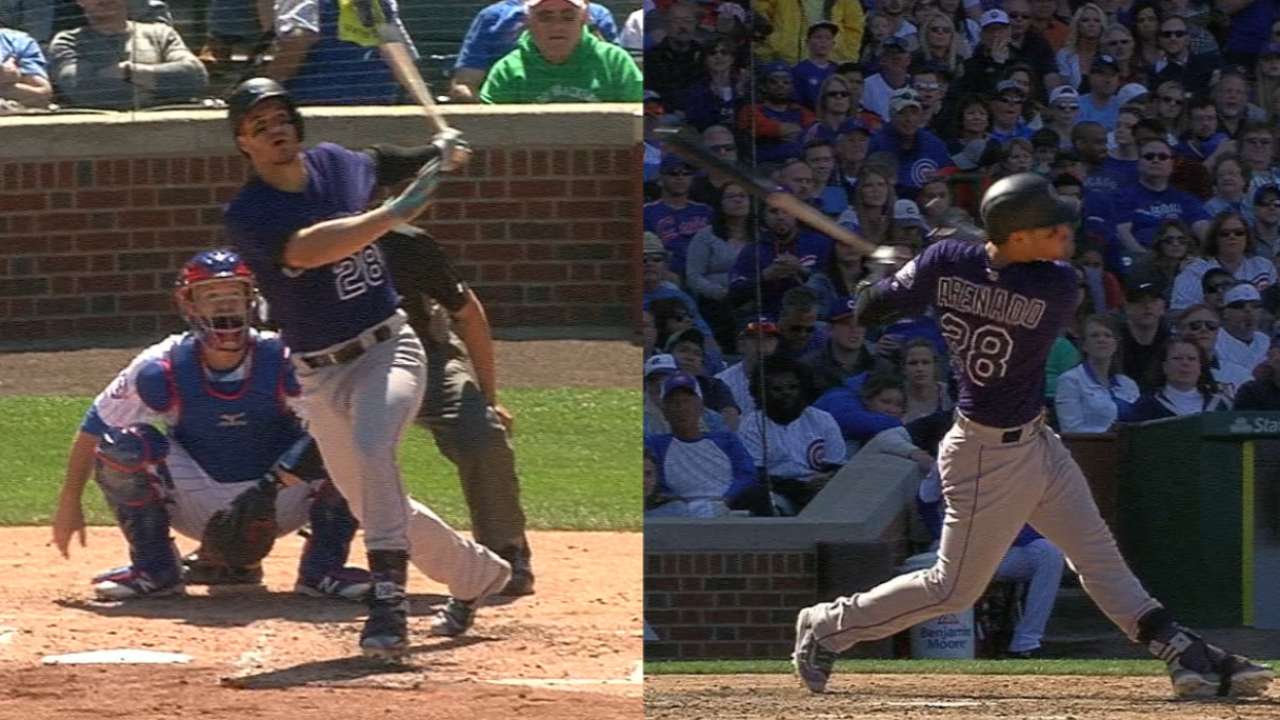 "If that doesn't give you confidence, nothing is going to give you confidence,'' said right fielder Carlos Gonzalez. "We beat really good teams. But we have to keep that going."
And the Rockies have to avoid pratfalls like the two other series they have played this season. They also lost two of three at home to a Padres team that arrived having been held scoreless in a season-opening three-game series against the Dodgers, but San Diego scored 29 runs while winning back-to-back games at Coors Field before Colorado salvaged the series finale. And then, after the series success at Wrigley, the Rockies went to Cincinnati and lost two out of three to the Reds.
"We have to take care of business against those teams," said Gonzalez. "We go to Chicago and it's a full house with a lot of energy in the stands, and we respond. We go to Cincinnati, it's an empty stadium, we let ourselves go through the motions and lose two of three. We can't do that. We have to take care of business."
They did that against the Dodgers, a team that has won the season series from the Rockies in seven of the past eight seasons and put together an 87-60 record in the process.
"We're more of a family now," said Brandon Barnes, who delivered the game-winning two-run triple off Chris Hatcher in the eighth. "We feed off each other. We know it is the only way we are going to get where we want to be."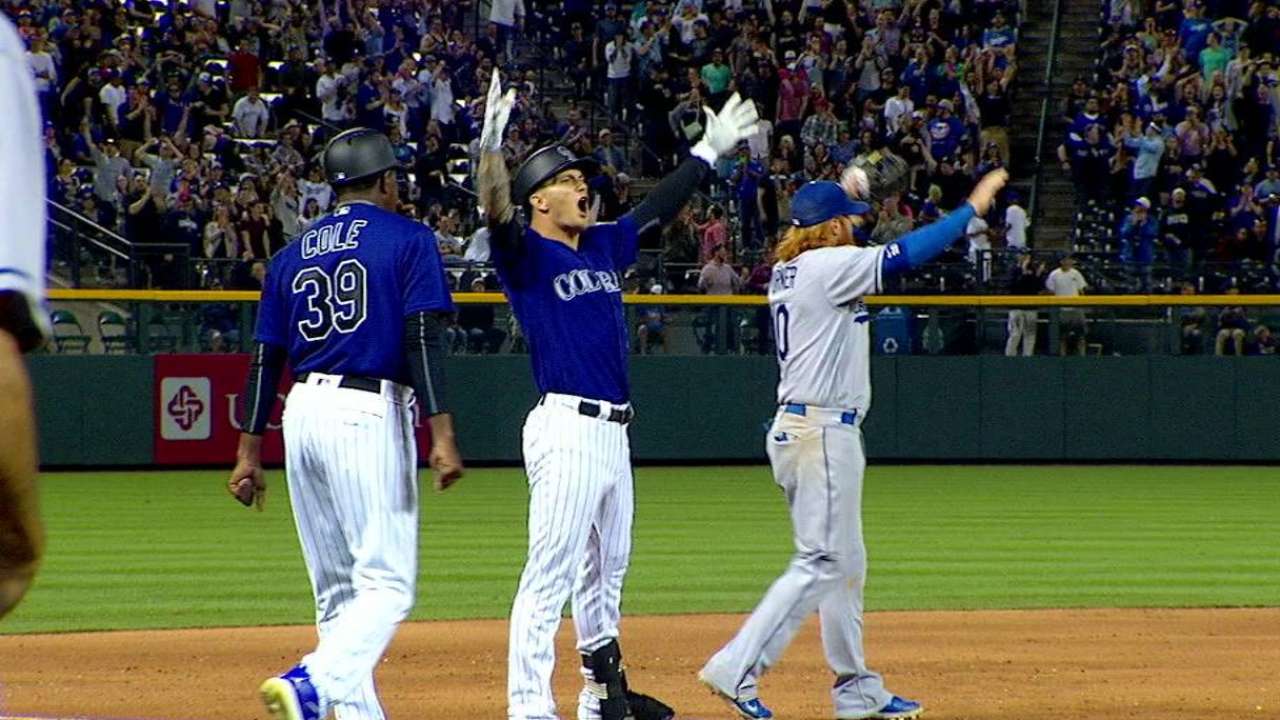 It was the same way they were able to exploit a Dodgers bullpen that had allowed only one run in 27 1/3 innings before the Rockies scored one in the seventh and two in the eighth, thanks to Barnes battling back from an 0-2 count, eventually driving the ball off the right-field wall, and challenging the arm of Yasiel Puig, who in a similar situation threw Trevor Story out at third in the fifth.
"I'll test anybody," said Barnes. "All I am thinking is we have to win this game."
He is not alone with that attitude on the Rockies.
This is a franchise that hasn't just suffered five consecutive losing seasons, but has lost 90-plus games in three of the past five years.
This year, said LeMahieu, is different.
"We have beat good teams and we have beat them on the road," he said. "That is a big confidence thing for us."
And it started in Spring Training, said LeMahieu. It started with seeing the continued emergence of Chad Bettis as a top-of-the-rotation starter, and the indications that the ever-competitive Tyler Chatwood has recovered from his second Tommy John surgery.
Even more, though, there was the emergence of Jon Gray, the third player taken in the 2013 Draft who joined the rotation Friday night, and the eye-opening abilities of prospects Jeff Hoffman, Kyle Freeland and Antonio Senzatela.
"We saw the reinforcements [for the rotation] in the spring," said LeMahieu. "[They] are not just arms. They are all three impact arms. That's a depth we've never had before."
That is the type of ability that gives hope they can weather the challenges that come up during the 162-game regular season.
Tracy Ringolsby is a columnist for MLB.com. This story was not subject to the approval of Major League Baseball or its clubs.