Werth's bat, glove back Gio in Nats win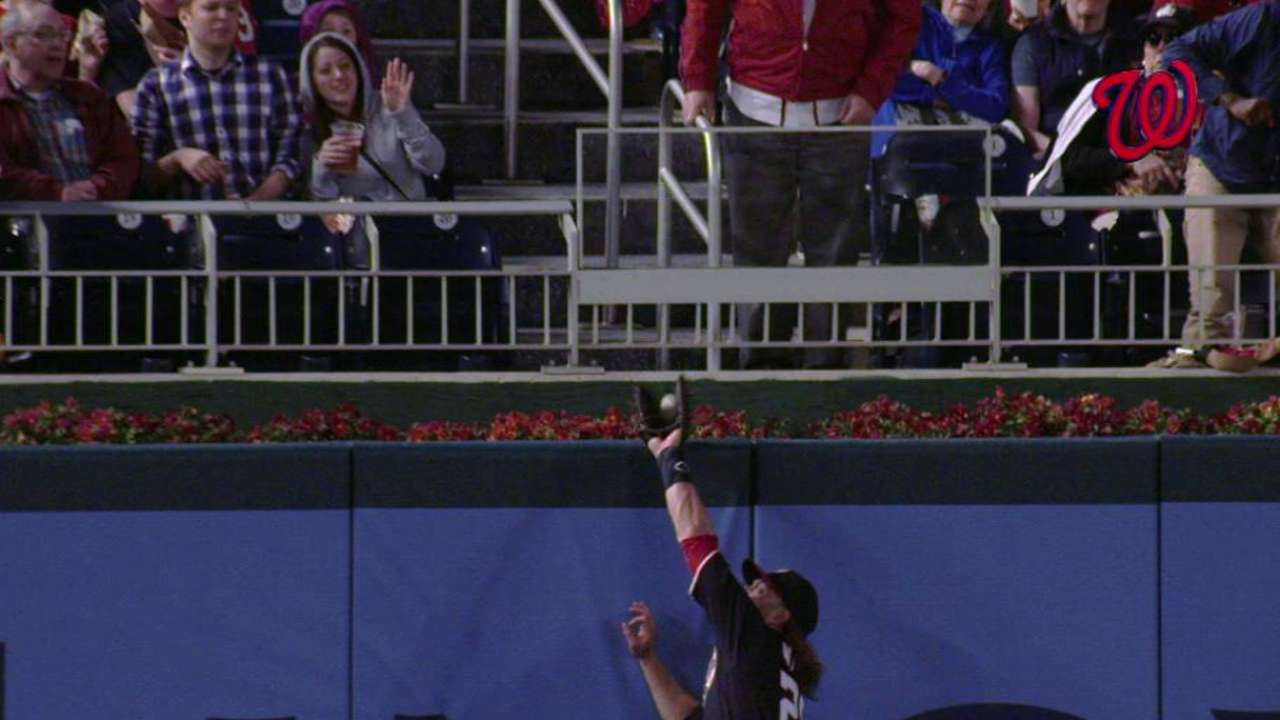 WASHINGTON -- The Nationals ambushed Twins right-hander Kyle Gibson from the outset Friday night, sending nine batters to the plate in a four-run first inning, as they cruised to an 8-4 victory. Catcher Jose Lobaton collected a pair of hits, including his third career triple, and drove in three runs, while left fielder Jayson Werth robbed a home run in left field before later hitting a solo homer of his own.
"I've tried to concentrate more on being a good catcher and call a good game for Gio [Gonzalez], but at the same time I want to do something good for the team," Lobaton said. "I want to help in getting some RBIs and runs and triples, maybe."
• Lobaton brings smiles, production to Nats' lineup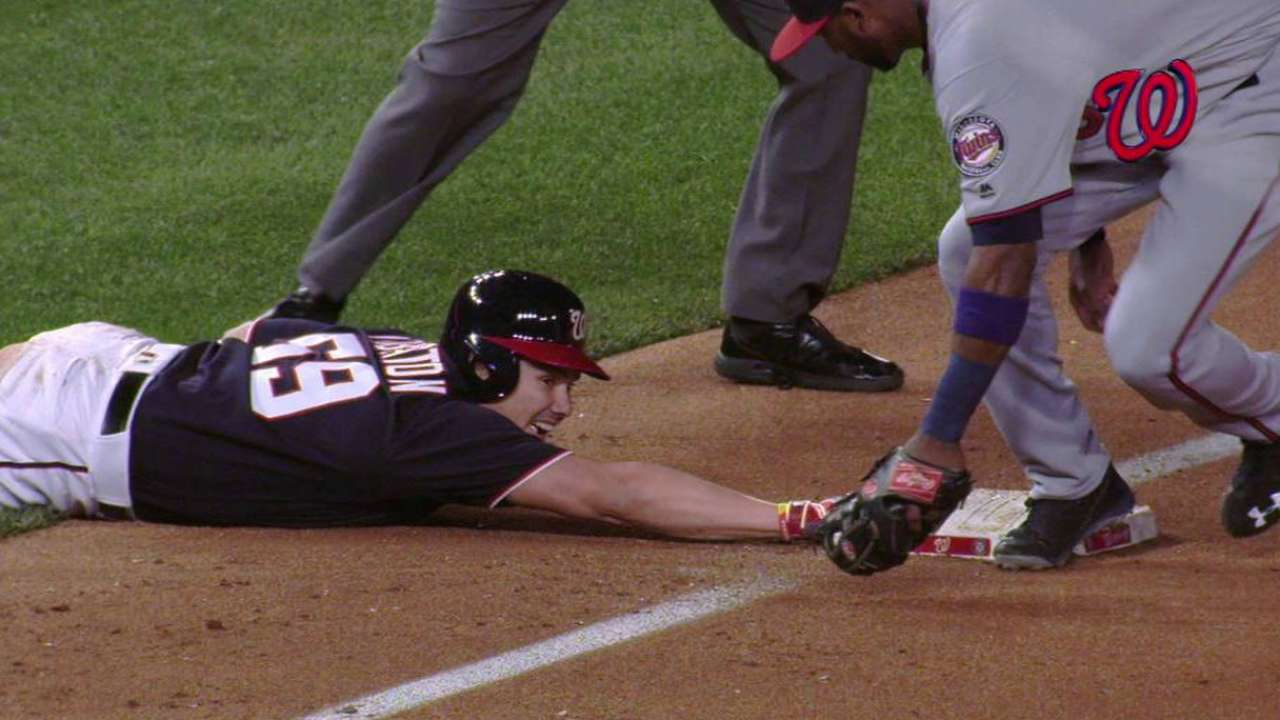 The Twins were put in a hole right away after an off-night from Gibson, who surrendered seven earned runs on seven hits in three innings. They climbed back into the game -- Joe Mauer continued his recent hot streak with an RBI single in the fourth inning, and Miguel Sano belted a solo homer in the eighth inning -- but eventually fell short.
"We put a little something together later on," Minnesota manager Paul Molitor said. "We were able to capitalize on [Eduardo] Nunez getting a base hit [in the seventh], and Big Boy [Sano] hit another homer, which was good to see. But it was too big a deficit to overcome."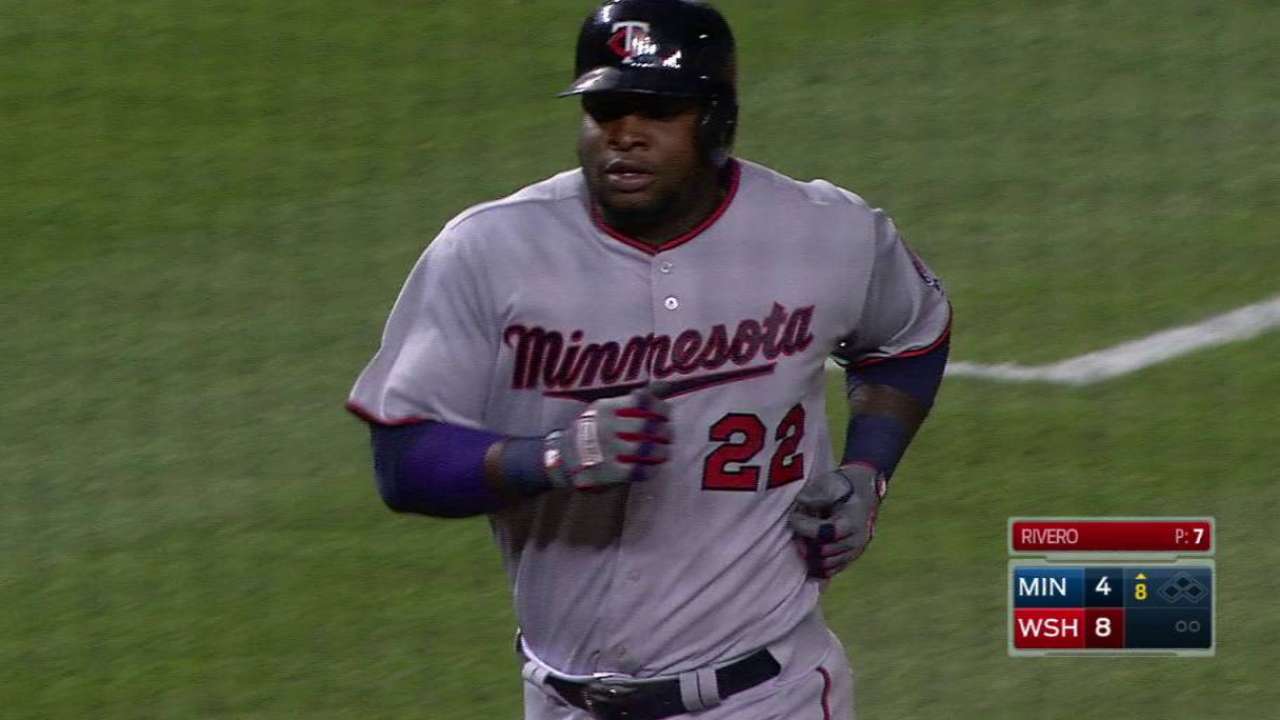 Washington improved to 12-4, matching its best start in franchise history with the 2012 team. A large reason for the Nationals' strong start has been the strength of their rotation, which entered the game with the second-best ERA in baseball. They got another strong contribution from the left-handed Gonzalez, who went six-plus innings and struck out eight, matching a season high.
• Rizzo likes early energy, feel to 2016 Nats
MOMENTS THAT MATTERED
Gio stays hot: After what may have been the best start of Gonzalez's career with the Nationals his last time out, the southpaw continued his impressive start to the season with another strong outing Friday night. He pitched into the seventh inning, before he was removed after loading the bases. Gonzalez was charged for three runs (two earned) on six hits and one walk with eight strikeouts. He has allowed four runs (three earned) through his first 19 innings this season.
"I think he had a good winter," Werth said. "He worked hard. I think his confidence is where it needs to be. He's been working really hard. He wants to be good and do good. I'm happy for him."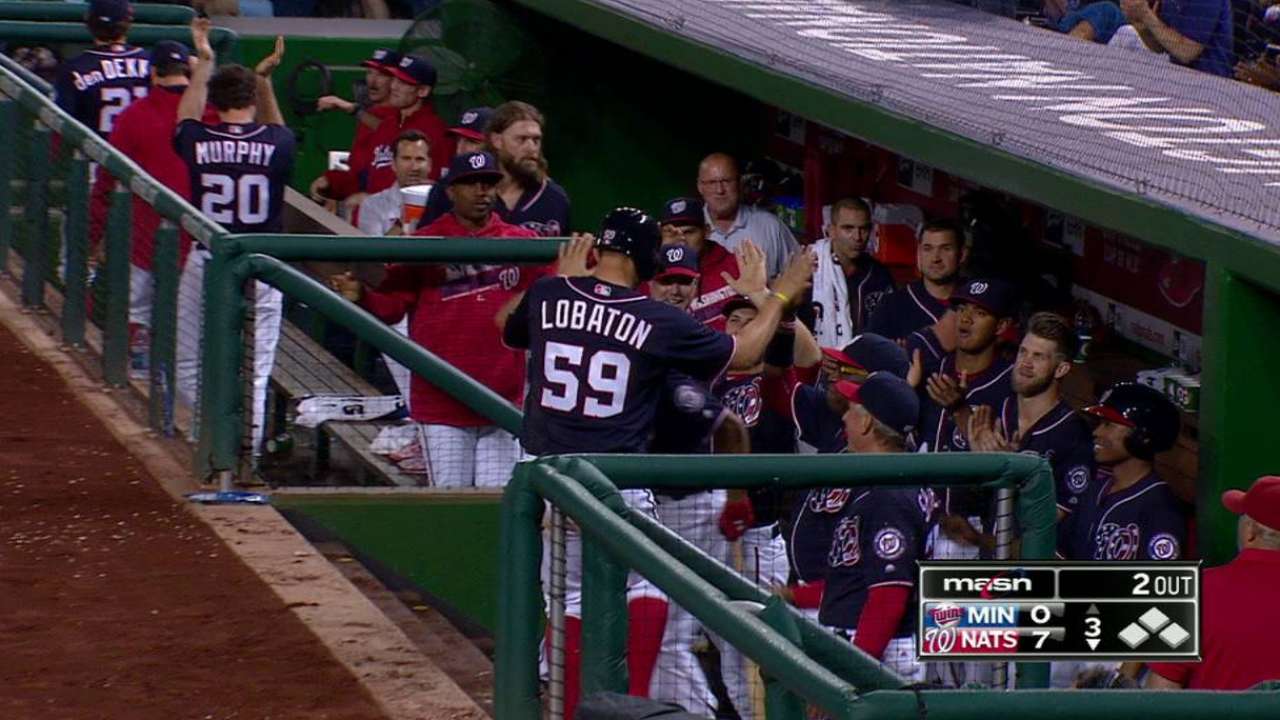 First-inning issues: Gibson retired two of the first three batters he faced Friday, but he couldn't escape the first inning unscathed. With two outs and a man on first, the Nationals strung together two singles, two walks and a hit by pitch. By the time Gibson retired Gonzalez to end the frame, the Nationals had a 4-0 lead that they wouldn't relinquish.
"First three hitters I felt really good, felt really sharp," Gibson said. "I felt like I had carried everything over from the bullpen to the mound. And then a couple of glove-side heaters to [Ryan] Zimmerman really weren't even close. … I just lost it there for a little bit."
• Gibson struggles to finish off Nationals' bats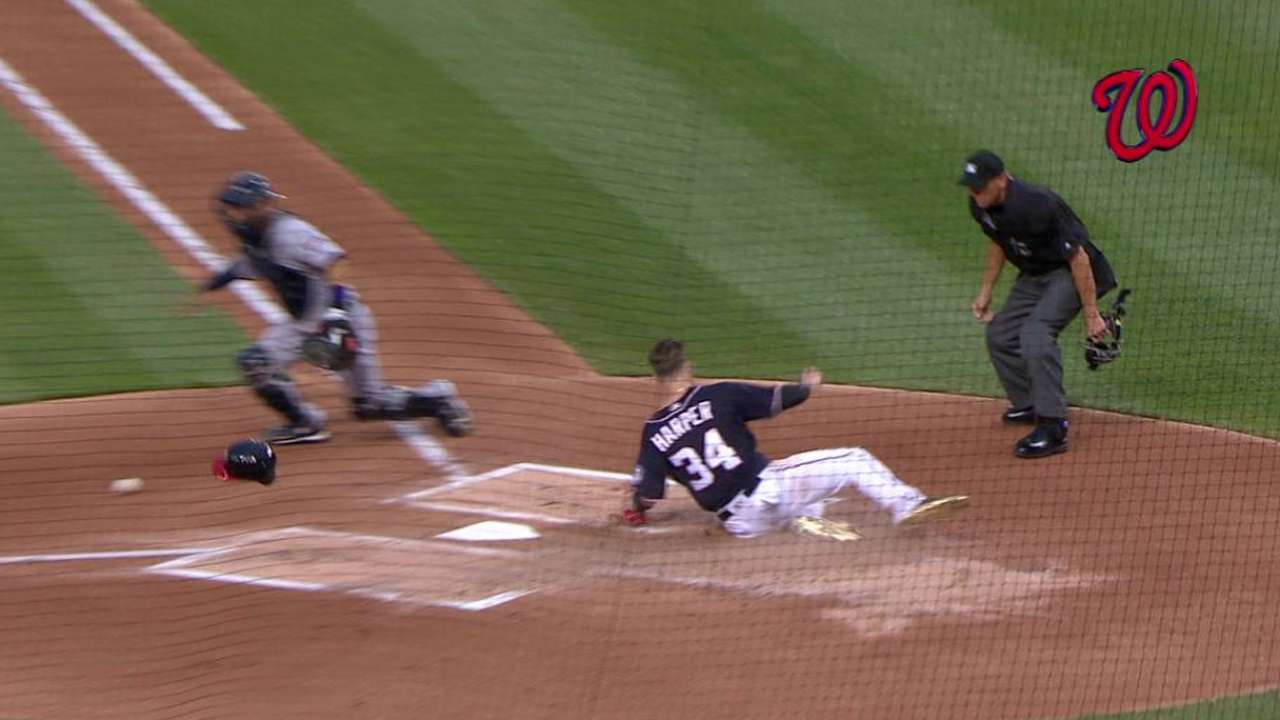 Sano stays hot: After a slow start to the season, Sano has gotten hot in a hurry. The powerful Twins right fielder homered to lead off the eighth inning, the third time he's gone deep in his last five games. He now has as many RBIs in his last two games (three) as he did in his first 15.
Rob one, launch one: Nationals manager Dusty Baker said he would be watching Werth closely to make sure he was fully recovered after tweaking his left hamstring Wednesday. Werth quelled any doubts with a leaping catch at the wall to rob Byron Buxton of a home run in the third inning before smashing a solo home run in the fifth.
"I knew when it was hit I was going to have a chance," Werth said. "I timed it up and sometimes those are do-or-die plays. You hope for the best. It was just close enough."
• Werth robs Buxton of HR, then goes yard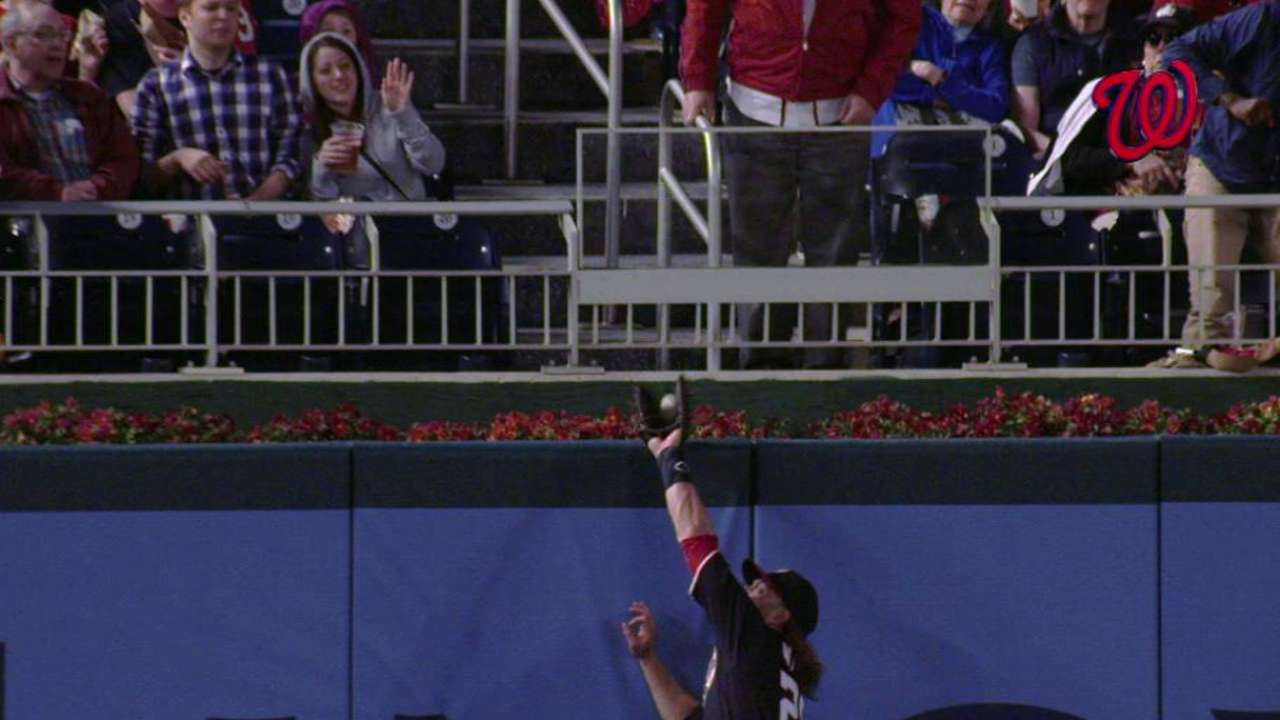 WHAT'S NEXT
Twins: The Twins are back at Nationals Park at 12:05 p.m. CT on Saturday with Phil Hughes taking the mound. Hughes has been very consistent this season, allowing three runs in each of his three starts, while throwing six, 6 1/3 and six innings.
Nationals: Right-hander Tanner Roark has never faced the Twins in a regular-season game, but he will get his first chance Saturday at 1:05 p.m. ET. He has surrendered 20 hits through his first three starts, 17 innings, but still sports a 3.71 ERA.
Watch every out-of-market regular season game live on MLB.TV.
Jamal Collier covers the Nationals for MLB.com. Follow him on Twitter at @jamalcollier.

Alex Putterman is a reporter for MLB.com based in Washington.

This story was not subject to the approval of Major League Baseball or its clubs.