Guti gets it done as Mariners top Angels in 10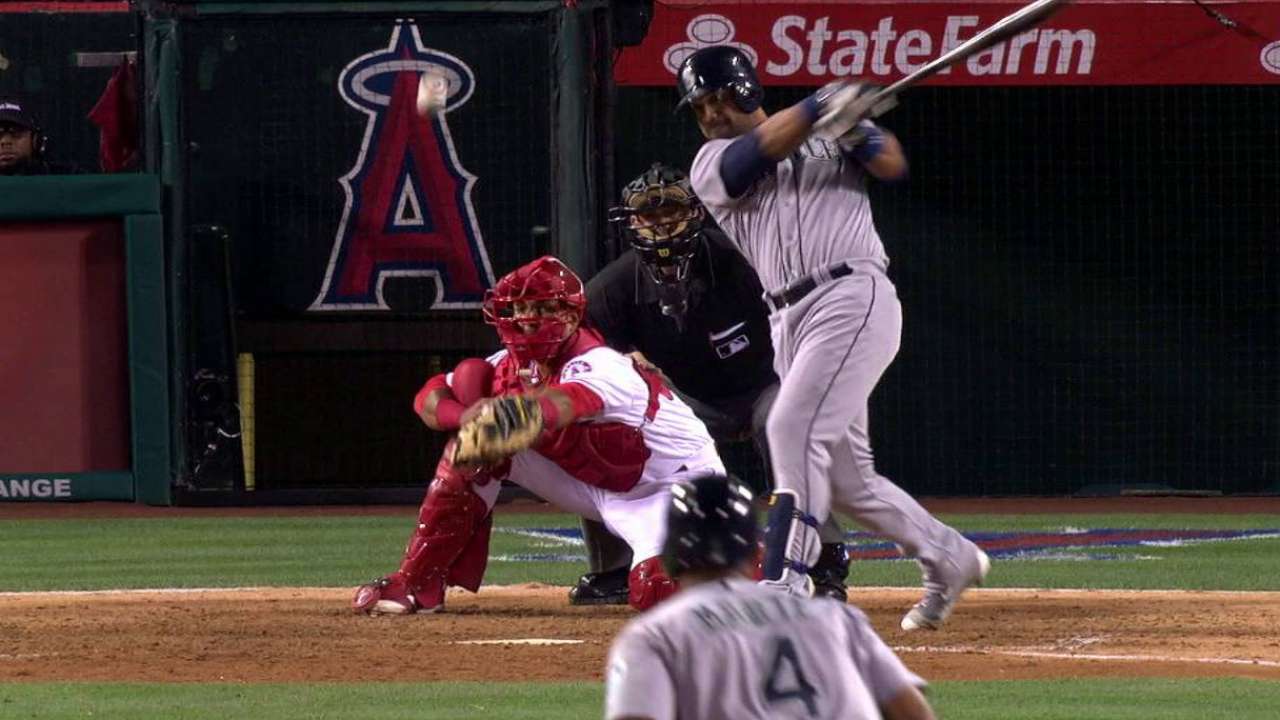 ANAHEIM -- Franklin Gutierrez drove in Ketel Marte with the go-ahead run on a pinch-hit single in the top of the 10th inning and Nelson Cruz followed with a two-run homer as the Mariners pulled out a 5-2 series-opening victory over the Angels on Friday night.
Gutierrez got his game-winner off Jose Alvarez after Marte singled and was sacrificed to second by Norichika Aoki. Cruz then provided some insurance with his third home run of the season on a line drive over the left-field fence.
"It's good, what we're feeling in the dugout right now," Gutierrez said after the Mariners won their second straight game with a three-run 10th-inning rally. "Everybody is happy. We have to keep playing the way we are right now."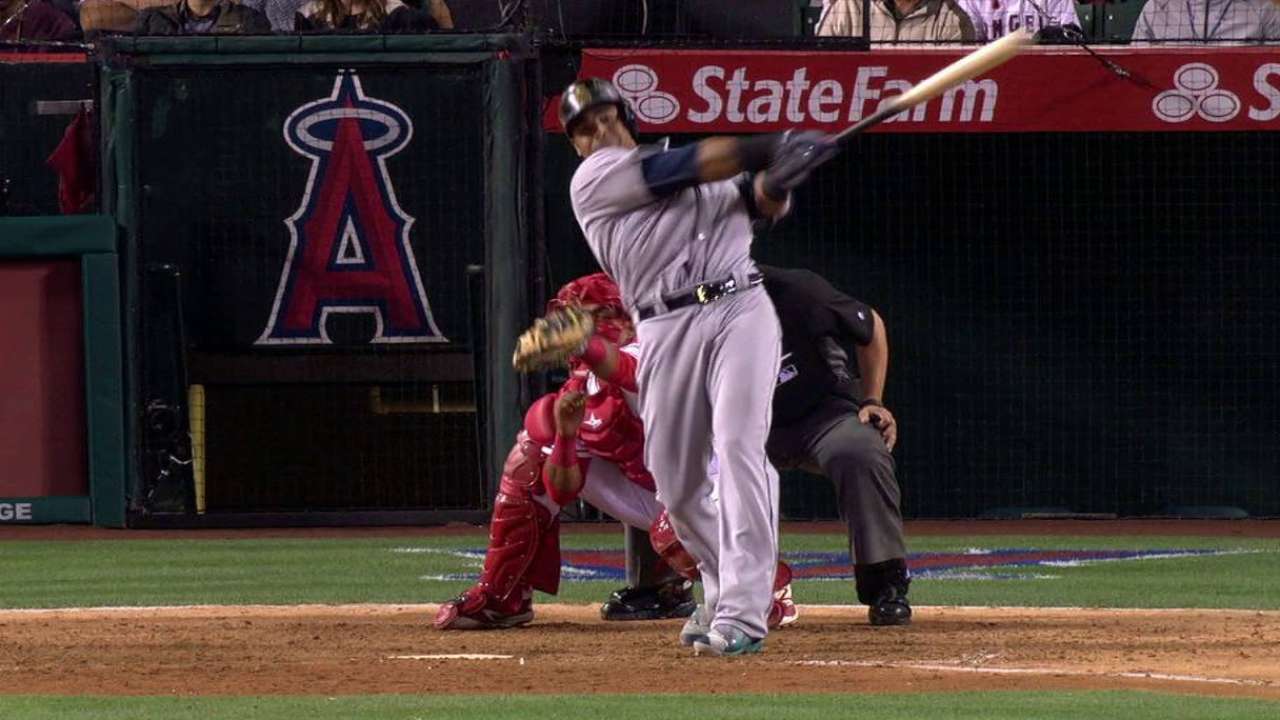 Steve Cishek earned his third save in three days as the Mariners improved to 7-3 on the road and evened their record at 8-8, while the Halos fell to 2-5 at home and 7-9 overall.
Hisashi Iwakuma, who was bumped up a day after Felix Hernandez came down with the flu, threw eight innings of two-run ball on six hits for the Mariners in his best outing of the season. Iwakuma (0-2, 3.81 ERA) gave up homers to Kole Calhoun and C.J. Cron, but otherwise was strong in an 89-pitch outing in which he retired the last 10 batters he faced.
Angels right-hander Nick Tropeano, making his third start in place of the injured Andrew Heaney, allowed two runs -- both in the first inning -- on four hits and four walks over 5 1/3 frames and turned over a 2-2 tie to his bullpen. The 25-year-old is 1-0 with a 1.69 ERA.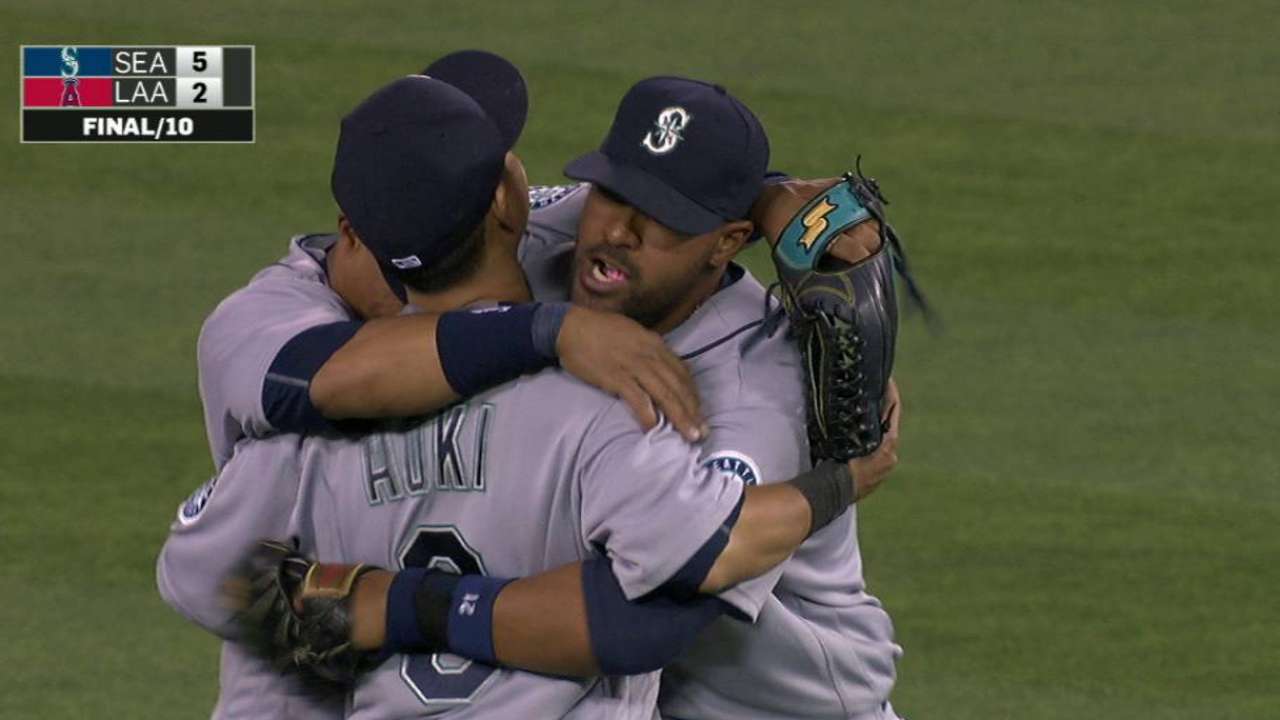 MOMENTS THAT MATTERED
Mariners make the sacrifice: The Mariners tallied twice in the first inning on bases-loaded sacrifice flies by Cruz and Adam Lind. Seattle couldn't get the big hit to break things open early against Tropeano, but they did drive in the pair of runs after getting a double by Aoki, a base hit by Robinson Cano and a pair of walks. The Mariners had totaled three sac flies in their first 15 games.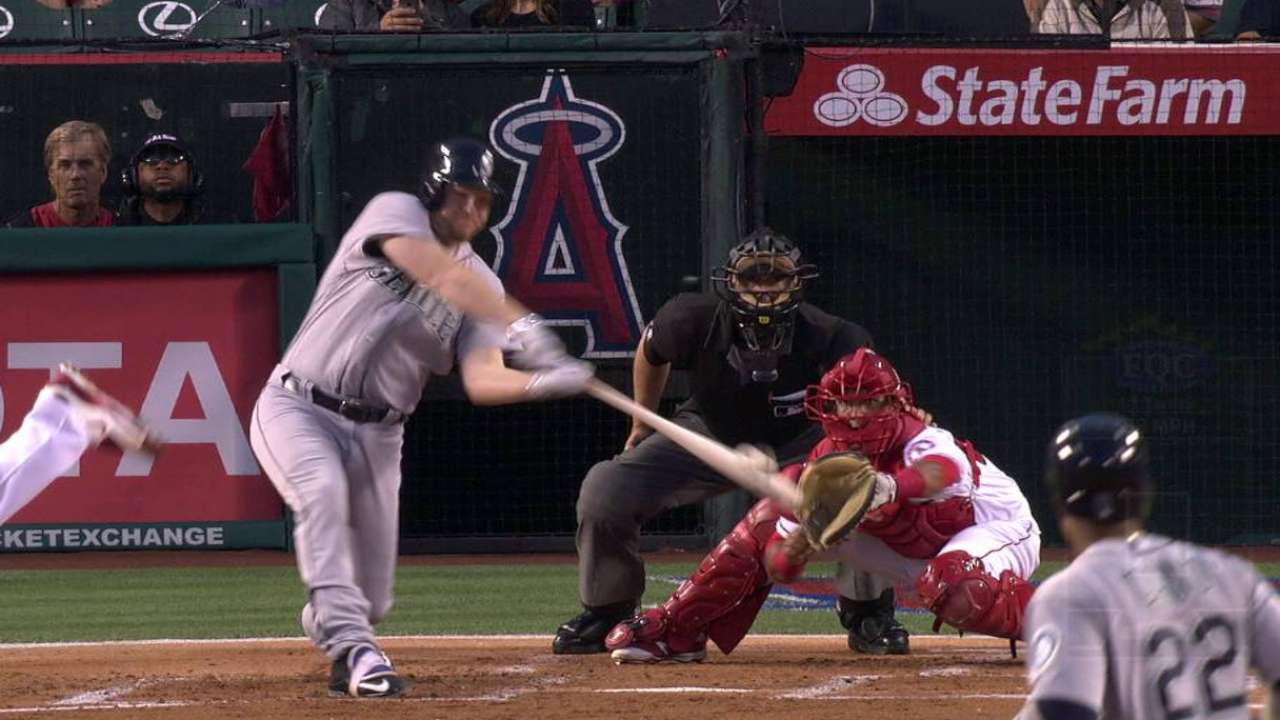 Halos power surge: The Angels evened the score, 2-2, on a pair of solo home runs, by Calhoun in the fourth inning and Cron leading off the fifth. It was just the second time in the first 17 games that the Angels hit multiple homers. They hit two April 15 at Minnesota.
"It was great to tie up the game at that point. It's just too bad we couldn't pull out a win," said Cron, whose homer was his first of the year. "I feel fine up there. Baseball is kind of a results-oriented game, so it's kind of nice to see some results."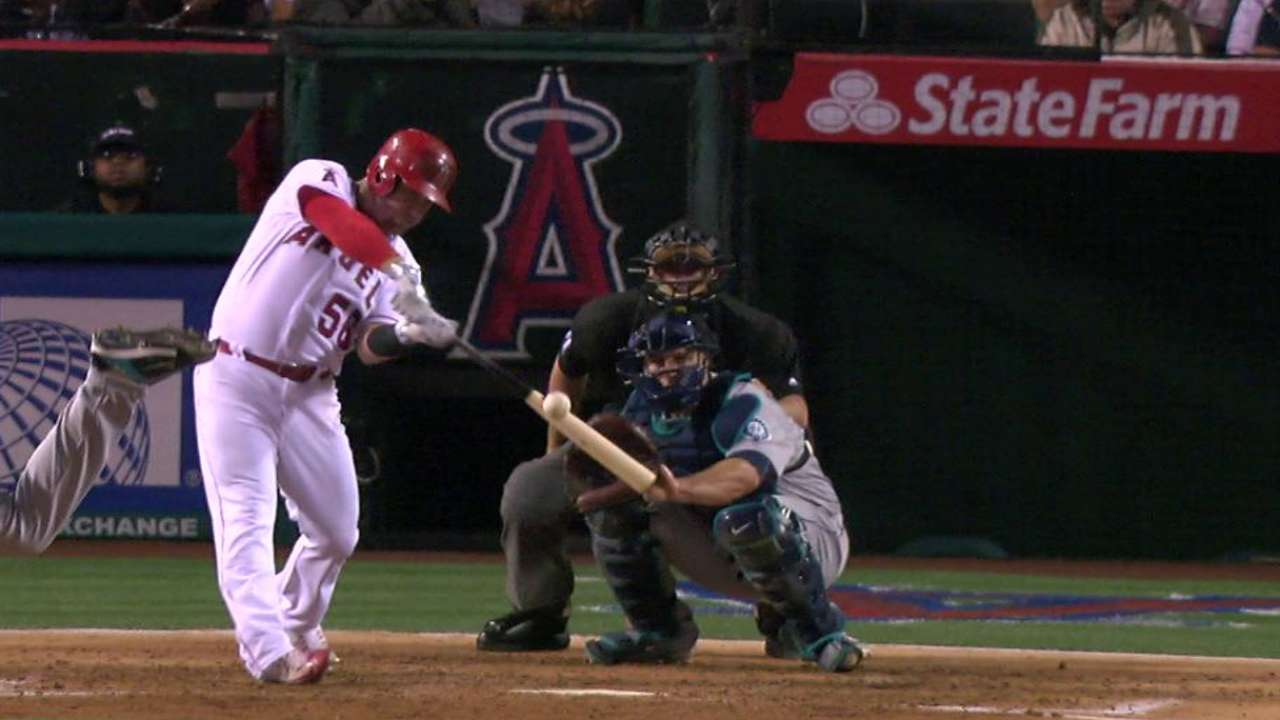 Double trouble for Pujols: Iwakuma got some help from a pair of double-play grounders by Albert Pujols to keep the Angels in check. After leadoff base hits by Yunel Escobar and Rafael Ortega in the first, Iwakuma got Mike Trout to fly out to left before Cano snared a hard shot by Pujols and turned a double play to end that rally. Pujols then grounded into a 5-4-3 twin killing in the fourth to clear the bases right before Calhoun ripped his homer to right. Pujols came into the game on an 0-for-19 skid and added to that with an 0-for-4 night that included a deep drive to center field in his last at-bat in the ninth against reliever Joel Peralta.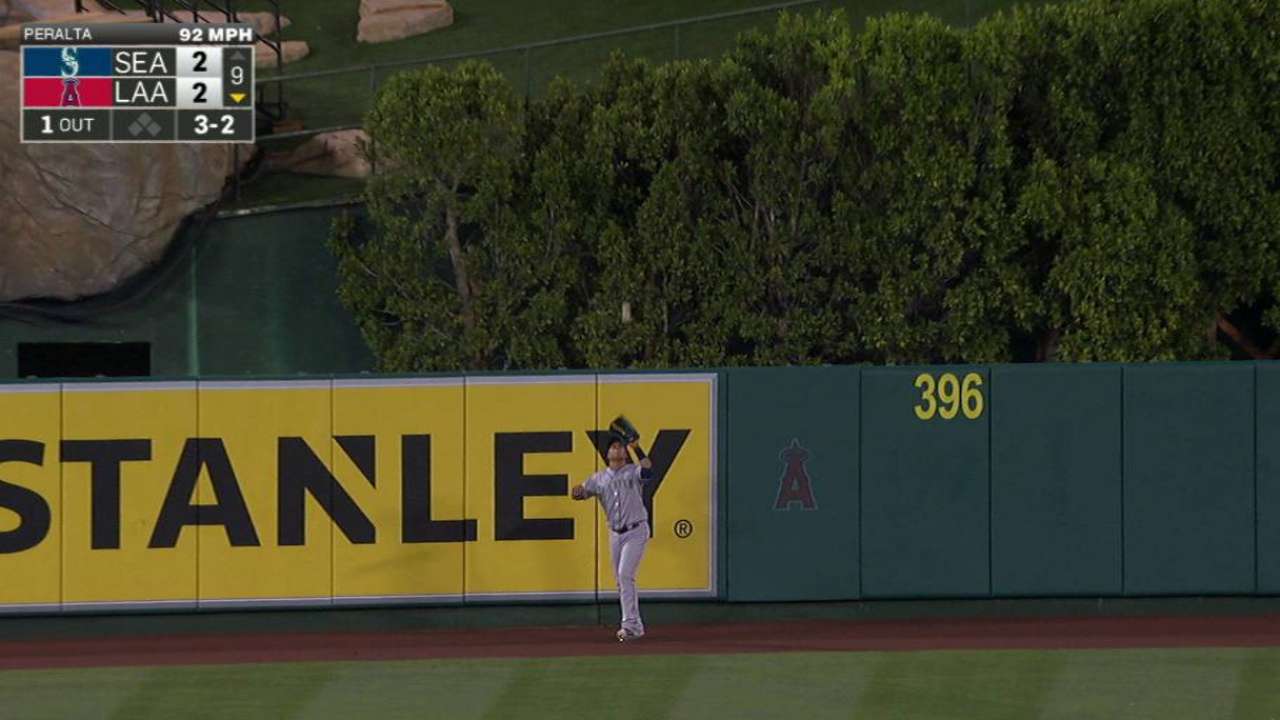 Don't try that: Angels left fielder Ortega gunned down Lind trying to stretch a single in the top of the ninth to stymie a late rally attempt by the Mariners to win in regulation. Lind sliced a ball just over the third-base bag, but Ortega got to the ball quickly and fired to shortstop Andrelton Simmons for the tag on a close play at second. The Mariners challenged the call, but replay confirmed the out.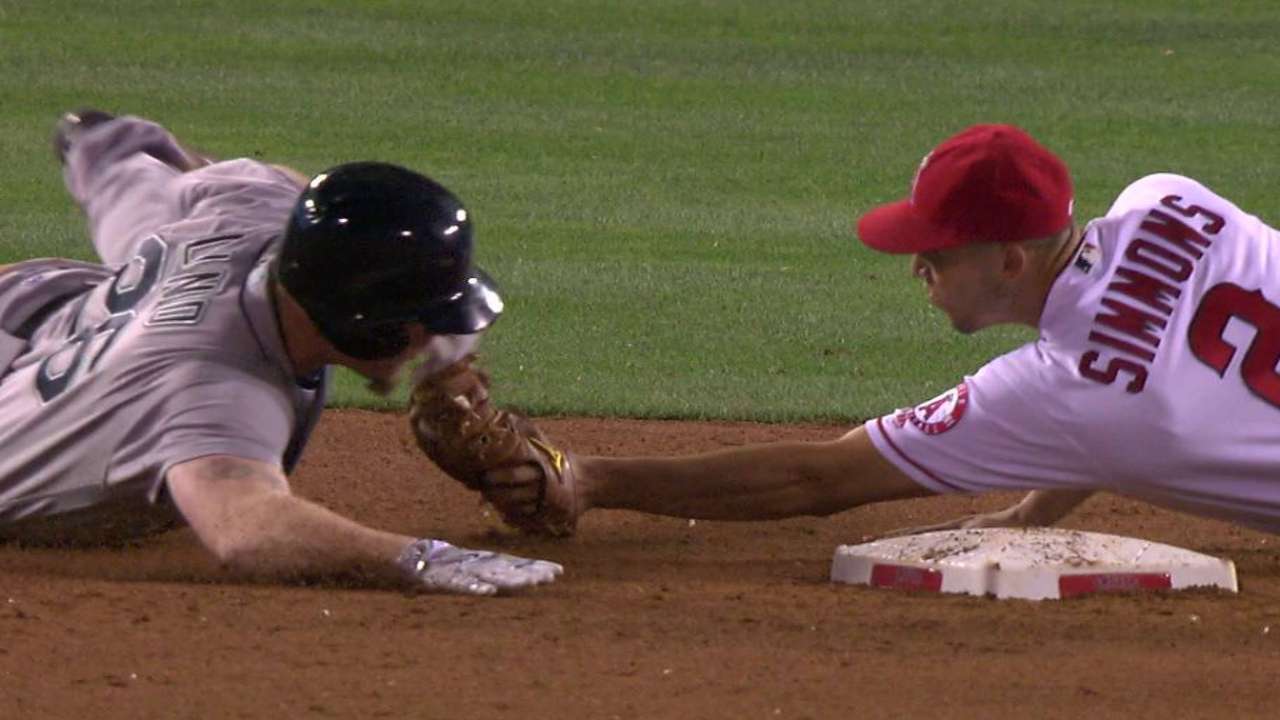 CONFUSION IN THE 6TH
Confusion over a foul ball on a checked swing by Mariners catcher Chris Iannetta raised the blood pressure of both managers in the sixth inning. Lind was on first base and initially went to second on the 2-1 pitch as the ball bounded away from catcher Carlos Perez on Iannetta's check-swing. Lind was then sent back to first after a foul ball was apparently called, but that wasn't clear as Angels reliever Fernando Salas threw to first in an attempt to get Lind as if the play was still live.
The umpires then called time and convened, and then sent Lind back to second base, which brought Angels skipper Mike Scioscia out of the dugout to talk with home-plate umpire Brian Knight. The umpires then reconvened, only to have crew chief Bill Miller go back to discuss the call with Scioscia. After that exchange, the umpires got together again and ruled the ball had indeed been fouled off, and Lind was sent back to first. At that point, Mariners manager Scott Servais raced out and got heated during a lengthy exchange with Miller.
"The issue I had with it was everybody had already gotten together once already and decided nothing had happened, now all the sudden they're going to change their mind on it," said Servais. "It is not a reviewable play, so we had a lengthy discussion about it. I think he understood my opinion, but he wasn't going to change anything."
The delay took so long, Salas had to take some warmup tosses before play resumed. Iannetta was still up, with one out and the count 2-2. Iannetta worked the count full before the inning ended on a strike-'em-out, throw-'em-out double play as Lind attempted to steal second. TV replays clearly showed that the ball was indeed fouled off, so the right call was made, but the umpires never went to the headsets for an official review.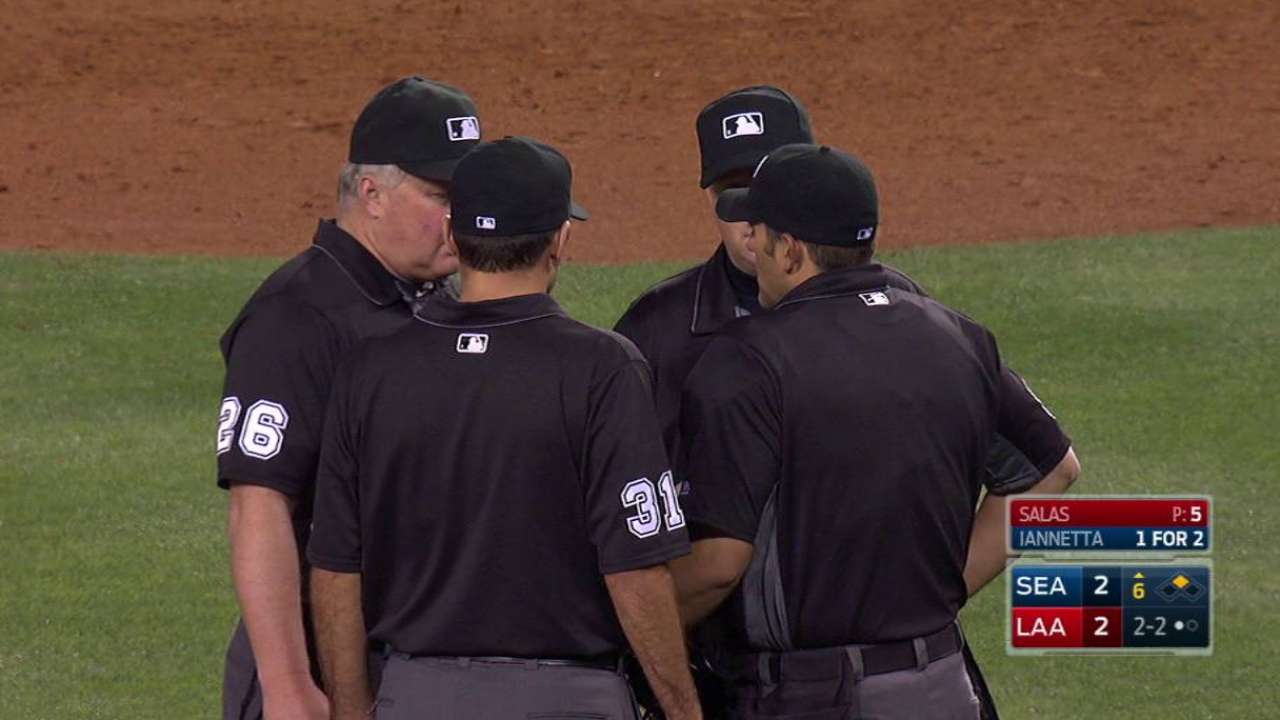 QUOTABLE
"We find a way to get it done. That's good. If you want to go a long way, you should pull out those games. Kuma did a good job, and the bullpen has been fantastic." -- Cruz, on the Mariners' penchant for late comeback wins
WHAT'S NEXT
Mariners: After being scratched from Friday's start because of illness, Hernandez (1-1, 1.00 ERA) will start Saturday's 6:10 p.m. PT game if he's feeling better. Hernandez needs one strikeout to break Randy Johnson's franchise record of 2,162 and is one win shy of Jamie Moyer's franchise record of 145. If Hernandez still can't go, converted reliever Mike Montgomery will likely get the start.
Angels: Hector Santiago (1-0, 2.61 ERA), coming off seven shutout innings in a victory over the White Sox, on Saturday makes his fourth start and second at Angel Stadium this season. The Angels have won his past nine starts, three this season.
Watch every out-of-market regular-season game live on MLB.TV.
Greg Johns has covered the Mariners since 1997, and for MLB.com since 2011. Follow him on Twitter @GregJohnsMLB and listen to his podcast.

Earl Bloom is a contributor for MLB.com based in Anaheim. This story was not subject to the approval of Major League Baseball or its clubs.