Big league bump: Vargas elated to join Padres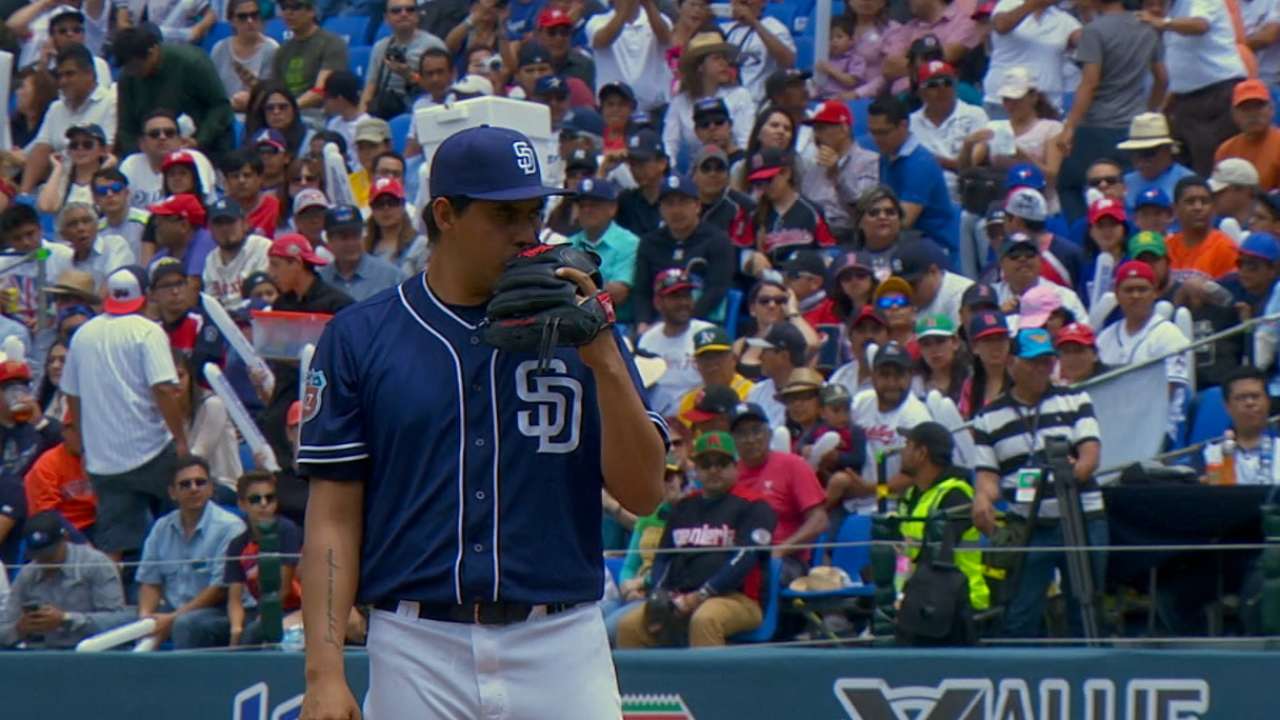 SAN DIEGO -- When Cesar Vargas was informed he'd been scratched from his start for Double-A San Antonio on Thursday night, he was told to be ready to take the ball Saturday.
Nobody told him where.
Turns out, that Saturday start will come at Petco Park against the Cardinals, marking Vargas' Major League debut. Robbie Erlin's elbow injury left a vacancy in the rotation, and the Padres will fill it by recalling Vargas before the game. To make room on the roster for Vargas, Alexi Amarista was placed on the 15-day disabled list, retroactive to Wednesday, with a right hamstring strain.
"I had no idea. Nobody really knew, everyone told me to stay calm," Vargas said. "I thought maybe it could have been that it's my first year as a starter and they were resting me there, but, really, I had no idea."
Vargas spent seven years in the Yankees' system, before signing with the Padres during the offseason. He's been a reliever for the bulk of his career and has posted a 3.07 ERA in the Minor Leagues.
Ultimately, the biggest reason Vargas chose the Padres was because they offered him a Major League contract.
"That was also a surprise," Vargas said of the big league deal. "I communicated with my agent, we talked about what the best offers were. At the end of the day, a lot of it had to do with my performance last season. I had a good year, and thankfully, I'm here.
In two starts this season, Vargas has been brilliant for San Antonio, allowing just two earned runs on five hits and a walk in 12 2/3 innings.
He also impressed during the club's trip to Mexico City, for a pair of exhibition games against the Astros. Pitching in one of the best hitters parks on the planet, Vargas tossed three shutout frames, while striking out five.
"We've really liked what he's done so far since he's been in the organization," said Padres manager Andy Green. "His couple starts down in Double-A were very, very good. What he did down in Mexico was outstanding. His cutter plays uniquely; it's a pitch that obviously the Cardinals haven't seen before."
It remains unclear how long Vargas will be with the big league club. For the most part, that depends on how quickly Brandon Morrow, who is recovering from shoulder surgery, can get back to big league ready. The Padres are also hopeful Erlin's injury isn't major and that he can return almost immediately after his DL stint.
But Vargas isn't one to look ahead -- especially not with his first career start looming. His parents, sister and girlfriend will fly in from his hometown of Puebla, Mexico -- about two hours south of Mexico City.
"I left Spring Training well, in a good mindset, working hard and doing what the team told me to do," Vargas said. "I've been just going on the mound, going pitch-by-pitch, throw-by-throw and thankfully I'm here."
AJ Cassavell covers the Padres for MLB.com. This story was not subject to the approval of Major League Baseball or its clubs.