Gyorko makes return to SD with Cards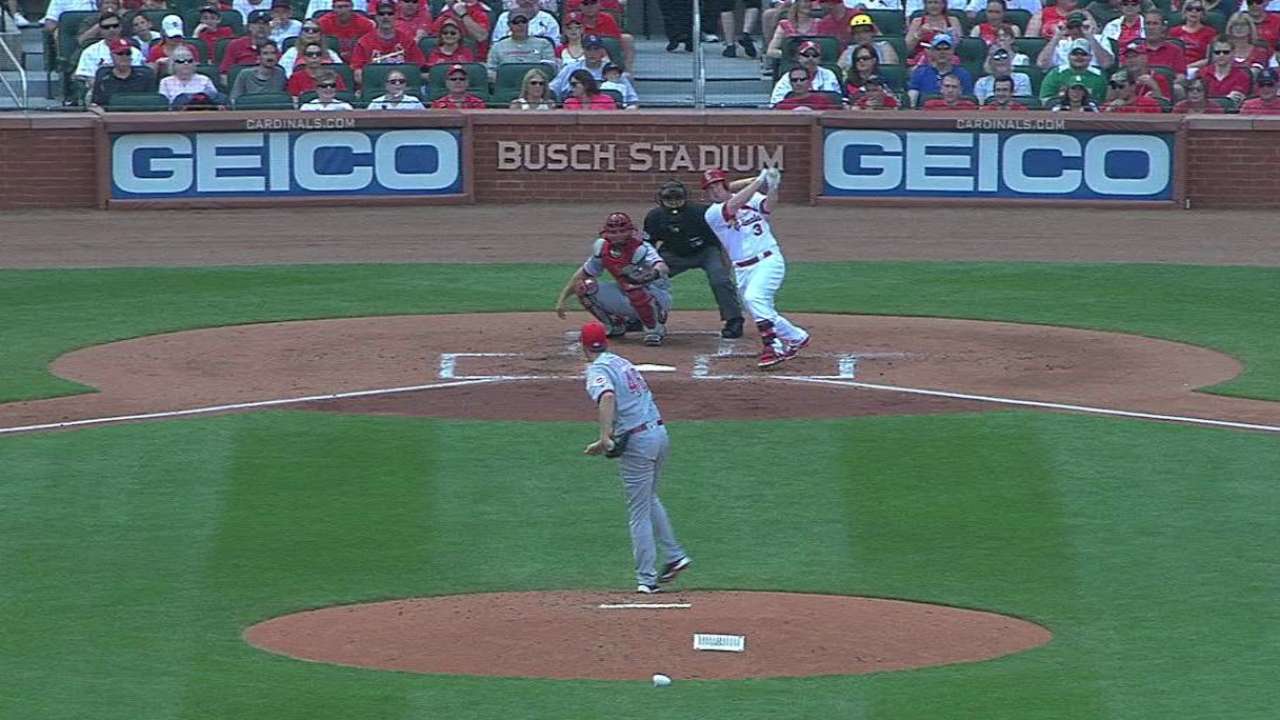 SAN DIEGO -- Jedd Gyorko didn't need directions to the Cardinals hotel adjacent to Petco Park.
"I used to live there,'' he said.
Jon Jay spots those red jerseys with two birds on a baseball bat and recalls where he once hung his hat.
"I have a lot of great memories there and was part of some special teams there,'' Jay said.
Gyorko returned to San Diego on Friday with St. Louis checking in for three-game series against the Padres.
Jay faced the Cardinals, his former team, for the first time since being traded to San Diego for Gyorko in the offseason. With the Redbirds, Jay won one World Series and played in another.
"It's differently a little weird,'' Gyorko said, and he could have been speaking for Jay as well.
Instead of looking across the field and seeing rivals, Jay spots mentors.
"Yadi [Molina] has been a guy that was very instrumental in my career,'' Jay said. "I spent a lot of time learning from him. I spent six years with him. Since I was a rookie, he's helped me out a lot. He's a guy that, when I look at my career and guys that really impacted me, he's definitely at the top of that list. Same goes for Adam Wainwright and Matt Holliday.''
It was with San Diego that Gyorko hit 23 home runs during his 2013 rookie year and was primed to be a foundation for the future.
Then he struggled while injured in 2014 (10 home runs) and 2015 (16 home runs) was a mixed bag, too.
"There were definitely a lot of ups and downs, there is no doubt about that,'' Gyorko said. "It was a big learning curve for sure to have the success and be at an all-time high: signing a deal and getting security. Then it is safe to say I saw the bottom. I saw both ends of the spectrum here.''
What Gyorko isn't seeing much of is playing time, entering Friday's game hitting .185 with two homers and four RBIs.
After starting the season at the shortstop because of Jhonny Peralta's injury, he's become a spot starter at second and a right-handed pinch hitter.
"The way the young guys are swinging the bat it's been tough to crack the lineup,'' he said of shortstop Aledmys Diaz and second baseman Kolten Wong. "So I just try to stay prepared and if they need me, they know where I'll be.''
Jay, who started the series hitting .281, has found a home in center field and atop the Padres' order. But he can't forget his old haunts and the way the red-clad patrons cheered.
"The fans were great,'' he said. "They treated me great there.''
Jay Paris is a contributor for MLB.com based in San Diego. This story was not subject to the approval of Major League Baseball or its clubs.