Hicks will cut into ABs for Ellsbury, Gardner
First-year Yankee continues to receive at-bats vs. left-handed starters
NEW YORK -- There was a period of time set aside this spring in which Yankees manager Joe Girardi spoke to both Jacoby Ellsbury and Brett Gardner, explaining how Aaron Hicks' arrival would change how the outfield duo will be used this season.
Although his club entered Friday's series opener against the Rays with seven losses in eight games, Girardi said that he is sticking with the plan to give Hicks regular at-bats against left-handed pitchers, at the expense of playing time for Ellsbury and Gardner.
"We talked about [how] Hicks would be a guy that's going to play when left-handers are on the mound, and you had to pick where you were going to play him," Girardi said. "We kind of rotated them in a sense and felt that was kind of good for our left and center fielders so they don't wear down and they would stay strong during the course of the season."
• Double take: Hicks continues to star in OF
Despite collecting three hits in Thursday's 7-3 loss, Ellsbury initially drew the short straw on Friday and was out of the starting lineup against left-hander Matt Moore, as he was on April 19 against the A's Eric Surkamp. Gardner sat on Opening Day against the Astros' Dallas Keuchel, on April 13 against the Blue Jays' J.A. Happ in Toronto and on Thursday against Oakland's Rich Hill.
Keuchel, Happ, Surkamp and Hill each held the Yanks to two runs or fewer, with the Yanks losing all four games. Not coincidentally, the Rays are showcasing three left-handers against the Yankees this weekend, with Moore followed by the Major League debut of the club's top prospect, Blake Snell, on Saturday and Drew Smyly to follow on Sunday.
On Friday, Hicks was replaced by Ellsbury in center field for the fifth inning, one frame after Hicks sustained a sore left shoulder while attempting a diving catch in center field. Hicks landed hard on his chest as he pursued Brandon Guyer's RBI single and returned to his position slowly. The team announced during the top of the sixth inning that no tests are scheduled and Hicks is day to day.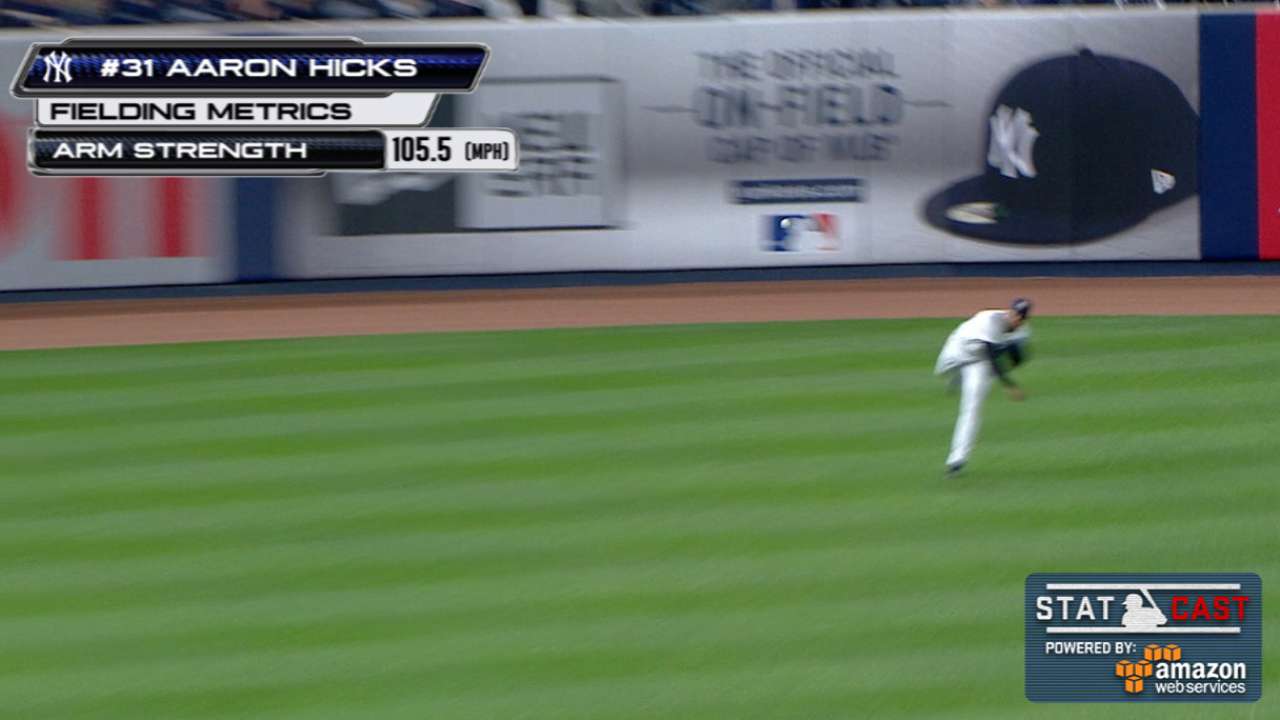 Girardi said that he also plans to use Hicks to spell Carlos Beltran in right field, but thus far, the Yankees have not fielded a lineup against a left-handed starter that included both Ellsbury and Gardner.
"It's something that I have to juggle," Girardi said. "It's not always the best situation when you're seeing six or seven out of nine left-handers in a short period, but it's what you've got to deal with."
Though Hicks entered play on Friday hitting just 2-for-21 (.095) this year, with only one of those hits coming off a lefty, Girardi is putting his faith in Hicks' track record. Hicks slashed .307/.375/.495 against lefties last season, and .279/.410/.382 the year before.
"If you look at Hicks' numbers over the last couple of years, his numbers against left-handers are as good as or better than most people in our lineup," Girardi said. "Hicksy has hit the ball a lot better than his numbers indicate. He's played tremendous defense. If I judged everyone on 20 at-bats, I don't know if I could put a lineup out today. It'd be really difficult."
Bryan Hoch has covered the Yankees for MLB.com since 2007. Follow him on Twitter @bryanhoch, on Facebook and read his MLBlog, Bombers Beat. This story was not subject to the approval of Major League Baseball or its clubs.