Werth robs Buxton of HR, then goes yard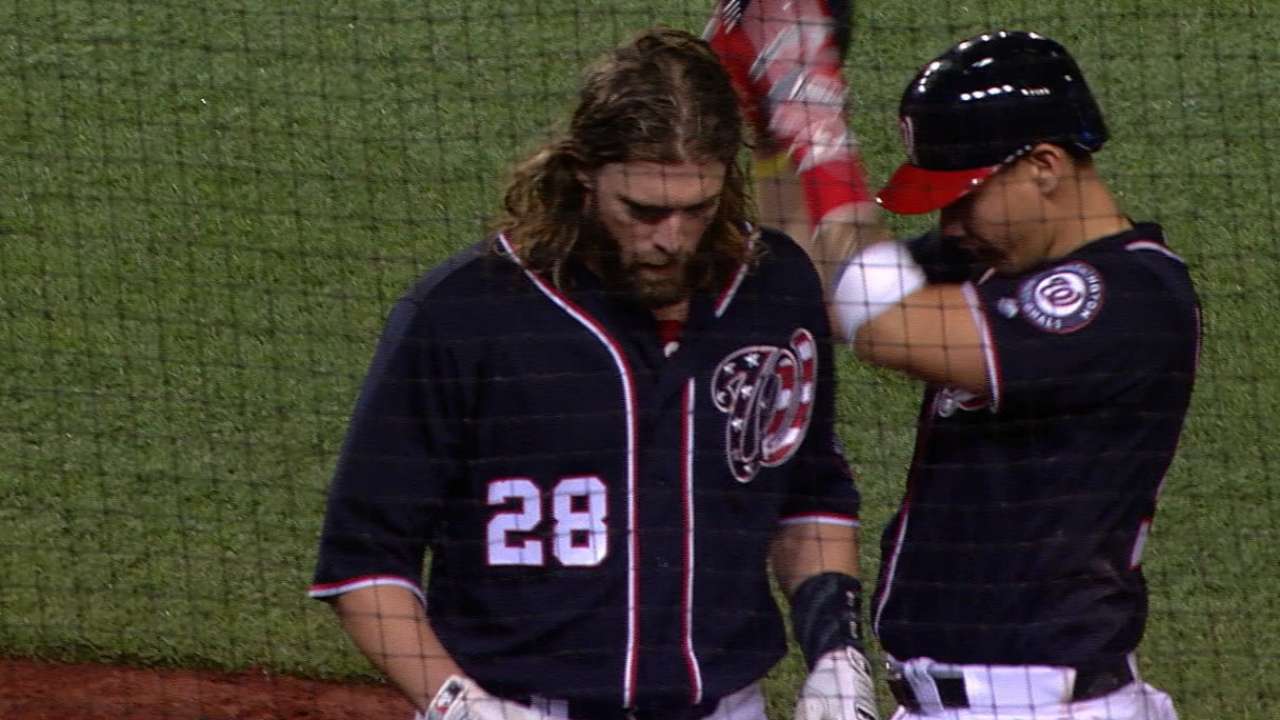 WASHINGTON -- If there were any worries about Jayson Werth's left hamstring that he tweaked Wednesday night in Miami, they were put to rest in the top of the third inning of Friday's 8-4 win over the Twins, when Werth made a leaping catch at the wall in left field to save a home run.
Twins center fielder Byron Buxton drove the ball 369 feet, according to Statcast™, to left field off Nationals lefty Gio Gonzalez, taking Werth to the wall. He jumped and caught what would have been a home run.
"I knew when it was hit I was going to have a chance," Werth said. "I timed it up, and sometimes those are do-or-die plays. You hope for the best. It was just close enough."
He followed that up with a solo home run in the fifth inning, before coming out of the game in the top of the sixth with the Nationals up comfortably.
Werth left Wednesday's game against the Marlins after feeling tightness in his left hamstring but felt fine afterward. He had a scheduled day off Thursday before returning to the lineup Friday.
The home run was Werth's sixth extra-base hit (three doubles, three homers) in his last eight games. He has reached base safely in seven of his last nine games.
"His legs were underneath him tonight," manager Dusty Baker said. "He hit a big homer, so it looks like he's warming up, but we still have to watch him and pay attention."
Werth has not always looked graceful in left field, a position he moved to full-time last season, but he is starting to feel more comfortable there. He rarely has the opportunity to get extra reps during batting practice, he said, because most balls hit to left field end up in the stands.
"I think I'm starting to get there," Werth said. "I feel confident. When I first came up, I played left. That was my position. I played it well. I feel like as the season goes on I'll keep getting better and better out there."
Jamal Collier covers the Nationals for MLB.com. Follow him on Twitter at @jamalcollier. This story was not subject to the approval of Major League Baseball or its clubs.