Gray, Estevez, Germen added in roster shuffle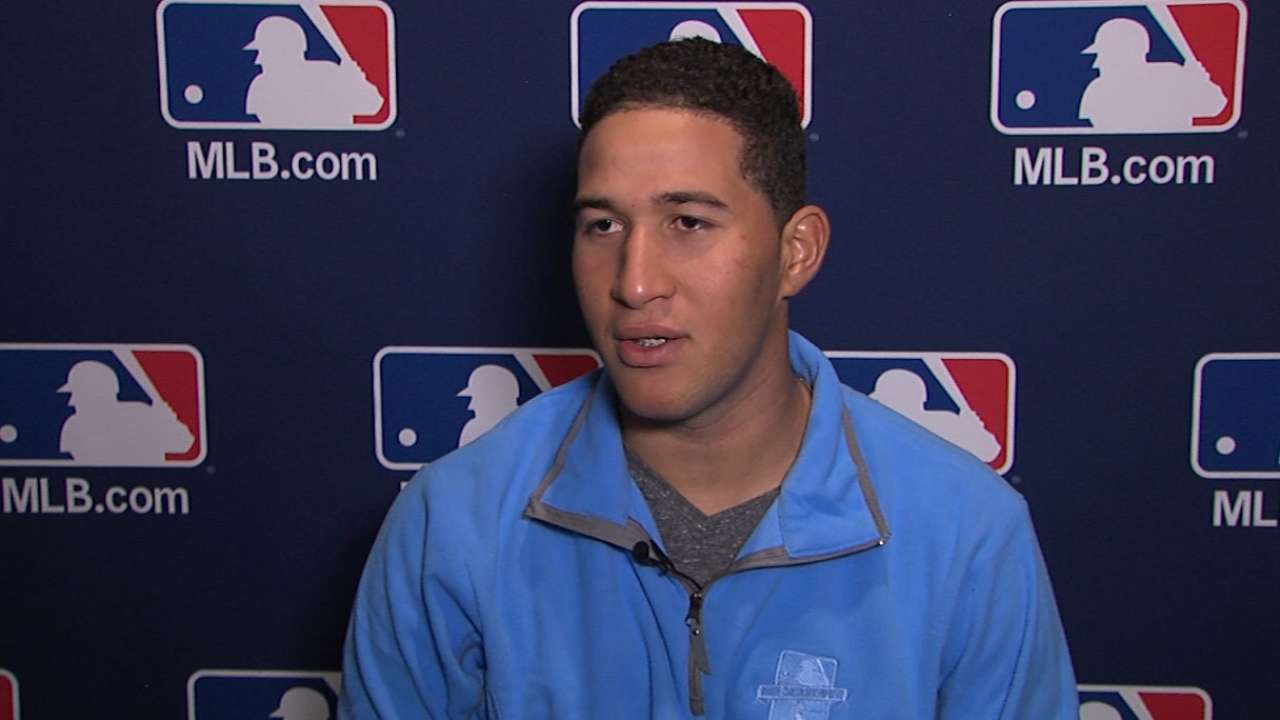 DENVER -- Jon Gray, the Rockies' No. 1 Draft Pick from 2013, made his season debut Friday night, ushering a series of roster moves.
The Rockies also added a pair of right-handed relievers to the roster, recalling Carlos Estevez and selecting the contract of Gonzalez Germen from Triple-A Albuquerque.
Gray was slated for the rotation in Spring Training, but started the season on the 15-day disabled list with an abdominal strain. He started nine games for the Rockies in 2015, after his Aug. 4 debut at Coors Field, compiling on 0-2 record with a 5.53 ERA, including an 8.27 ERA at Coors Field. He had 40 strikeouts in 40 2/3 innings.
"We're hoping Johnny gives us a shot in the arm here," manager Walt Weiss said. "Bringing that prototypical power pitcher and plugging him into your rotation, potentially he's got a chance to give us a lift."
Gray had a promising spring, posting a 3.86 ERA in 11 2/3 innings. He made two rehab starts with Class A Advanced Modesto, and went 0-1 with a 2.08 ERA in 8 2/3 innings, walking three while striking out 11.
Estevez is set to make his big league debut with the Rockies. He is 1-0 with a 3.18 ERA in five relief appearances for Triple-A Albuquerque this month. He made 48 relief appearances between Modesto and Double-A New Britain in 2015, notching 18 saves in 23 opportunities and posting a 3.40 ERA 14 walks and 68 strikeouts in 55 2/3 innings.
Germen opened eyes this spring, boasting a 1.74 ERA in 11 Cactus League appearances spanning 10 1/3 innings, and he's been flawless in Albuquerque, making five appearances, recording three saves, and allowing just one earned run in six innings pitched.
Space for the three new members of the Rockies pitching staff was made when right-handed setup man Miguel Castro (1.50 ERA with eight strikeouts in six innings) went on the 15-day disabled list with right shoulder inflammation retroactive to April 18, and southpaw Jason Gurka (9.31 ERA in 9 2/3 innings) was optioned to Albuquerque, while righty David Hale (13.50 ERA in two appearances and two innings) was designated for assignment.
"The dynamics of a roster, it evolves over the course of a season, the bullpen moreso than any other aspect of the club," Weiss said. "It's ever-changing out there in the bullpen, depending on need and how you're set up. We had four lefties in the bullpen, so we're looking for more right-handed balance, especially with Castro being out."
Chad Qualls is expected to take over the setup role from the right-handed side, with Boone Logan and Justin Miller helping out in the late innings.
"We'll probably be [making] some adjustments on the fly there," Weiss said.
Worth noting
• Nick Hundley was eligible to come off the 7-day concussion list Friday, and manager Walt Weiss expects to get him back in action during the Dodgers series.
"Hundley's close," Weiss said. "He's got to get checked out by the docs again one more time. He's probably in play here in the next few days."
• Left-hander Tyler Anderson will pitch batting practice for the first time this season Saturday in Scottsdale. He started the season on the 15-day disabled list with an oblique strain.
• Jason Motte will throw a light "touch-and-feel" bullpen session Saturday in Scottsdale. The right-hander is recovering from a right shoulder strain that put him on the 15-day DL to start the season.
Owen Perkins is a contributor to MLB.com based in Denver. This story was not subject to the approval of Major League Baseball or its clubs.