Memories of catching no-no enough for Ross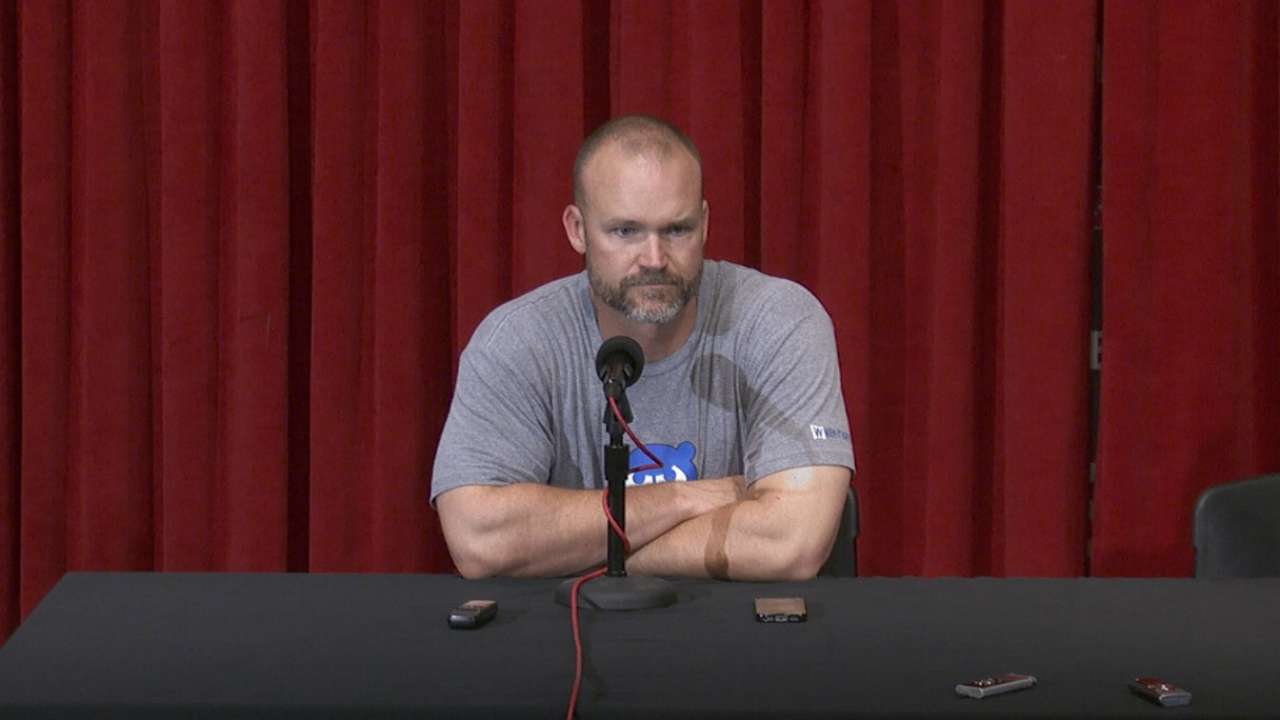 CINCINNATI -- David Ross and Dexter Fowler had planned on hosting a pizza party at their hotel before Jake Arrieta's no-hitter Thursday night, but the milestone made the Cubs' players get-together even more special.
"It was really fun to hear everybody's perspective," said Ross, who caught his first no-hitter in the Cubs' 16-0 win over the Reds. "That was my favorite part to hear what this guy was thinking and that guy was thinking."
Some of the players admitted to being nervous. Miguel Montero, who had caught Arrieta's first no-hitter Aug. 30, 2015, against the Dodgers, had watched the Cubs on defense from the clubhouse. He wasn't sure what to do in the ninth inning -- if he went in the dugout, and Arrieta gave up a hit, would it be Montero's fault?
Jake Arrieta's second no-hitter
•
Pair-rieta: Jake's 2nd no-no a drubbing
•
Did you know? Facts from Arrieta's 2nd no-no
•
There's no-no doubting Arrieta's greatness
•
Rogers: Arrieta simply the best
•
Ross 'on cloud nine' after Arrieta's no-hitter
•
Arrieta 3rd Cub with multiple no-nos
•
Help yourself: Arrieta tallies two hits in no-no
•
No no-no is complete without defensive gems
•
Reds get no-hit at home for 1st time since '71
•
All-time no-hitters by club
•
Full game coverage
•
Flashback: Arrieta no-hits LA in August 2015
Sights & sounds
Arrieta's second career no-no
All 27 outs
Arrieta finishes no-hitter
#THIS: Arrieta no-hits Reds
Must C: Arrieta's 2nd no-no
Arrieta discusses no-no
Maddon on Arrieta
Ross on catching Arrieta
Game gallery
For the record, Montero was in the dugout, and Arrieta did notch no-hitter No. 2. The first text message the pitcher sent to his wife, Brittany, was that he did it for Ross.
"Once I got to the sixth, seventh innings, that was my only concern was to do it for him," Arrieta said. "We had talked about it several times and that he still hadn't caught one or had that opportunity yet."
Ross, 39, said he got a little emotional reading the note from Brittany. He didn't save any souvenirs from the game.
"The memories are enough for me," Ross said. "Some of the pictures of the hug [after the final out], that's what is really cool."
Ross was back behind the plate Friday to catch Jon Lester.
"I always give these guys a hard time, tell them to turn the page," Ross said. "Yesterday was yesterday."
Carrie Muskat has covered the Cubs since 1987, and for MLB.com since 2001. She writes a blog, Muskat Ramblings. You can follow her on Twitter @CarrieMuskat and listen to her podcast. This story was not subject to the approval of Major League Baseball or its clubs.