Dodgers leaning on Utley, Kendrick
Veterans getting plenty of playing time filling in for injured players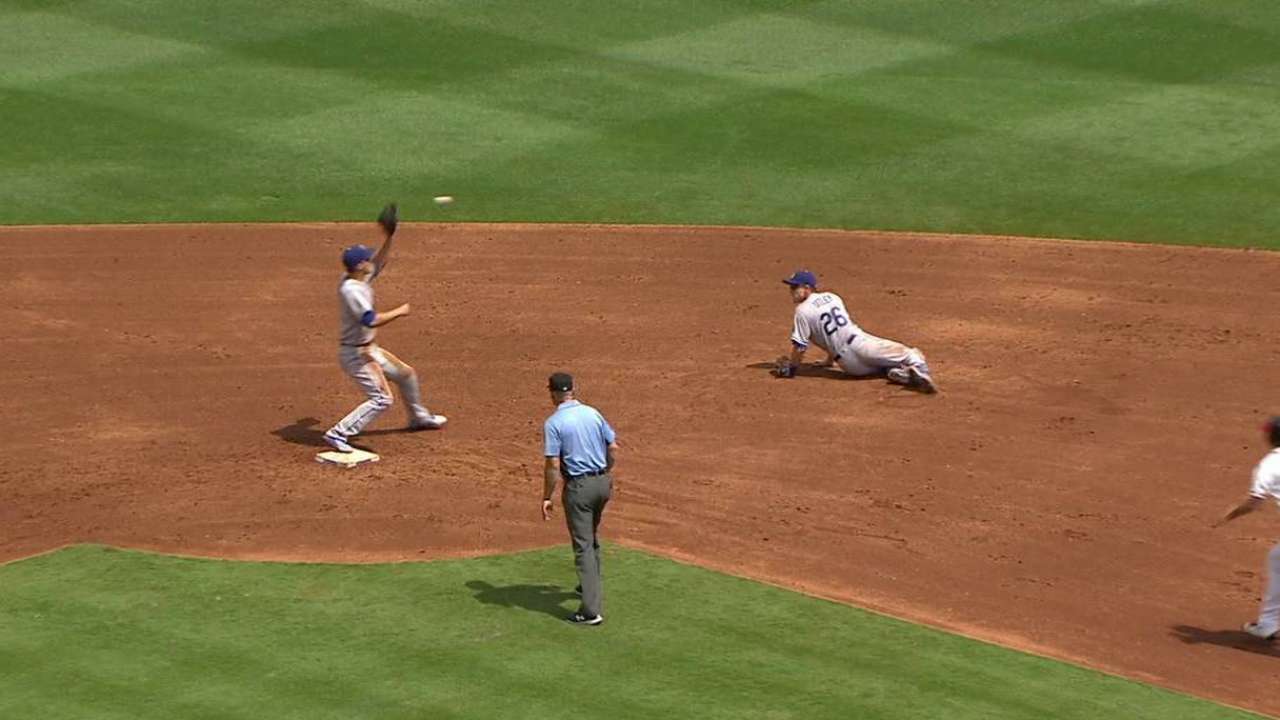 DENVER -- Questions for Dave Roberts about finding enough playing time for veterans Chase Utley and Howie Kendrick have turned into questions about finding them time to rest.
Utley became the primary second baseman when Kendrick suffered a strained left calf toward the end of Spring Training. Now healthy, Kendrick has suddenly become the primary left fielder after injuries to Andre Ethier, Carl Crawford and Scott Van Slyke.
Ethier is out for months, Van Slyke's back disk injury is worse than originally hoped, and Crawford is due back Monday.
In the meantime, Roberts said he trusted Kendrick's outfield ability enough to rely on him in spacious Coors Field.
"For any outfielder this is probably the biggest challenge," the Dodgers manager said of Coors Field. "We're going to play [Howie] deeper and just go out and make the plays he's supposed to make. He's a baseball player, there's no panic. He's played left field before in the Major Leagues. I trust the player. I expect him to make plays and be good. Whatever happens, I believe in Howie."
Roberts said when Utley needs time off, Kendrick will slide back to second base. Roberts concedes Utley has played more than he envisioned.
"I told him before the season, 'Mark my words, you will play a lot'. With injuries early to Ethier, Slykie and Howie, we've given him more at-bats, but he was going to play no matter what. Right now, we need to ride him. As we get healthier, we can taper back a little bit. Chase keeps himself in excellent shape."
Roberts added that Mike Bolsinger is throwing bullpen sessions again, after suffering a strained oblique muscle. Hyun-Jin Ryu is still nursing a groin strain.
Ken Gurnick has covered the Dodgers for MLB.com since 2001. This story was not subject to the approval of Major League Baseball or its clubs.