Kela out 12 weeks after bone spur removal
Wilhelmsen expected to step up; Klein back in bullpen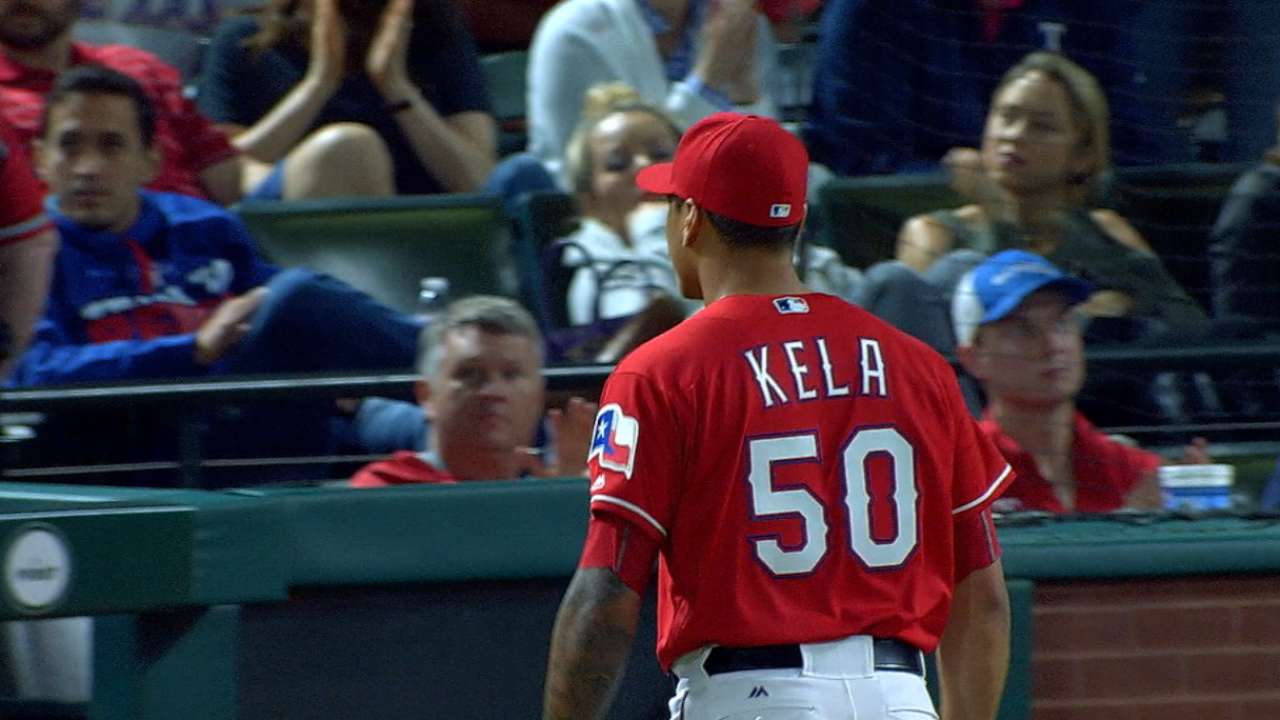 CHICAGO -- The Rangers will be without reliever Keone Kela for approximately 12 weeks after he underwent surgery to have a bone spur removed from his right elbow. The surgery was performed by Dr. Keith Meister in Texas.
Kela, 23, had elbow issues at the end of last season, which was one reason why the Rangers acquired Tom Wilhelmsen from the Mariners. The Rangers need Wilhelmsen to help them cover the sixth and seventh innings, but they also need him to pitch better.
Willhelmsen entered Friday with a 22.50 ERA, having allowed four home runs in facing 26 batters. He has not pitched since last Friday. Wilhelmsen said the problem might be tipping his pitches to hitters.
"I hope that's the case," Wilhelmsen said. "If that's the case, it's an easy fix. If that's not the case, I've got to find out what's going on."
The Rangers recalled Phil Klein on Thursday to replace Kela. Klein was on the Opening Day roster and pitched three scoreless innings over two appearances before being sent to Triple-A Round Rock. The Rangers wanted to keep him stretched out as a long reliever/spot starter.
But Klein made just one start on Monday, and it was cut short after one inning because of rain. He ended up throwing two simulated innings in the bullpen. Now, he is in the Rangers bullpen, but he still has Minor League options so there is a possibility he could move back and forth all season.
"It's a pingpong game," Klein said. "It happens. I'd rather be up here than down there. Whatever the need is, that's what I'm here for, especially saving the back-end guys."
Klein made 28 appearances for the Rangers over the past two seasons with a 3.38 ERA, 1.25 WHIP and .197 opponents batting average.
"The two innings he threw before he was sent out, the stuff was sharper," manager Jeff Banister said. "The velocity was up, the changeup was [good], and the slider had a little more bite. If he can continue to have those types of appearances, he can be an asset."
Klein was the designated long reliever before being sent out. Banister said that role will be filled by Nick Martinez with Klein moving up to middle and setup relief.
Rangers beat
• The Rangers have set the time for their June 20 game against the Orioles for 7:05 p.m. CT as the makeup for last Sunday's rainout.
• Friday marked Adrian Beltre's 2,500th game as a third baseman. Hall of Famer Brooks Robinson played in 2,870 games at third and Beltre is second. Beltre is the eighth infielder to play at least 2,500 games at one position. The others are Robinson, shortstops Luis Aparicio, Derek Jeter, Ozzie Smith and Omar Vizquel, and second basemen Eddie Collins and Joe Morgan.
• Shawn Tolleson had three saves in the Rangers' three-game sweep of the Astros. The last time that happened was Joe Nathan on June 21-23, 2013, against the Cardinals. Neftali Feliz had three such series in 2010.
T.R. Sullivan has covered the Rangers since 1989, and for MLB.com since 2006. Follow him on Twitter @Sullivan_Ranger and listen to his podcast. This story was not subject to the approval of Major League Baseball or its clubs.