No-hitter protocol eased Arrieta, Cubs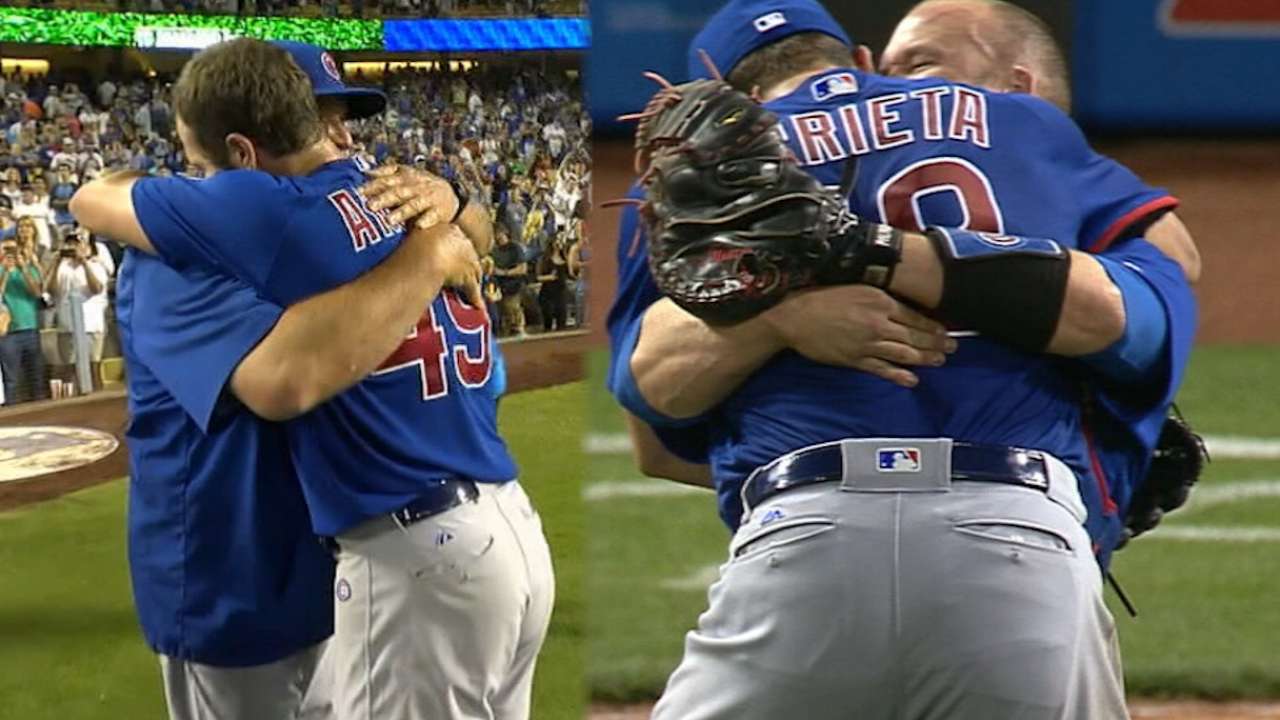 CINCINNATI -- The Cubs actually prepared for Jake Arrieta's two no-hitters during Spring Training in 2015 when the starters met with front office executives, manager Joe Maddon and pitching coach Chris Bosio to go over the ground rules.
The discussion focused on such things as pitch counts, so the starters knew in advance how much leeway they had. On Thursday, Arrieta had thrown 85 pitches through six innings against the Reds, but he was able to have back-to-back nine-pitch innings in the seventh and eighth to help him finish with his second career no-no.
"The good thing is the fact we had this conversation with all the starters regarding the potential of a no-hitter and how it relates to pitch counts," Maddon said. "They knew and he knew and I knew without having to say anything that he was good to go."
Jake Arrieta's second no-hitter
•
Pair-rieta: Jake's 2nd no-no a drubbing
•
Did you know? Facts from Arrieta's 2nd no-no
•
There's no-no doubting Arrieta's greatness
•
Rogers: Arrieta simply the best
•
Ross 'on cloud nine' after Arrieta's no-hitter
•
Arrieta 3rd Cub with multiple no-nos
•
Help yourself: Arrieta tallies two hits in no-no
•
No no-no is complete without defensive gems
•
Reds get no-hit at home for 1st time since '71
•
All-time no-hitters by club
•
Full game coverage
•
Flashback: Arrieta no-hits LA in August 2015
Sights & sounds
Arrieta's second career no-no
All 27 outs
Arrieta finishes no-hitter
#THIS: Arrieta no-hits Reds
Must C: Arrieta's 2nd no-no
Arrieta discusses no-no
Maddon on Arrieta
Ross on catching Arrieta
Game gallery
Bosio called the meeting a chance "to clear the air," and he said it was president of baseball operations Theo Epstein's idea. This way, all the starting pitchers knew what to expect.
Arrieta remembered the session. If a pitcher had reached 110 pitches by the seventh or eighth innings, there was a good chance he may not get to finish the game, especially if it was early in the season. The goal is to be fresh for October.
"I'm glad we did it because I was a lot more comfortable standing in that corner [of the dugout] yesterday," Maddon said. "I would say 130-something [pitches] would start giving me the hives or a recurrence of shingles if he did something like that. I knew Jake had an extra day coming on the back side, so we could manipulate it."
Arrieta finished with 119 pitches on Thursday, and he will get an extra day before his next outing -- as will all of the Cubs starters -- because of Monday's off-day.
John Lackey, new to the club this year, was not part of that no-hit protocol meeting, but Maddon said that was OK.
"There's no way I'm taking John out," Maddon said. "I'm not going to mess with Johnny."
Part of the protocol involves the relievers as well.
"We would never get anybody up during the middle of a no-hitter just for no-hitter protocol reasons," Bosio said. "Everybody stay in their seats, shut up and watch the game."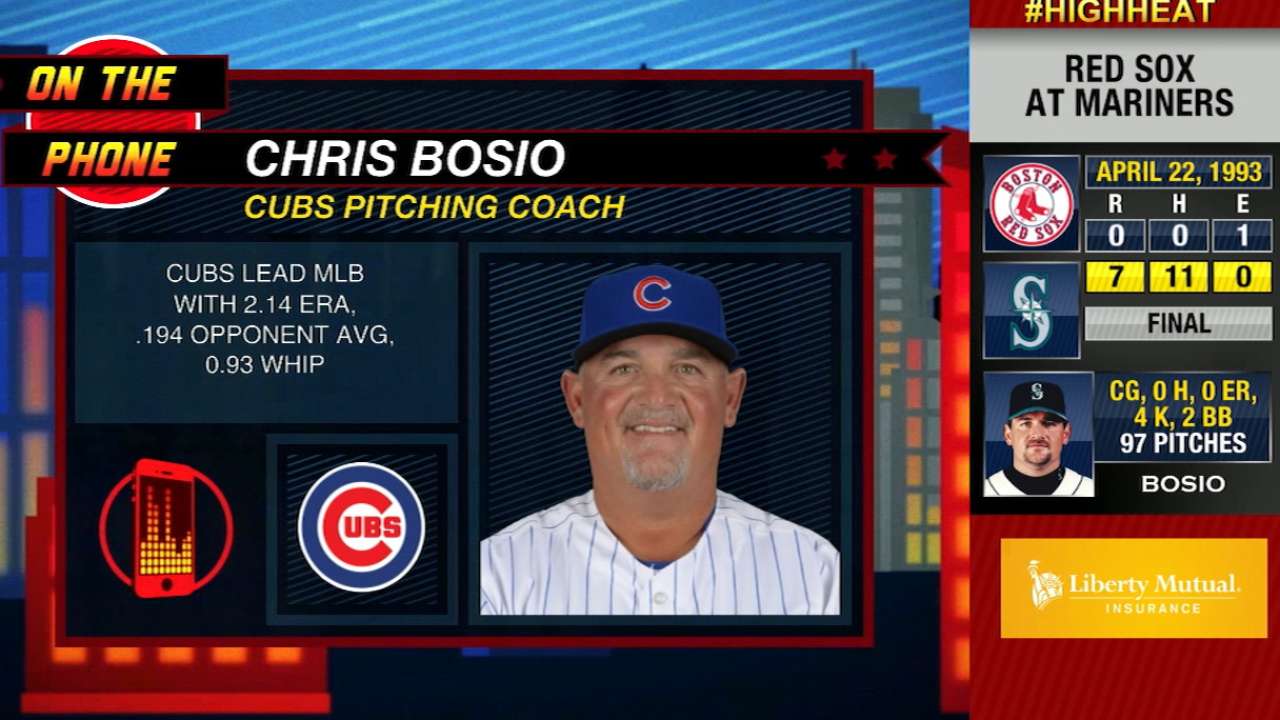 What bullpen coach Lester Strode did do was have the relievers alternate throwing to the outfielders between innings so they were loose. There are other rules.
"You make sure everybody sits in the same spot, chewing the same piece of gum, drinking from the same cup of water," Bosio said. "It sounds like everybody did that last night, so good job everybody."
Bosio knows something about no-hitters. Friday marked the anniversary of his no-no on April 22, 1993, when he did so for the Mariners against the Red Sox. Bosio doesn't expect Thursday's no-hitter to be the last for the Cubs this season.
"I said in Spring Training, I think this is the year we're going to get three," Bosio said. "I still believe that. Any given night, any one of these guys can do it. They've shown the ability to take over the game, and with the defense the way we're playing, who knows? Maybe that number is correct or maybe that number is higher. It was fun to watch Jake go about it."
Told that Bosio predicted three no-hitters by the Cubs, Arrieta smiled.
"Only 17 games in, he should be feeling pretty good about that," Arrieta said. "I think we'll have another one at least."
Carrie Muskat has covered the Cubs since 1987, and for MLB.com since 2001. She writes a blog, Muskat Ramblings. You can follow her on Twitter @CarrieMuskat and listen to her podcast. This story was not subject to the approval of Major League Baseball or its clubs.