Cowboy up: Papi gets custom Stetson hat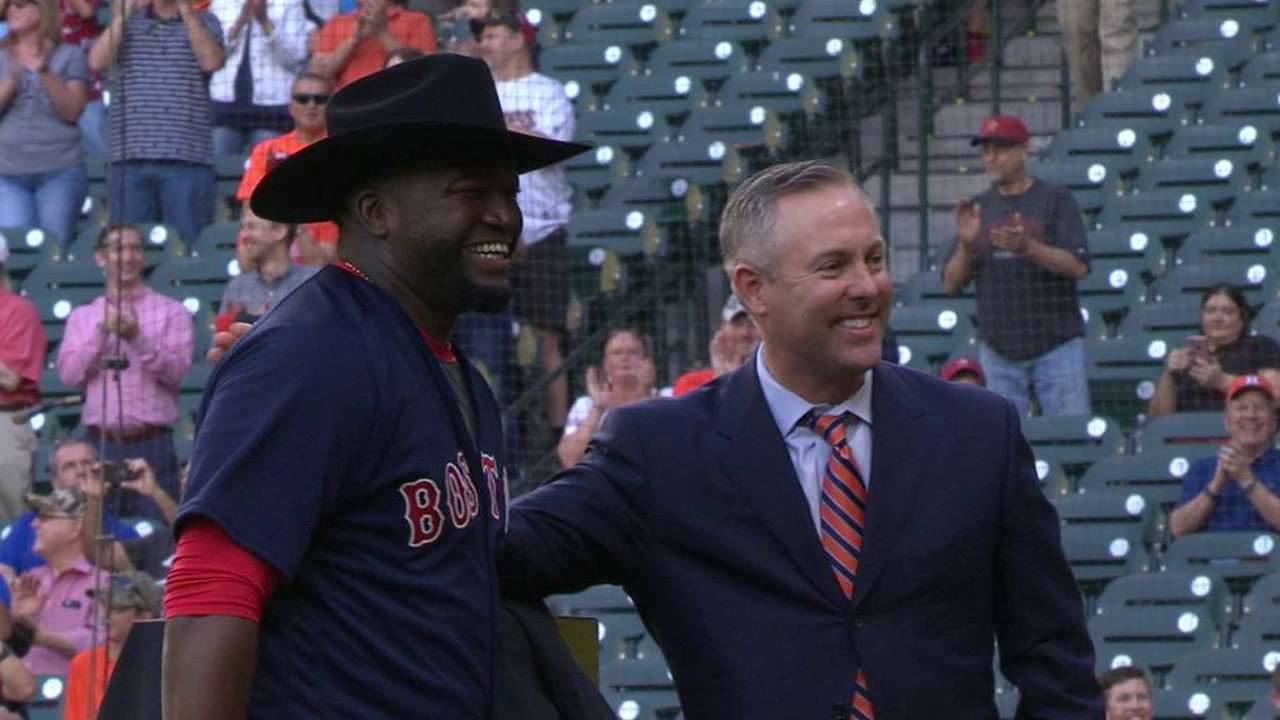 HOUSTON -- Prior to the Red Sox's 6-2 victory at Minute Maid Park on Friday night, the Astros presented David Ortiz with a custom black Stetson cowboy hat. It was the first gift from a visiting team so far as Ortiz makes the rounds in his final season.
The three-time World Series champion, who will retire at the end of the season, noticeably enjoyed the hat, grinning ear-to-ear as he accepted it from Astros president Reid Ryan.
"A great honor," said Ortiz. "This is my last year and it's always a nice appreciation when people take the time to do something like that. I thank the Houston Astros organization for it and wish them the best of luck through the years.
"[Clay] Buchholz bought me a hat I wear once in a while and it's still really cool, but I think this one is going to take over."
The Red Sox presented him with seats from JetBlue Park, Hammond Stadium and City of Palms Park to commemorate his final Spring Training with the team last month. More gifts are expected as Ortiz visits ballparks around the league for the final time.
In 30 career games against Houston, which only joined the American League in 2013, Ortiz is batting .336 (35-for-104), the fourth-highest average he owns against a respective team.
"A touch of class," Boston skipper John Farrell said. "I don't know how many at-bats David has gotten against Houston over the course of his career. To acknowledge him in a road city where [he hasn't traveled much], it was pretty special."
Big Papi is also off to a vintage start in his final season, holding a .270 average and a .993 OPS with three home runs and 13 RBIs.
Chris Abshire is a contributor to MLB.com based in Houston. This story was not subject to the approval of Major League Baseball or its clubs.