Bogaerts exits after getting hit on right wrist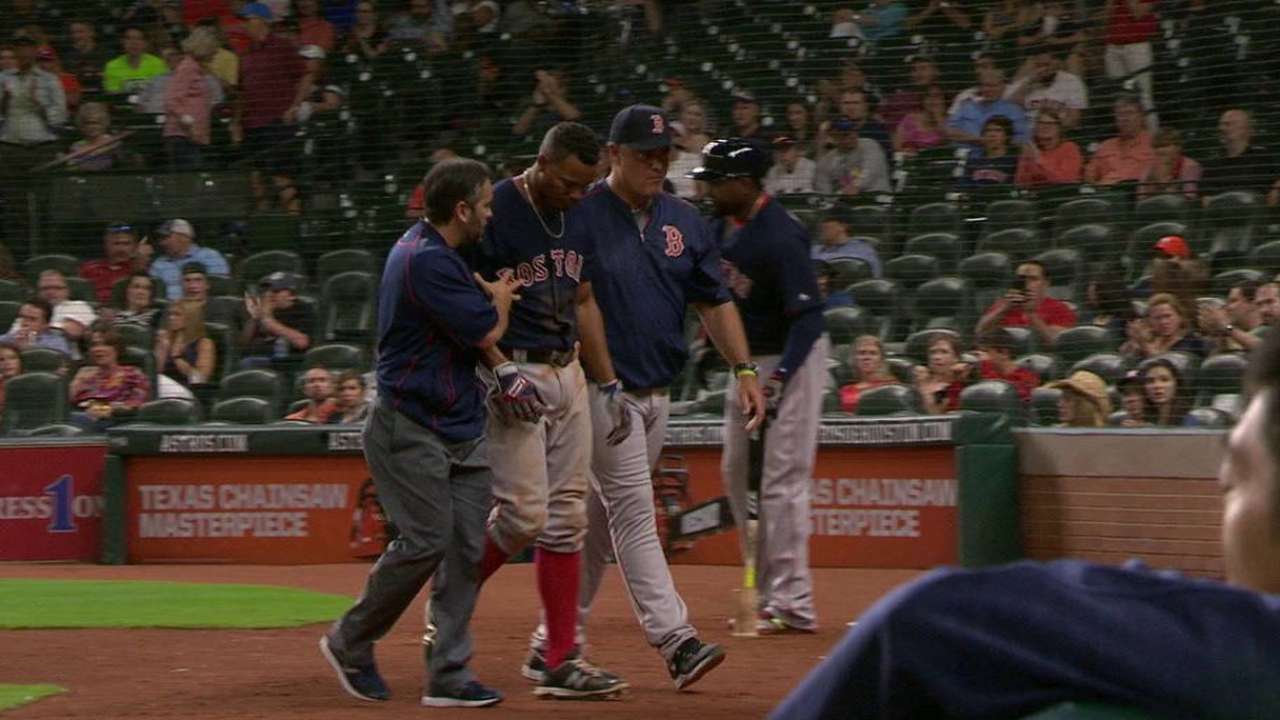 HOUSTON -- Red Sox shortstop Xander Bogaerts exited Friday's 6-2 win against the Astros after being plunked on the right wrist during the ninth inning by reliever Luke Gregerson.
Bogaerts got an MRI immediately after the game, but he didn't appear to be moving the wrist area gingerly as he was carted through the bowels of Minute Maid Park. Still, he acknowledged that the pain will likely intensify.
"I'll get some treatment, but I feel good right now," Bogaerts said. "It feels pretty strong right now, but tomorrow it'll probably wake up feeling bad, so I'll be anxious to see how it feels."
Manager John Farrell said the club will re-evaluate Bogaerts before Saturday's 4:05 p.m. ET game in Houston.
On first look, the ball seemed to hit Bogaerts in the face, as he collapsed to the ground in the batter's box for nearly a full minute, but he just avoided what would have been a likely concussion.
"To be honest, I was pretty much struck out in that at-bat right there, so a hit-by-pitch is definitely a positive, but not there you know? I guess I'm blessed," said Bogaerts. "I've been hit in my head, my face, and nothing bad. It was scary, for sure.
"I looked at it right before I came in [the clubhouse]. He threw me five, six sliders and then that fastball, so that was like 100 mph for me right there. I was lucky enough to get out of the way on time and it hit me close to my wrist."
Bogaerts was 2-for-4 with a double and an RBI, and he is slashing .277/.329/.431 during his third full Major League season. Bogaerts has already dealt with a left quad injury this season, but he hadn't missed a game yet this season.
"We'll have to check him in the morning to see whether he's a go or not," Farrell said.
Bogaerts also came out of a game last season with a left forearm contusion on a similar play, when he was hit by a pitch against the Rangers on May 28. He ultimately didn't skip any games due to that injury.
"I remember in Texas I got hit there," Bogaerts said. "I don't remember which hand it was, but I got hit around there also. I think this one got me pretty good. The other one hit the batting glove a little bit."
Chris Abshire is a contributor to MLB.com based in Houston. This story was not subject to the approval of Major League Baseball or its clubs.