Progressing in rehab, Brantley nearing return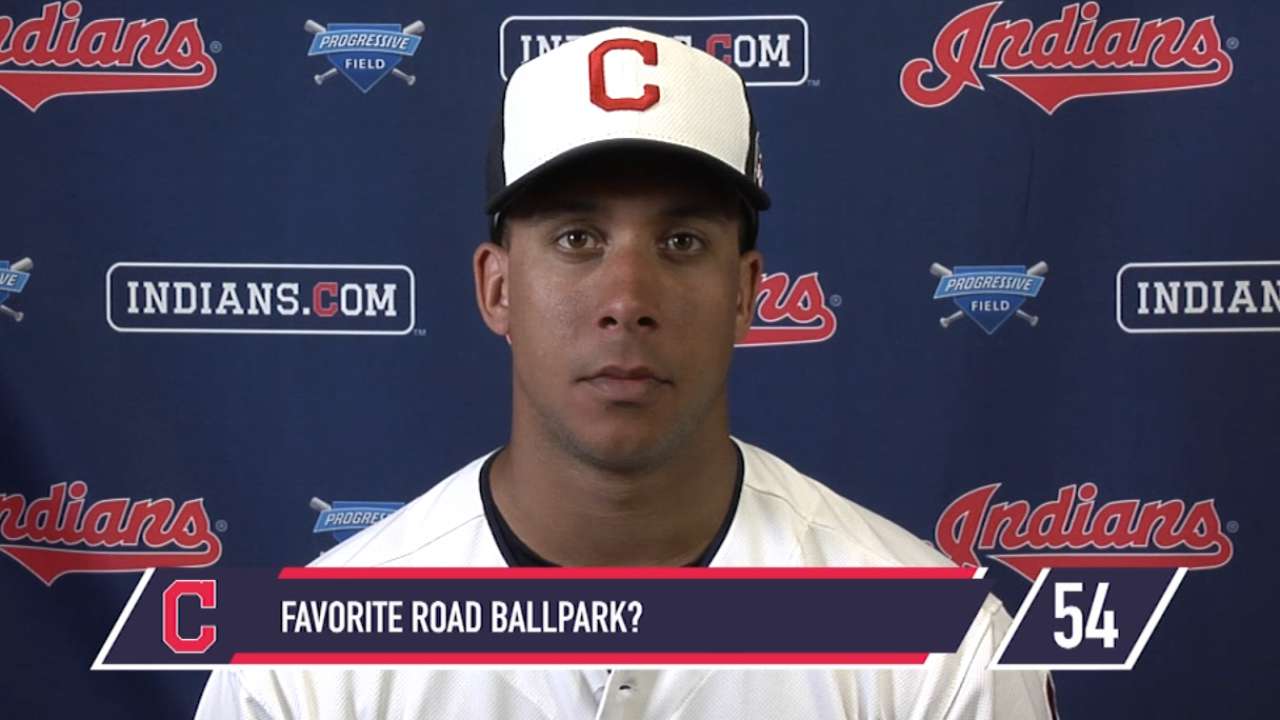 DETROIT -- Standing in the visitors' dugout at Comerica Park, Indians general manager Mike Chernoff cracked a smile on Friday when asked how left fielder Michael Brantley was progressing in his Minor League rehab.
"He wanted to be playing a week ago," Chernoff said. "So, the feedback's been great."
Brantley might not have to wait much longer to rejoin the Indians, either.
On Friday, Brantley (right shoulder surgery in November) moved his rehab assignment to Triple-A Columbus, following a four-game stint with Double-A Akron. If everything goes according to plan, the left fielder will then play for the Clippers on Saturday before being reevaluated by Cleveland's medical staff on Sunday.
Neither Chernoff nor manager Terry Francona ruled out Monday as a possible target for activating Brantley from the 15-day disabled list.
"I hope so," Chernoff said. "Hopefully, everything checks out OK. He's getting much, much closer, and we'll have to see how he feels."
Francona tiptoed around questions about whether Brantley might be ready for Monday's game in Minnesota, limiting his response to, "Let's just kind of see what happens." That said, the manager noted last week that Brantley needed to play in consecutive Minor League games before being activated, and that step could be completed with Friday and Saturday's Triple-A contests.
Heading into Friday, Brantley had gone 5-for-14 through five Minor League rehab games, with two doubles and a pair of walks. That grouping of games, dating back to April 12, marked Brantley's first action since the spring, when he played in Cactus League games on March 19-20. Following those two appearances, though, Brantley complained of soreness in his shoulder and went through a brief rest period.
So far, all indications are that Brantley's shoulder has responded well to the more recent string of games.
"He feels great. He looks great," Chernoff said. "It's a matter of making sure we don't rush things and that they've built up the volume to be able to handle it up here. Believe me, he's dying to get out there."
Francona agreed that it was important to be conservative with Brantley's return.
"We'll sit and talk to him," Francona said. "The one thing we don't want to do is talk him into coming back too quick, because he would do that -- I guarantee it. So we want to sit and talk to him, but also talk to [head athletic trainer James Quinlan] and the medical staff and try to make a good decision."
Jordan Bastian has covered the Indians for MLB.com since 2011, and previously covered the Blue Jays from 2006-10.. Read his blog, Major League Bastian, follow him on Twitter @MLBastian and listen to his podcast. This story was not subject to the approval of Major League Baseball or its clubs.