Padres recall Pirela, option Campos to Triple-A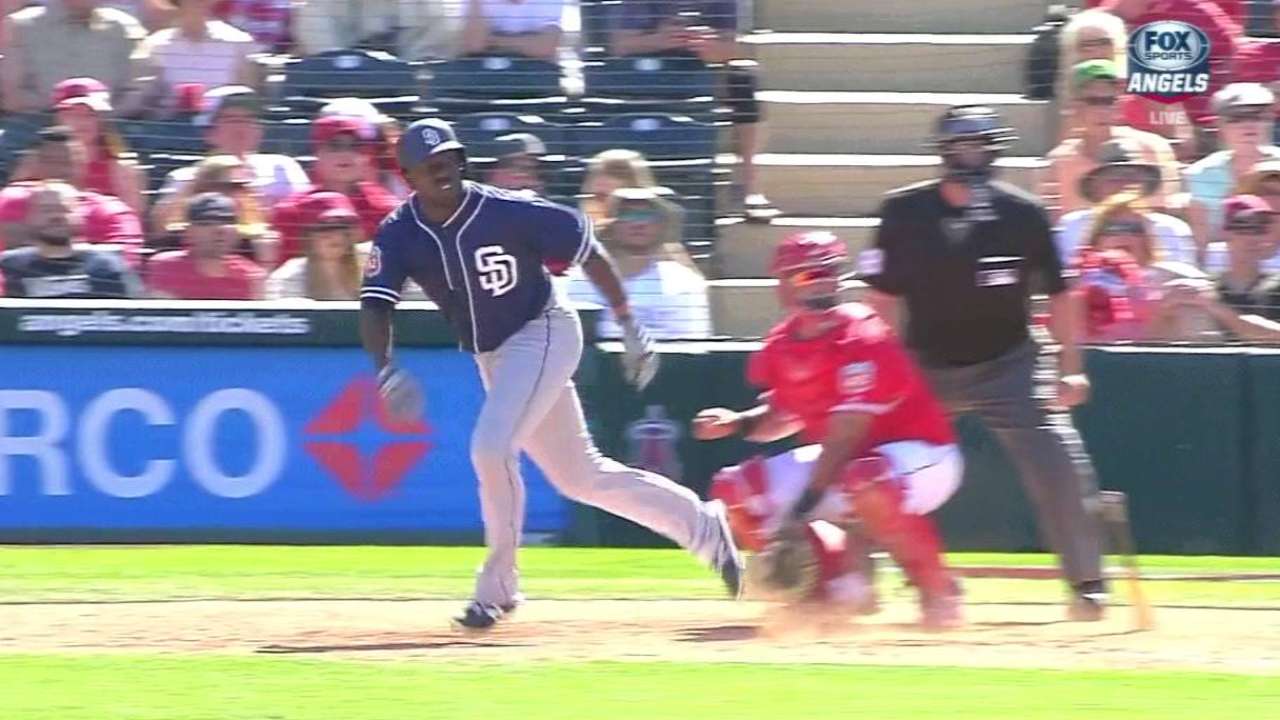 SAN DIEGO -- The Padres recalled outfielder Jose Pirela on Friday afternoon, optioning reliever Leonel Campos to Triple-A El Paso, one day after he was roughed up by the Pirates in his 2016 debut.
Pirela came to the Padres in an offseason trade with the Yankees -- a deal that sent Minor League right-hander Ronald Herrera to New York. In 44 career Major League games, Pirela has batted .255/.275/.367.
With the Yankees, Pirela spent some time playing second base, but the Padres view him mostly as an outfielder and have given him very few infield reps. But injuries to infielders Cory Spangenberg and Yangervis Solarte could necessitate Pirela seeing some time at second base.
"They told me to be ready for anything," Pirela said through a team translator. "That's kind of what I've kind of gotten used to over the past few years, so it'll be up to the manager. Wherever they need me, I'll go."
Campos allowed seven runs (five earned) while getting one out Thursday night, and technically, he represents the Padres' corresponding roster move.
But make no mistake about it: Saturday's pending transaction will be the one that comes as a direct result of Pirela's arrival. Optioning Campos was merely a byproduct of Cesar Vargas, who will start Saturday, once a move is made to clear room for him on the roster.
That exact move remains a mystery -- and with Pirela capable of playing second base, there are a number of options in both the infield and outfield who could be sent down.
Alexi Amarista has been battling a hamstring tweak since Tuesday, making a disabled list stint possible. But manager Andy Green seemingly shot down that notion.
Ultimately, the decision likely comes down to whether the club views Pirela as a viable infielder. If not, there's little reason to keep six outfielders on the roster -- putting the status of Travis Jankowski and Jabari Blash in jeopardy. Green was asked whether he views Pirela as a second baseman -- coincidentally, at the precise moment Pirela started taking grounders there.
"He's standing out there taking ground balls as we speak, so, to some degree, we view him as an option in the infield, if need be," Green said. "Obviously, we didn't spend a lot of time emphasizing that with him this spring. Is he a top option there? No. He's more of an outfielder than an infielder."
Pirela impressed the Padres during Spring Training with his rate of hard contact and his ability to turn around fastballs. He batted .323/.344/.468 during Cactus League play.
"It's an ability I've always had," Pirela said of catching up to high-velocity pitches. "I think the hitter that can't hit a fastball shouldn't be in the big leagues."
Pirela was batting .273 with five extra-base hits for El Paso at the time of his callup. He says he's enjoying life in the Padres organization thus far.
"I was surprised -- I wasn't expecting that trade to happen," Pirela said. "But at the same time, it's a good opportunity. There's more opportunity to play here, and that's what I've always looked for."
AJ Cassavell covers the Padres for MLB.com. Follow him on Twitter @ajcassavell. This story was not subject to the approval of Major League Baseball or its clubs.