Top prospect Snell called up to debut today
Left-hander ranked No. 1 in Rays' organization, 12th overall; set to start vs. Yankees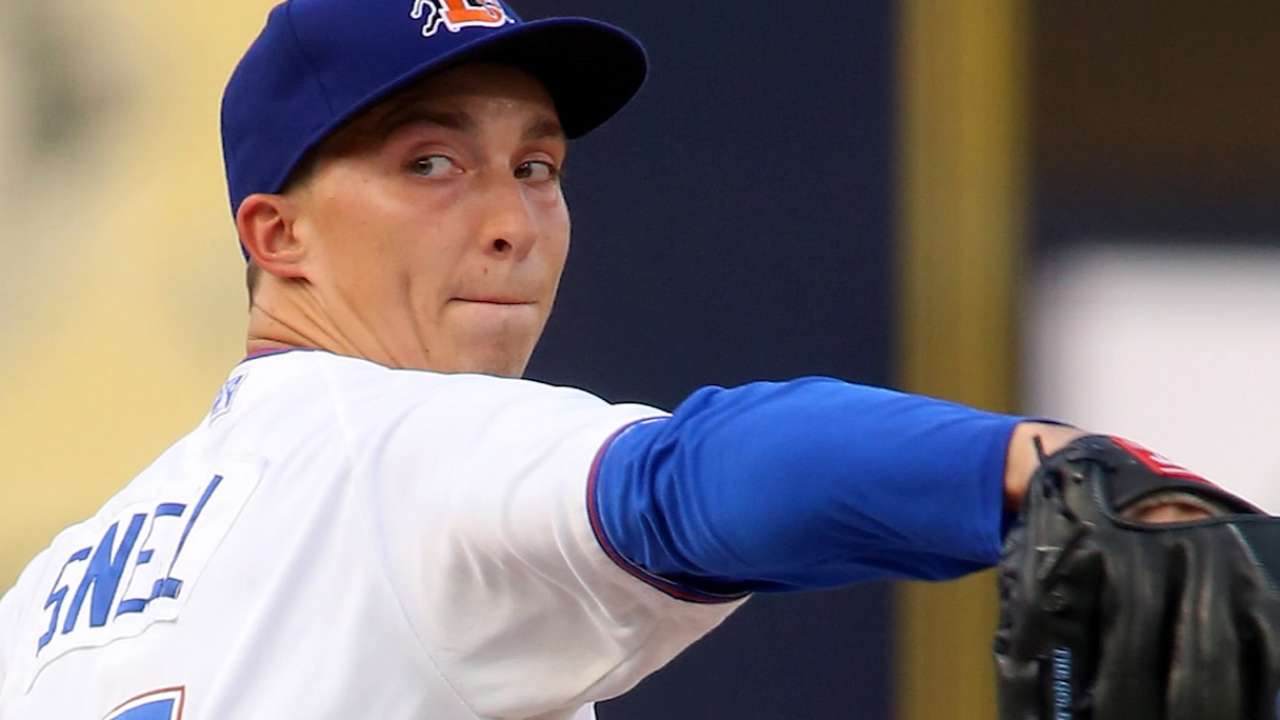 NEW YORK -- The Rays opted before Friday's game against the Yankees to call up left-hander Blake Snell -- ranked as their top prospect and the No. 12 prospect in the game by MLBPipeline.com -- for today's start in the Bronx. The decision came about as a result of an in-game decision Rays manager Kevin Cash made during Thursday's game against the Red Sox.
With two outs and the score tied at 8 in the bottom of the seventh inning at Fenway Park, Cash saw an opportunity to win a game. But he had to burn a starting pitcher to do it.
• What to expect from Snell in big leagues
With Mookie Betts about to walk to the plate, Cash chose to replace left-hander Xavier Cedeno with righty Erasmo Ramirez. Ramirez struck out Betts and followed with a scoreless eighth inning, helping the Rays keep their lead en route to a 12-8 victory. But Cash's decision to bring in Ramirez left him without a starting pitcher for today's game, which originally belonged to Ramirez.
Until Cash saw another opportunity to win a game, that is.
The 23-year-old Snell, selected in the first compensation round of the 2011 Draft (52nd overall) by the Rays, will be making his Major League debut after spending the better part of five seasons in the Minor Leagues.
In three starts for the Triple-A Durham Bulls this season, Snell was 1-1 with a 2.51 ERA and 21 strikeouts in 14 1/3 innings. He struck out 163 batters and posted a 1.41 ERA over 134 innings across three levels in 2015.
"There's genuine excitement throughout the organization," Cash said of Snell. "This young man has been talked about quite a bit. We got to see him in Spring Training, and the way he carried himself was spot on. His stuff speaks for itself, obviously. It just seemed right. He's going to come up here and help us win a ballgame."
Snell echoed that sentiment multiple times after he arrived at Yankee Stadium, the culmination of a whirlwind of a day. Snell woke up in a hotel in Buffalo before his manager at Durham, Jared Sandberg, told him the news. Originally scheduled to start on Friday at Triple-A, Snell needed to quickly adjust his mindset, but he joked that he would much rather be pitching today.
"I got called up to pitch against the Yankees at Yankee Stadium," Snell said. "If I'm not happy about that, I'm just not a happy person."
Despite the excitement that surrounds Snell, his stint as a big leaguer may not be long. Cash indicated that today's assignment is likely to be no more than a spot start and that Snell is expected to return to the Minors after the game.
If Snell is to make only one appearance this time around, he lucked into a great location for it, debuting at Yankee Stadium in a divisional matchup against one of the most storied franchises in sports. Pitching in Yankee Stadium always comes with a little bit of extra pressure, but Cash said he doesn't expect the mystique of the Bronx to have any effect on Snell's performance.
"Personally, I don't [think Snell will be affected]," Cash said. "He carried himself really well in Spring Training. But that's tough. There's a lot of anxiety going for anyone's first start, and everyone carries themselves differently for their first start. He might not even know where he's at with the anxiety of making a debut."
If there is one thing about Snell that may stand out today, it's the number on his back. In a move that is uncharacteristic for a starting pitcher, Snell will be wearing a single digit, No. 4. And though this choice goes against conventional wisdom, Snell stands by his decision to wear the number he's loved since he was a child.
"It's something that you just fall in love with," Snell said. "It means something to you. I've had it since I was a kid. And I'm still kind of a kid. I feel like pitching in the big leagues is something I've always dreamed about."
To make room for Snell, the Rays optioned relief pitcher Danny Farquhar to Durham. Farquhar had a 3.38 ERA in six appearances this season and allowed seven hits while striking out five.
Farquhar said that Cash told him he wanted the lefty to pitch "more meaningful innings" in the Minors, and Cash added that he wants Farquhar to get "some consistent work."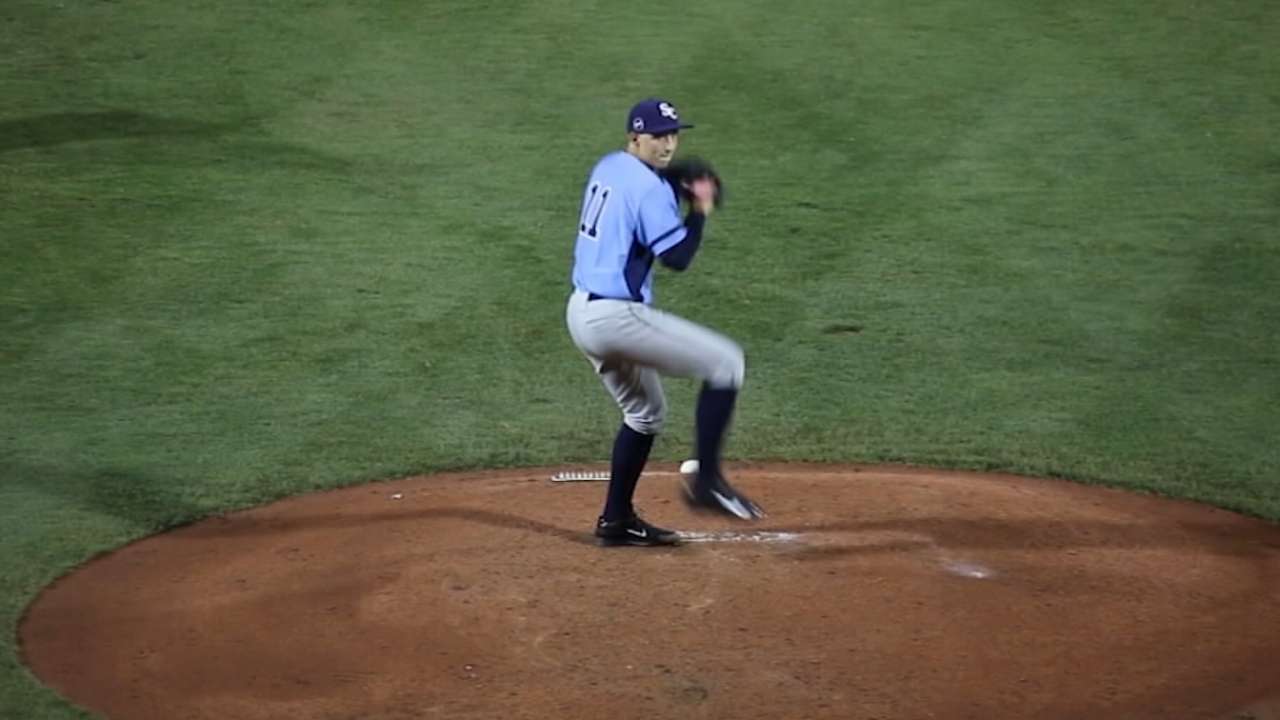 Fantasy spin | Fred Zinkie (@FredZinkieMLB)
The No. 5 pitching prospect per MLBPipeline's Top 100 list, Snell is among the few Minor League arms with the potential to make a significant Major League impact this season. The left-hander posted a 1.41 ERA and a 1.02 WHIP across three Minor League levels in 2015, and he has the swing-and-miss stuff to notch a high strikeout rate in the big leagues. In all formats, Snell should be added for his debut outing today. Even if he is sent back to the Minors following Saturday's start, owners in most leagues should stash him with the hope that he earns a permanent rotation spot before the All-Star break.
Nick Suss is a reporter for MLB.com based in New York. This story was not subject to the approval of Major League Baseball or its clubs.