MLB.com Columnist
Richard Justice
Plenty of time for Astros to live up to hype
Houston's early-season record is surprising, but talent is undeniable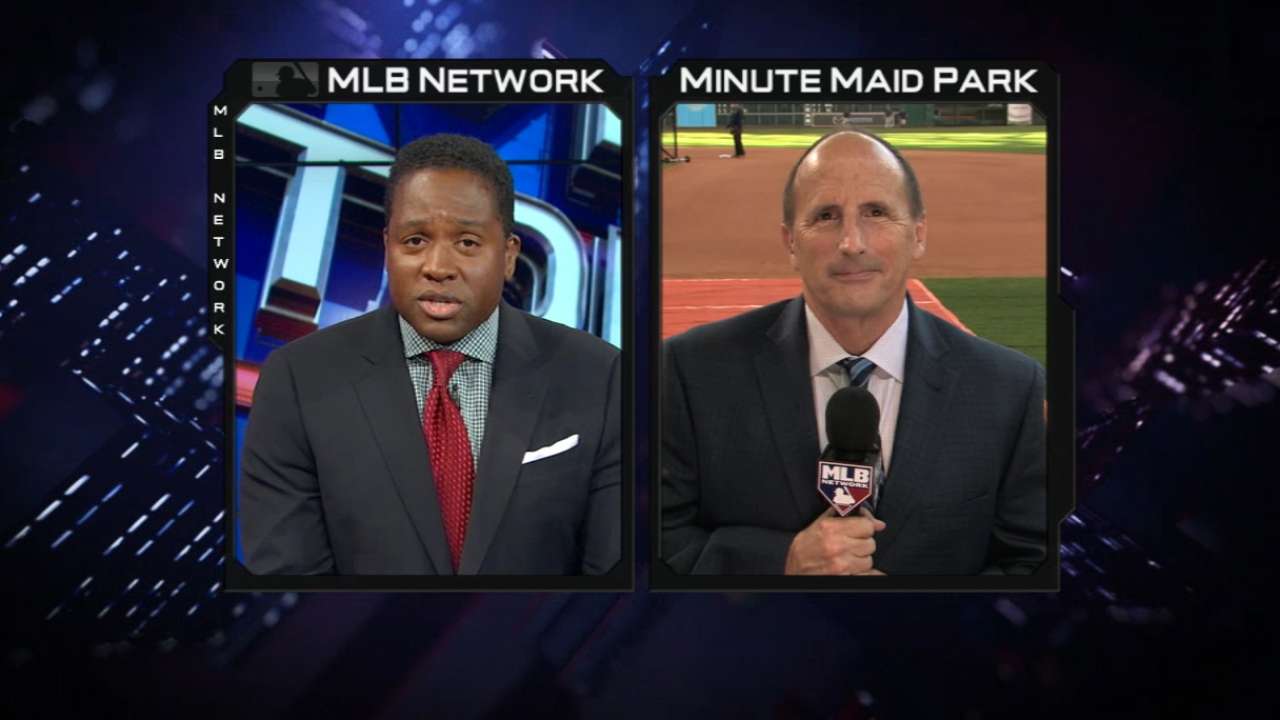 There are two things we know about these Houston Astros. One is that general manager Jeff Luhnow will not allow the season to get away from his team. The other is that he has options.
Luhnow helped transformed the Astros a year ago with a string of callups -- most notably American League Rookie of the Year Award winner Carlos Correa, outfielder Preston Tucker and pitchers Lance McCullers and Vince Velasquez.
Does Luhnow have another Correa in the Minors? Probably not. But there's talent.
Third baseman Colin Moran is hitting .326 at Triple-A Fresno, and last year's No. 1 pick and the organization's top prospect, shortstop Alex Bregman, is hitting .370 at Double-A Corpus Christi.
There's pitching, too: right-handers Mike Hauschild and Brady Rodgers are pitching well at Triple-A. Likewise, three right-handers -- Frances Martes, the best arm in the system, Joe Musgrove and David Paulino -- are doing well at Double-A.
Here's the tricky part. What's a reasonable amount of patience for a group widely picked to win the AL West? Where's that fine line between doing the right thing and hitting the panic button?
There's no answer for that. It's a feel thing, from both Luhnow and his manager, A.J. Hinch. It's also a standings thing.
As the Astros open a weekend series against the Red Sox at Minute Maid Park, they're 5-11 and already five games out of first place in the AL West. As disappointments go, there's none bigger in baseball.
In the larger scope of things, that five-game deficit is nothing. So who cares if they're tied with the Twins for the AL's worst record? Things can change quickly in these early weeks of a baseball season.
It's not as much that Houston is 5-11. It's how the Astros got to 5-11. Offensively, they're tied for 15th in runs, despite a string of numbers -- OPS, OBP, walks, home runs, stolen bases -- similar to last season when they were the sixth-highest scoring team in the Majors. However, last season they batted .244 (tied for 24th) with runners in scoring position. This season, they're at .174 -- 29th out of 30 teams. The offense has declined from 4.5 runs per game to 3.8 runs per game.
Is this a byproduct of pressing? After last season's magic ride, that was one of the questions about the Astros: How would this young team do when expected to win?
That shouldn't be the case with center fielder Carlos Gomez, who is hitting .189 with no home runs in 53 at-bats. He's a 10-year veteran. In three seasons before Houston acquired him last summer, Gomez averaged 27 doubles, 22 home runs and an .819 OPS for the Brewers.
Third baseman Luis Valbuena is in his ninth season. He hit 25 home runs in 434 at-bats in 2015. Valbuena hasn't hit one in 42 at-bats in 2016 and has a .214 batting average.
Designated hitter Evan Gattis, who hit 27 home runs in 2015, is batting .190 with no homers in seven games since coming off the disabled list.
But the real issue is the pitching. Last season, the Astros' rotation had a 3.71 ERA, the eighth best in the Majors. This season, it's 5.11, the fourth worst.
Even 2015 AL Cy Young Award winner Dallas Keuchel had a rare hiccup on Thursday in allowing the Rangers six runs and a career-high 13 hits. Every other starter has had moments that offered hope. None has done it consistently.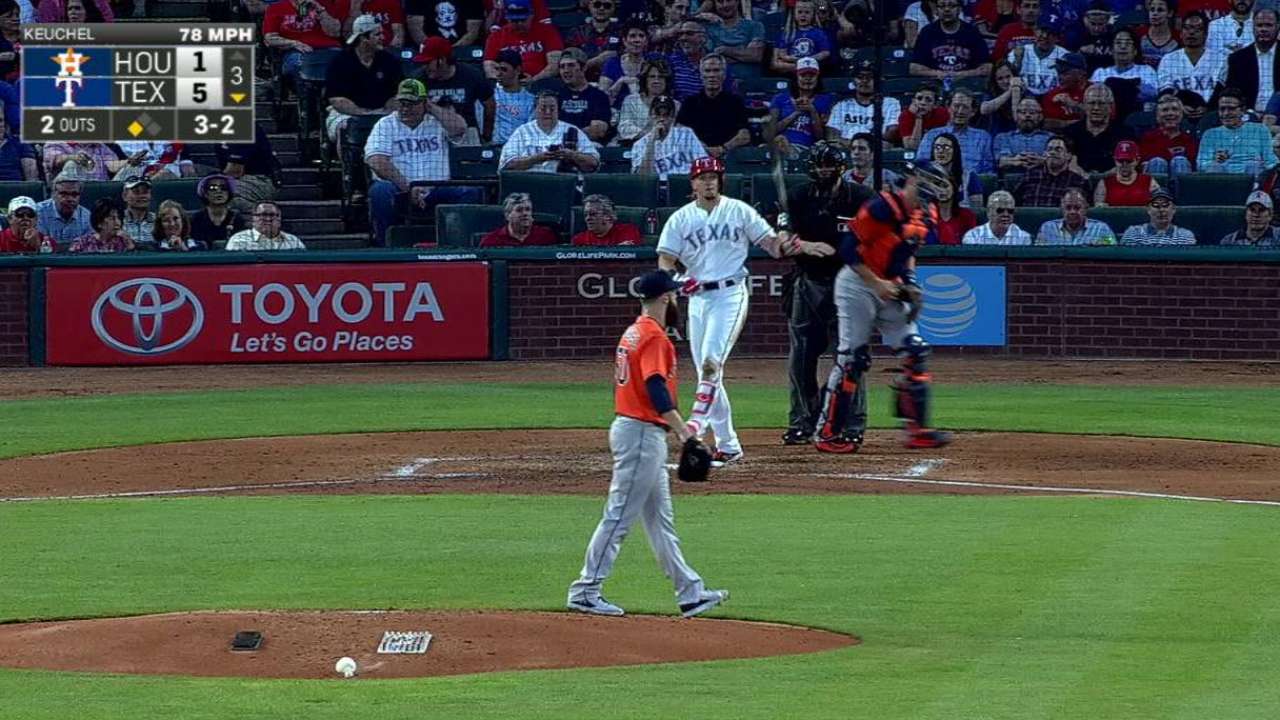 The Astros have also run the bases carelessly at times, getting thrown out by Texas outfielders twice on Wednesday night in Arlington. That aggressiveness on the bases was one of their trademarks last season when they surprised the world with their first postseason appearance in a decade.
That baserunning reflected an aggressive attitude and their sheer joy in playing baseball. But bad baserunning looks different when it's not backed up by a lockdown rotation and bullpen. With a smaller margin for error, these mistakes are magnified.
So what does Luhnow do? How long should he wait? Luhnow is not a patient man by nature. What if the deficit grows?
One obvious solution is getting McCullers back from the DL. He gave the rotation a different look last season after joining the team. McCullers was the only power arm in a rotation dominated by finesse.
McCullers' 3.25 ERA in September was huge in keeping a struggling team afloat, and in his only postseason appearance, he allowed the Royals two runs in 6 1/3 innings. He's working his way back from a sore shoulder, with an uncertain return to the Majors.
For now, Houston is staying the course. That five-game deficit is not as big a deal as simply pitching better and playing cleaner baseball. The Astros show up every day at the park, thinking, "This is the day that happens." Stay tuned.
Richard Justice is a columnist for MLB.com. Read his blog, Justice4U. This story was not subject to the approval of Major League Baseball or its clubs.