Ross 'on cloud nine' after Arrieta's no-hitter
Veteran catcher achieves a first in his final season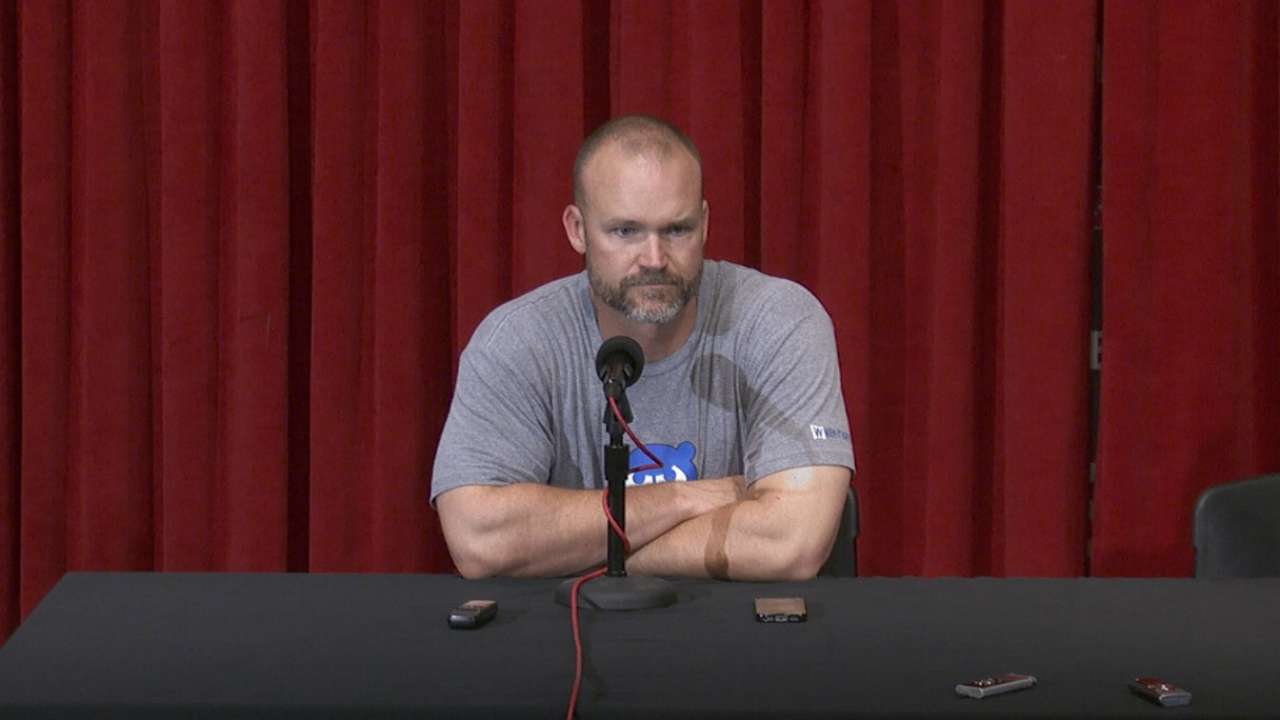 CINCINNATI -- After 544 starts as a catcher over 15 seasons, David Ross finally caught his first no-hitter, and it came, fittingly, in his final season.
Ross, 39, was behind the plate on Thursday night for Jake Arrieta's second career no-no in the Cubs' 16-0 romp over the Reds.
Jake Arrieta's second no-hitter
•
Pair-rieta: Jake's 2nd no-no a drubbing
•
Did you know? Facts from Arrieta's 2nd no-no
•
There's no-no doubting Arrieta's greatness
•
Rogers: Arrieta simply the best
•
Ross 'on cloud nine' after Arrieta's no-hitter
•
Arrieta 3rd Cub with multiple no-nos
•
Help yourself: Arrieta tallies two hits in no-no
•
No no-no is complete without defensive gems
•
Reds get no-hit at home for 1st time since '71
•
All-time no-hitters by club
•
Full game coverage
•
Flashback: Arrieta no-hits LA in August 2015
Sights & sounds
Arrieta's second career no-no
All 27 outs
Arrieta finishes no-hitter
#THIS: Arrieta no-hits Reds
Must C: Arrieta's 2nd no-no
Arrieta discusses no-no
Maddon on Arrieta
Ross on catching Arrieta
Game gallery
"That's just," manager Joe Maddon said. "This guy is always giving to the pitchers and everybody else on every team he's played on. He's so good back there, so I'm really happy for him, too.
"Catching a no-hitter is very special," Maddon said. "It's something he'll be able to carry with him. He had a great day at the plate on top of that."
Ross not only called the right pitches, he went 2-for-4, hitting an infield single and his first home run of the season, and he picked off Eugenio Suarez in the fourth.
"He needs three more -- three more homers for 100," Anthony Rizzo said of Ross, who has 97 in his career. "It's a good day for him, good start for him. Let's just keep checking off things for him that he's never done before and we'll be all right."
Rizzo and Kris Bryant have been documenting Ross' final season on Instagram, and will need to update the account with a photo of the catcher and Arrieta from the no-hitter. Ross posed on the podium after Arrieta met with the media.
"I don't need any questions -- I just wanted a picture," Ross quipped.
But the veteran did answer a few questions, such as, After catching so many games, how did it feel to finally have a no-hitter on his resume?
"It feels amazing, amazing," he said. "One of my dreams, and that stud made it come true. I'm on cloud nine."
Big leaguers' dreams do come true.
"As a catcher and a guy who prides himself on calling a game and all that stuff, it's one of those things I really, really wanted to do, or be a part of," he said. "I feel like I didn't do a whole lot. That animal was in control the whole time and knew exactly what he wanted to do, and he locked it in when he needed to."
The Cubs players sounded as happy for Ross as they were for Arrieta.
"For me, that's why this is so special," Arrieta said when told that this was Ross' first no-no. "In his last year, he's never caught one. It's special for me, not only for myself but for him in his last season, being able to have him with that experience now is pretty awesome."
As for Bryant, he just marked his one-year anniversary in the big leagues, and he's already been part of two no-hitters.
"He's a huge reason why the pitchers are who they are," Bryant said of Ross. "He does a great job back there and controls the game and has a lot of fun doing it. He knows what to say to each and every one of them. You can't underestimate his value to this team and the game today."
Carrie Muskat has covered the Cubs since 1987, and for MLB.com since 2001. She writes a blog, Muskat Ramblings. You can follow her on Twitter @CarrieMuskat and listen to her podcast. This story was not subject to the approval of Major League Baseball or its clubs.