Donaldson, Bonds meet former clubs on MLB.TV
Harvey attempts to return to form; King Felix goes for Mariners' strikeout record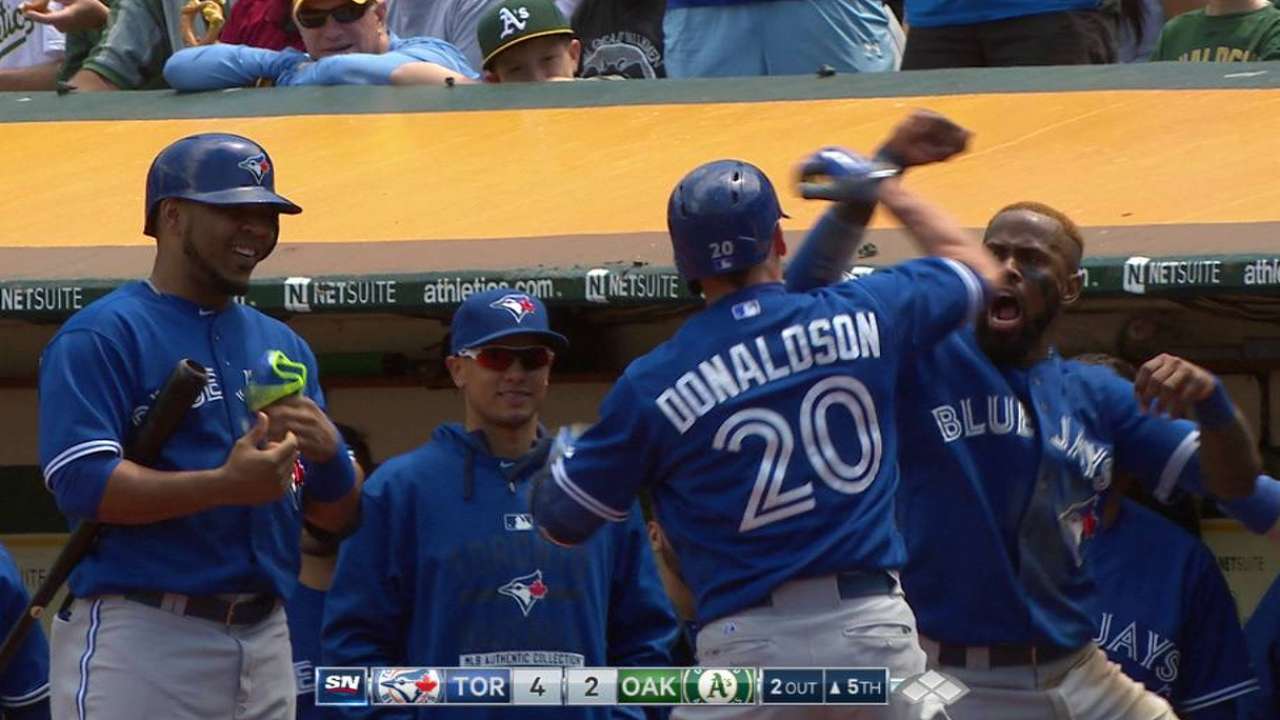 A pair of MVPs will meet their former teams today.
Since the A's traded Josh Donaldson to the Blue Jays in November 2014, all the third baseman has done is lead Toronto back to the postseason, take American League MVP honors and then get off to hot start again this year. Today the two teams meet for the first time in '16, beginning a three-game series at Rogers Centre.
Later in the evening, when the Marlins play their series opener at AT&T Park, it will mark first-year hitting coach Barry Bonds' return to the city where he starred for so many years. In 15 seasons for the Giants, Bonds was a four-time National League MVP and hit the final 586 of his record 762 home runs.
Both of those games -- as well as the other 13 on the schedule -- will be available live on MLB.TV.
MLB.TV Premium returns with the same features as last year, but at $109.99, it is a full 20 bucks cheaper than the 2015 cost. This package has the best value and provides access to more than 400 devices and a free subscription to the MLB.com At Bat Premium app (a $19.99 value). It offers the best picture quality ever -- a new 60 frames per second -- for supported devices. Monthly signups for MLB.TV Premium are now underway as well for $24.99.
The new MLB.TV Single Team package is also now available as an $84.99 yearly subscription. You can watch a single team's live out-of-market games in full HD.
Here is a look at what to watch for today in the Majors (all times ET):
Remember me?: OAK@TOR, 7:07 p.m.
In six games against his former club last year, Donaldson went 7-for-25 (.280) with two doubles, a homer, five RBIs and an .813 OPS. That includes a 2-for-3 effort against A's ace Sonny Gray, who gets an outing at Rogers Centre for the first time since 2013. The right-hander has put together three consecutive quality starts to begin the season, posting a 2.33 ERA, although each of those outings came at home. The Jays are countering with 23-year-old righty Aaron Sanchez, who has been lights-out this season, allowing 10 hits and striking out 20 over 20 innings.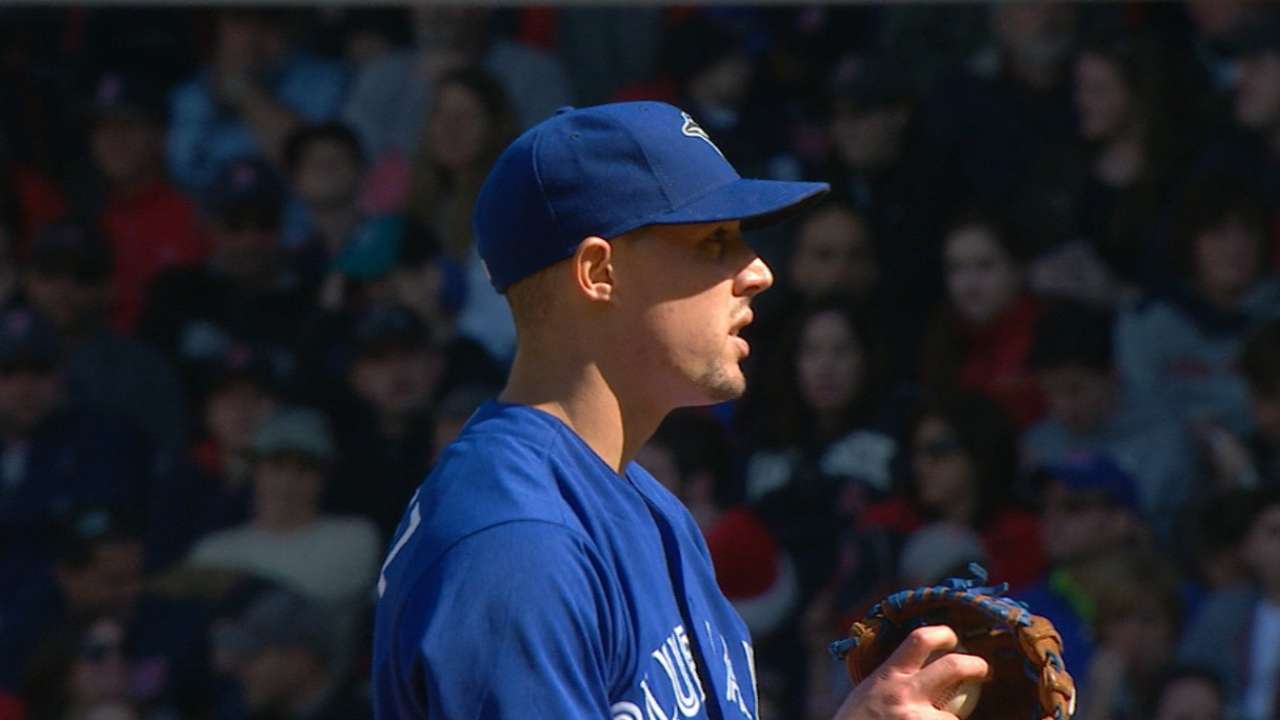 Stat that matters: Even though he calls a pitchers' park home, Gray actually has a slightly better career ERA on the road (2.70 vs. 2.99). In fact, his road ERA is seventh best in the Majors since his rookie season of 2013, among pitchers with 30-plus away starts.
Harvey tries to get going: NYM@ATL, 7:35 p.m.
Matt Harvey has not been himself this season. Through three starts, the Mets right-hander owns a 5.71 ERA and a meager 9-to-7 strikeout-to-walk ratio, while opponents have batted .308 against him. In his last outing, on Saturday at Cleveland, he tossed four perfect frames before allowing two runs in the fifth and three in the sixth, struggling to pitch out of the stretch once runners got on base. It's possible that heading to Turner Field could help. After scoring one run in a 10-inning loss to the Dodgers on Thursday -- to be fair, Clayton Kershaw started -- the Braves sit last in the Majors in OPS (.587) and home runs (three).
"I still think he's going to have a big, big year," Mets pitching coach Dan Warthen said of Harvey after his last start. "I think right now, if we've ever seen Matt Harvey press, this might be the time. He's really trying to force the issue."
Stat that matters: Harvey's average four-seam fastball velocity was 94.5 mph against the Indians, which was lower than in any other start the past two seasons. In 2015, the pitch averaged 96.2 mph.
Barry's back: MIA@SF, 10:15 p.m.
Through Bonds' first 14 games as a hitting coach, his club sits eighth in the NL in OPS. Now he returns to his old stomping grounds as the clubs open a three-game set at the beginning of a 10-game road trip for Miami. Bonds' hitters will take on right-hander Jeff Samardzija, who is set for his AT&T Park debut as a member of the Giants. Each of Samardzija's first three starts came on the road, producing a 3.72 ERA and 14-to-8 strikeout-to-walk ratio across 19 1/3 innings. San Francisco, which will face Marlins righty Jarred Cosart, is coming off a four-game sweep at the hands of Arizona and has lost five straight and eight of nine.
Stat that matters: Of all pitchers with 10 innings this season, Cosart has the second-lowest rate of pitches in the strike zone (36.5 percent) as well as the second-lowest opponent swing rate (35.5 percent).
MLB.TV Premium subscribers get the Mosaic View -- split screen or quad, available on PC or Mac only. That always comes in handy, especially when scoreboard-watching looms. MLB.TV Premium and MLB.TV Single Team subscribers both enjoy HD and both will get real-time highlights and player stats automatically loaded moments after they occur (only for the game you are watching with MLB.TV Single Team, and for all games with MLB.TV Premium).
Andrew Simon is a reporter for MLB.com. Follow him on Twitter @AndrewSimonMLB. This story was not subject to the approval of Major League Baseball or its clubs.