Harrison sparks Bucs with bat, baserunning
Second baseman has two RBIs, scores on wild pitch vs. Padres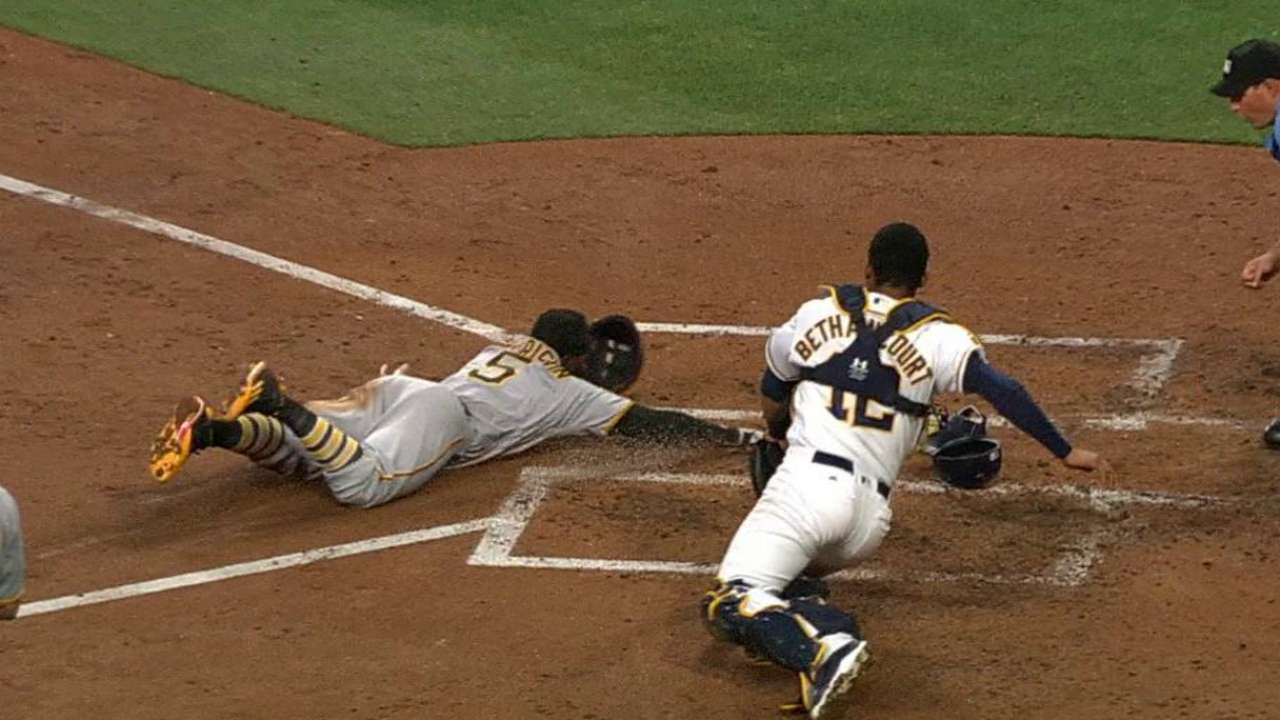 SAN DIEGO -- Josh Harrison isn't hitting at the top of the Pirates' lineup this season, but he showed Thursday night that he's still Pittsburgh's spark plug.
Harrison was a one-man wrecking crew in the Bucs' 11-1 win over the Padres at Petco Park, producing runs with his bat and creating one with his legs. His big game backed Gerrit Cole's strong six-inning start and helped the Pirates prevent a series sweep in San Diego.
"I try to provide any type of energy that I can," Harrison said. "That's how I play. I have fun. I enjoy this game."
Harrison, batting .302 with a .703 OPS, put the Pirates on the board in the second inning. With Gregory Polanco at second base, Harrison flung his bat below the strike zone and punched an 84-mph changeup from James Shields into left field for a two-out RBI single.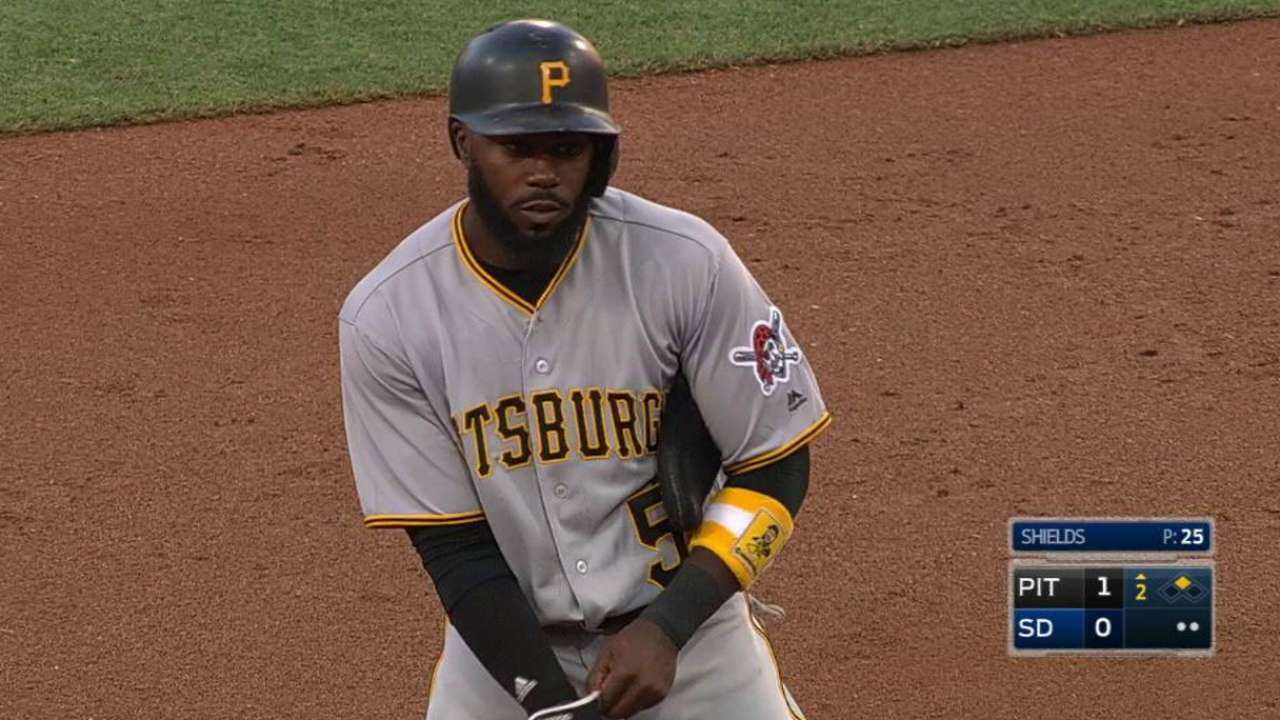 He was at it again in the fourth. With two outs and Starling Marte on third, Harrison reached down and away to slap another RBI single to right field.
"The first one might have hit the dirt, and he was kind of able to throw his bat out there and get a hit," Shields said. "The second one, that was exactly where I wanted to throw it. And he flipped it out to right. There's nothing you can really do about that."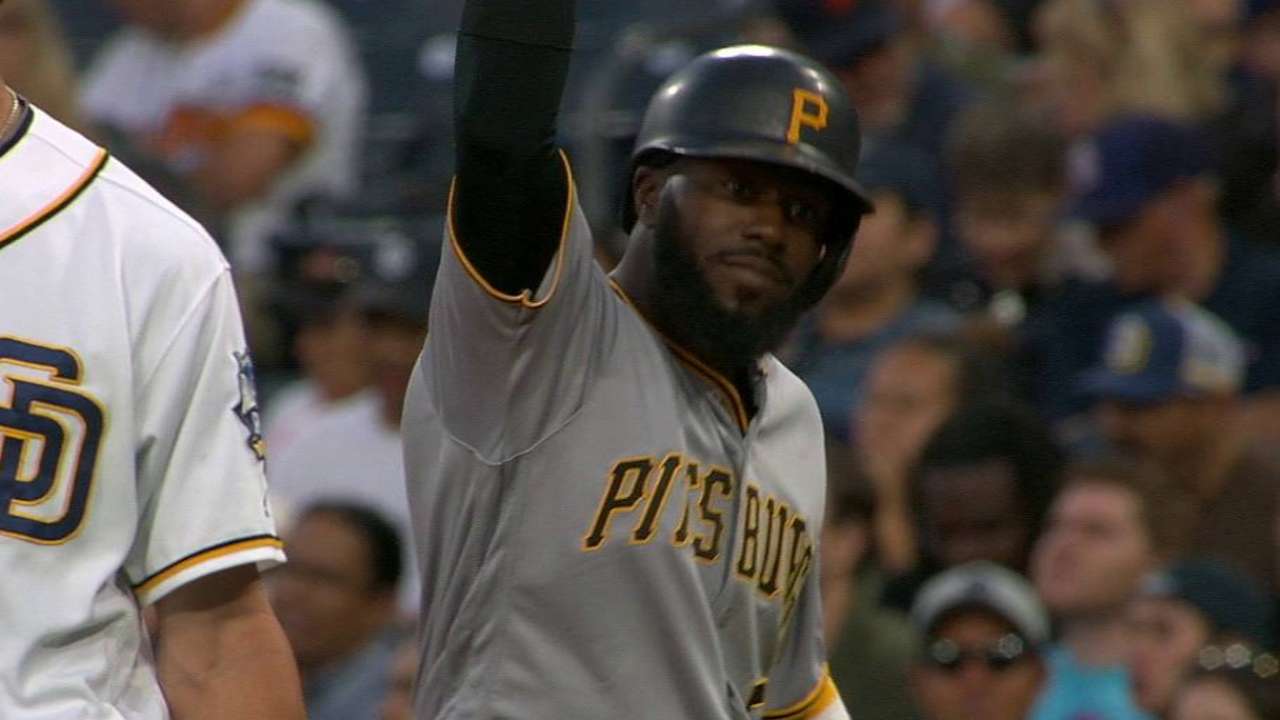 Harrison has taken a MLB-high 29 at-bats with runners in scoring position, and he's come through with a .310 average (9-for-29) and nine RBIs in those situations.
"We've been presented with opportunities to score early, and baseball's funny. Sometimes it happens; sometimes it doesn't," Harrison said. "It felt good to be able to cash in and put pressure on them early. That's the name of our game."
From there, Harrison let his legs and natural baserunning instincts take over. With Jordy Mercer batting, he swiped second base. Later in Mercer's at-bat, he took third on a wild pitch.
"He's the kind of guy who's got the ability to run the bases very well and make other people uncomfortable. I like what he's doing," catcher Francisco Cervelli said. "He puts pressure on the pitcher. At some point, they're going to make mistakes."
With Cole at the plate, Shields bounced an 0-2 curveball and Harrison hustled home to give Pittsburgh a 3-0 lead.
"It's just a matter of always being ready," Harrison said. "Any time I saw it projected in the dirt, I was trying to be aggressive. If it kicked enough away, I was taking my chance."
Harrison stayed aggressive throughout the night, sparking the Pirates' eight-run seventh by reaching on a strikeout. The third strike got away from Christian Bethancourt, and Harrison sprinted to first base safely.
"He's a backyard ballplayer. It's been going on for a while," manager Clint Hurdle said. "He does some special things. ... Big night for Josh. We stretched it out later, but between him and Cole, they carried the load for us."
Adam Berry has covered the Pirates for MLB.com since 2015. Follow him on Twitter at @adamdberry. This story was not subject to the approval of Major League Baseball or its clubs.