Rasmus hopes his huge night spurs Astros
Outfielder's two-HR game unable to spark rally in Arlington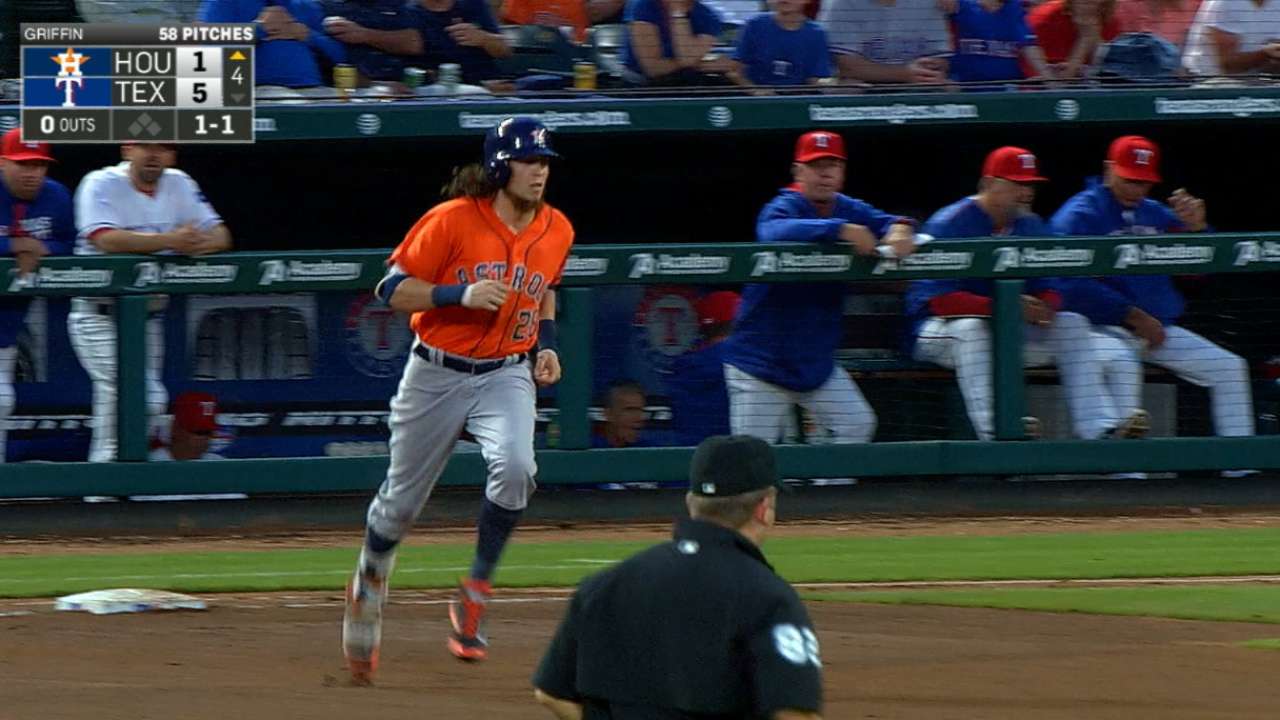 ARLINGTON -- Colby Rasmus is off to one of the best starts of his career, but the Astros' colorful left fielder can't really enjoy it too much. Rasmus went 2-for-3 with a pair of homers in Thursday's 7-4 loss to the Rangers that dropped the Astros to 5-11.
"It's tough," Rasmus said. "I'm definitely happy that was able to put some balls out of the yard and stick with my approach today, but definitely a tough loss. They [the Rangers] got the magic stick working right now on us."
Rasmus is hitting .311 with five homers and 11 RBIs through 16 games. He's reached base in 15 games this season and easily leads the club with 14 walks and a .467 on-base percentage.
"I'm seeing it pretty good," he said. "I've had some good starts before. I'm not sure, maybe statistically I'm a little better. Being a little older and knowing some of those things to make me feel comfortable.
"This is a good place and I like playing here. That helps me feel comfortable and knowing what I want to do every day and having a good idea what they are going to try to throw to me. Now after a couple of years of the shifts, I'm able to combat some of the things they're trying to do to get me out."
The only shift that would have worked on Rasmus on Thursday would have had the Rangers putting an outfielder in the bleachers. He walked in his first at-bat and led off the fourth inning with a home run off A.J. Griffin. With the Astros trailing 7-2 in the eighth, he hit a two-run homer to right off Tony Barnette to keep the game close.
"He's really in a good place," Astros manager A.J. Hinch said. "He's swinging the bat well, he's swinging at strikes. He's doing everything he needs to do. He's done his part, but it's a team game. We win as a team, we lose as a team. He feels just as bad as anybody in there, even though he's performing individually."
Brian McTaggart has covered the Astros since 2004, and for MLB.com since 2009. Follow @brianmctaggart on Twitter and listen to his podcast. This story was not subject to the approval of Major League Baseball or its clubs.