Pelfrey: 'I need to be a lot better'
Tigers righty allows 13 baserunners in 5 innings, walks 5 for 2nd straight start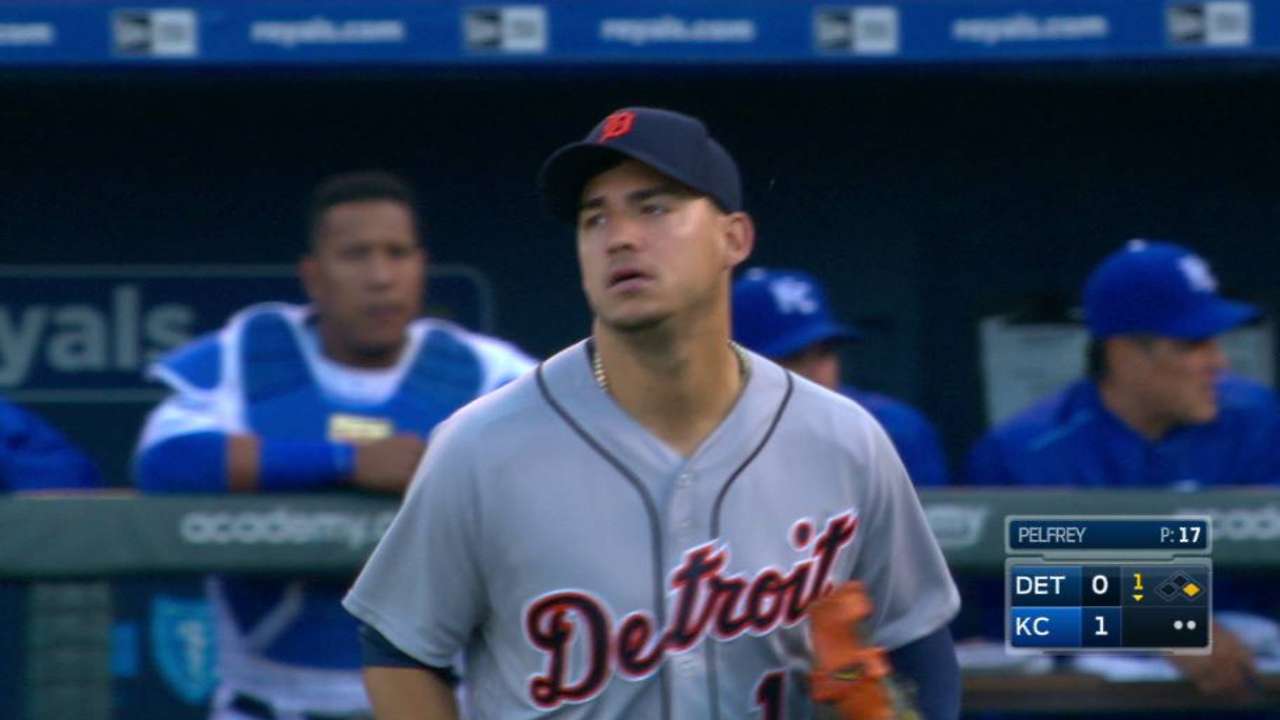 KANSAS CITY -- Mike Pelfrey isn't commanding his sinker. He's commanding the responsibility for it fairly well.
Give the big right-hander credit: He's owning his struggles, including a turbulent five-inning trek through the Royals' lineup in Thursday's 4-0 loss. Considering he yielded 13 baserunners out of 26 batters faced, it could have been worse, and would have if not for stellar defense behind him.
Pelfrey expects himself to be better.
"I don't think my command has ever been this bad," Pelfrey said. "But it's unacceptable. I've been terrible. I feel bad for the guys behind me, having to go hit after standing out in the field for 40 minutes.
"I take the blame for this. This is my fault. It's unacceptable. I need to be a lot better. I need to figure it out pretty fast. It's embarrassing. I haven't been good enough for three starts. I've been pretty terrible. I'll figure it out."
Until a week ago, Pelfrey hadn't walked five batters in a game since 2009. He has now reached that mark in back-to-back outings, something no Tiger had done since 2009. Dontrelle Willis had the last such streak, a product of command issues that he could never shake.
This isn't that. But it's also not the first impression Pelfrey wanted to make with his new club.
While fellow offseason addition Jordan Zimmermann has yet to give up a run in three starts, all wins, as a Tiger, Pelfrey is 0-3 for the first time in his career. He has yielded 20 hits and 12 walks over 14 2/3 innings for a 2.18 WHIP, yet owns a 3.68 ERA thanks to double plays and unearned runs.
"He has had a lot of baserunners, but it's ironic, he hasn't given up a lot of runs, at least earned runs," manager Brad Ausmus said. "But this is not the way we want it drawn up on an every-fifth-day basis. Really, the last couple outings it's been more about the strike zone than anything else."
It's not a matter of Pelfrey's pitches moving too much. His sinker, his primary pitch, isn't moving enough.
"The ball's not sinking," he said. "It's running more. That tells me I'm not getting on top of it. I'm going to try to go back and watch video, figure something out. I need to be a lot better than I have been.
"It's frustrating on my part. That's two games in a row that should've been a lot worse, all the traffic on the basepaths. In the field, these guys keep backing me up and keep trying to grind. It's frustrating."
Five of Kansas City's first six batters reached base safely, the first three on hard-hit balls. The exception was cleanup hitter Eric Hosmer, whose line drive Jose Iglesias snared up the middle to start a double play. Iglesias made a sliding stop at nearly the same spot behind second base an inning later to turn a Lorenzo Cain grounder into an inning-ending double play to thwart a bases-loaded chance for the second consecutive inning.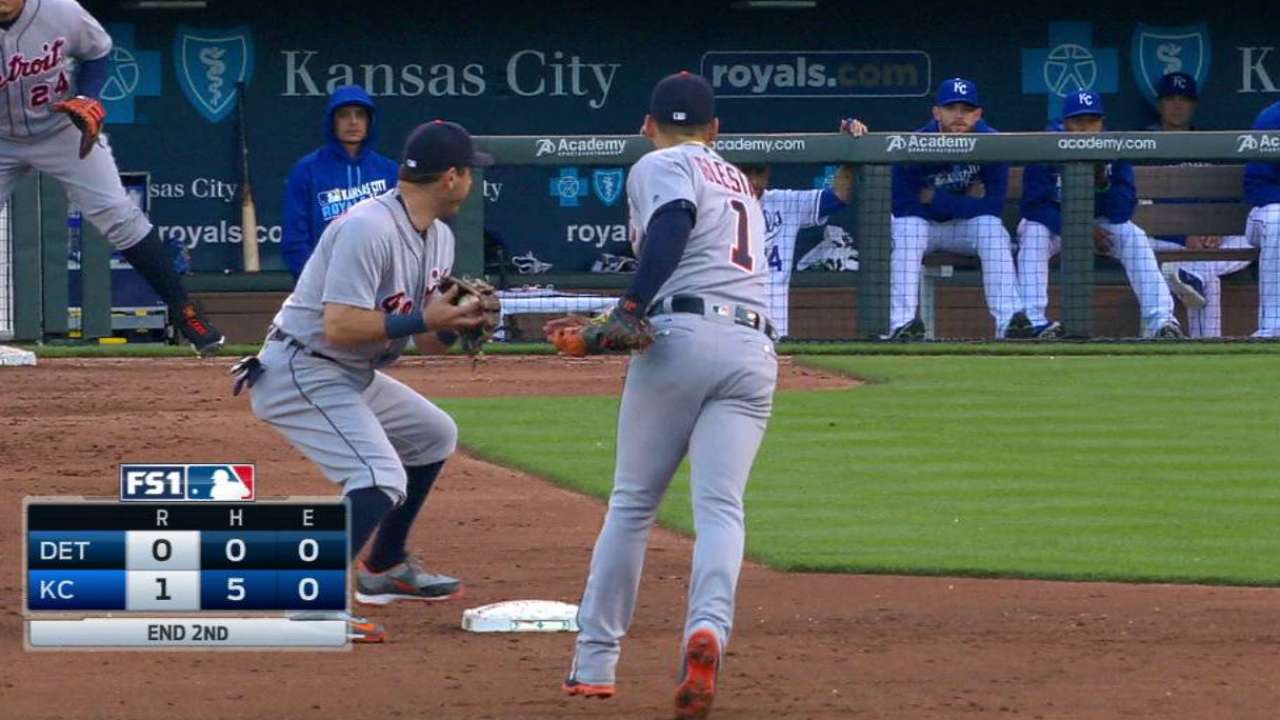 Pelfrey took a 1-0 deficit into the fourth inning before hard-hit balls turned into extra-base hits, including Mike Moustakas' long homer to center.
It's not injury, Pelfrey said, but mechanics.
"I'm fine. I'm healthy," he said. "I think this is my 11th season. I'm going to find a way. Have to. I'm a big boy. I'll figure it out."
Jason Beck has covered the Tigers for MLB.com since 2002. Read Beck's Blog, follow him on Twitter @beckjason and listen to his podcast. This story was not subject to the approval of Major League Baseball or its clubs.