There's no-no doubting Arrieta's greatness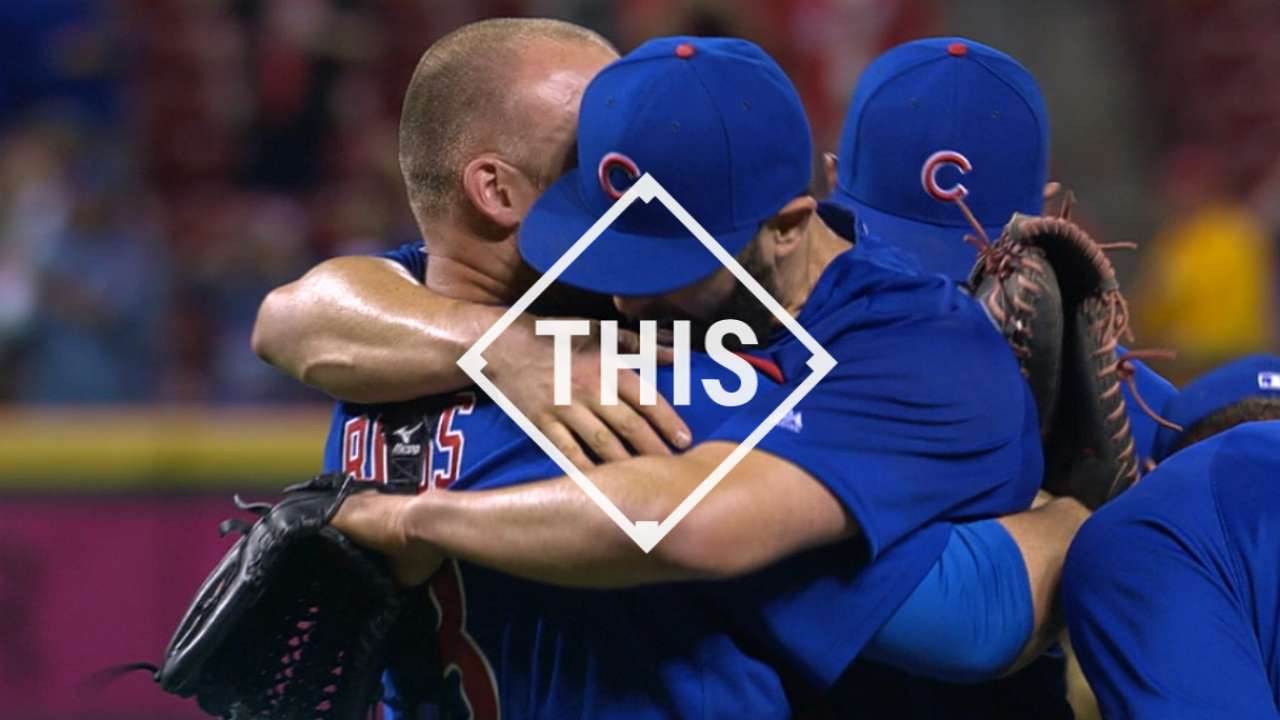 CINCINNATI -- What was the first thing Cubs manager Joe Maddon said to Jake Arrieta after the right-hander threw his second career no-hitter just nine starts after his first?
"Game over, the first thing I let him know was nice job of hitting," Maddon said.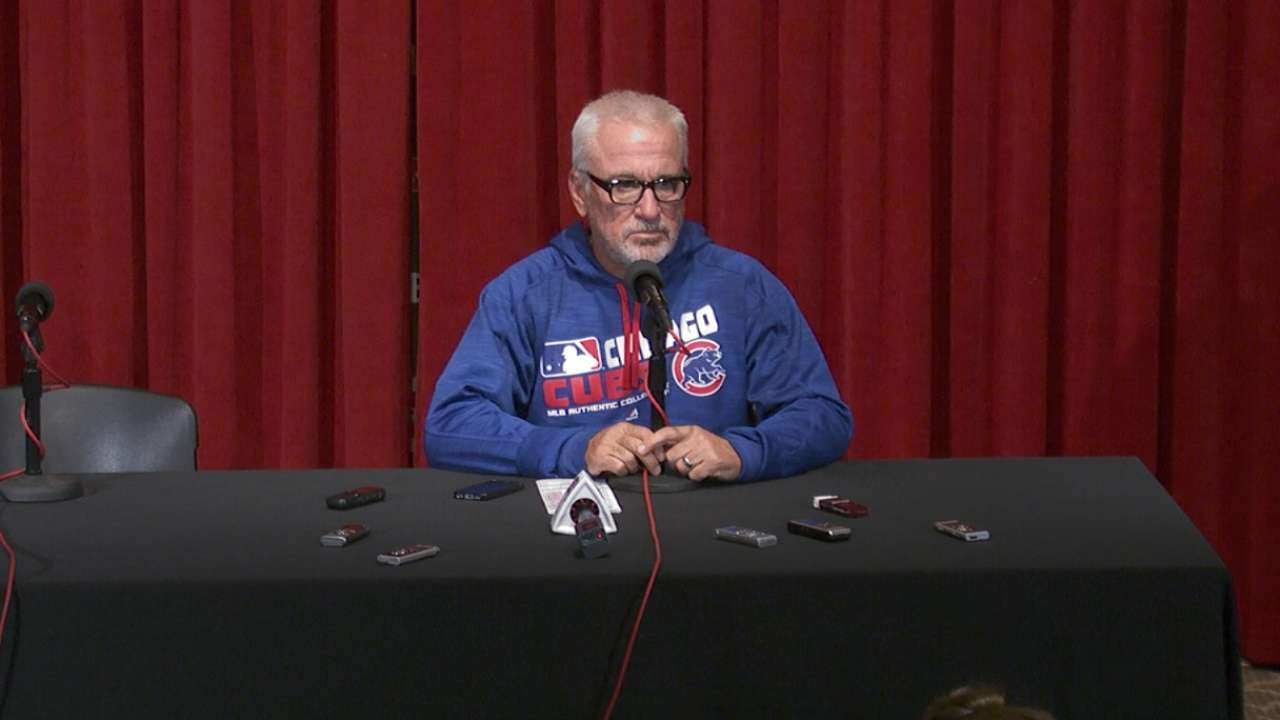 Arrieta did help himself with two singles, which were two more than the Reds totaled in nine innings against the right-hander on Thursday night. The reigning National League Cy Young Award winner did it again, no-hitting Cincinnati in Chicago's 16-0 win, and he did so even though he admitted his command was shaky in the beginning.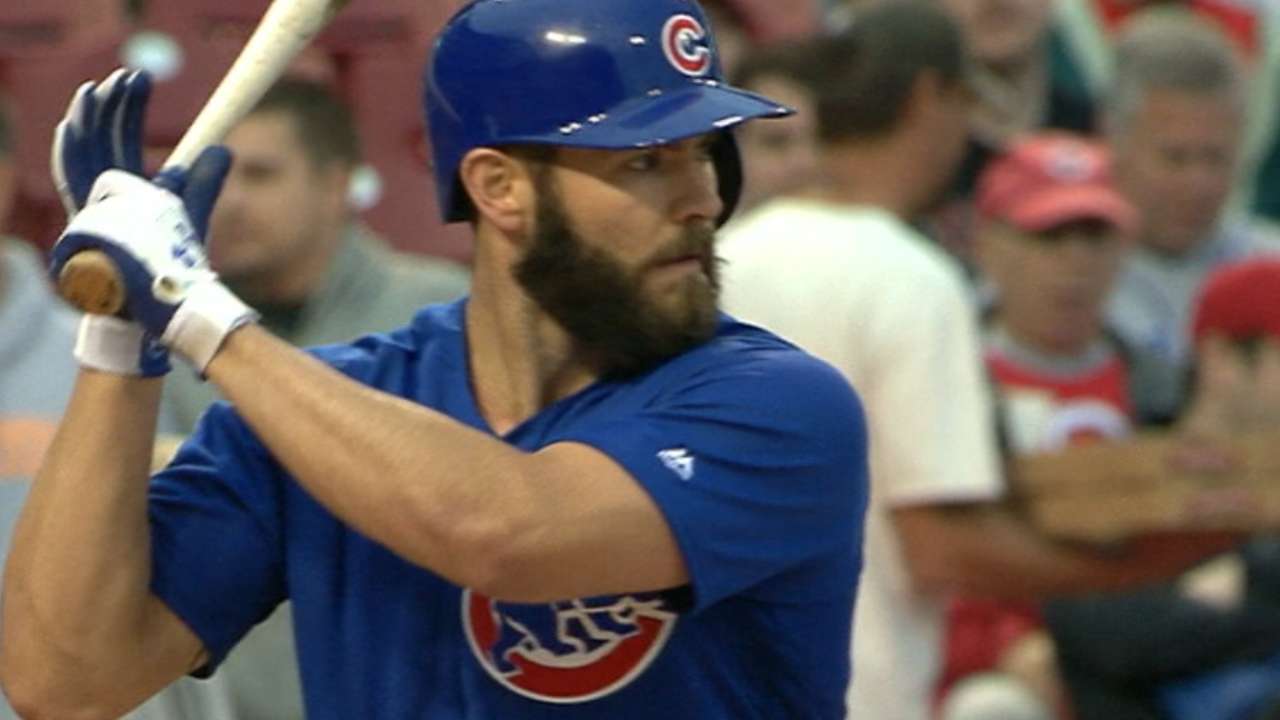 Last Aug. 30 at Dodger Stadium, Arrieta threw his first career no-no and the 14th in Cubs' franchise history. Now he has No. 15, and he's the third Cubs pitcher to record multiple no-hitters, joining Ken Holtzman and Larry Corcoran.
"It feels different the second time," Arrieta said. "I was a little more relaxed as the game progressed. Based on the way I threw the ball before the game started, I anticipated having to grind through some at-bats and some innings a little more than I did. I was able to get the ball in on left-handed hitters for some called strikes and then go below the strike zone when I needed to for some big swings and misses.
Jake Arrieta's second no-hitter
•
Pair-rieta: Jake's 2nd no-no a drubbing
•
Did you know? Facts from Arrieta's 2nd no-no
•
There's no-no doubting Arrieta's greatness
•
Rogers: Arrieta simply the best
•
Ross 'on cloud nine' after Arrieta's no-hitter
•
Arrieta 3rd Cub with multiple no-nos
•
Help yourself: Arrieta tallies two hits in no-no
•
No no-no is complete without defensive gems
•
Reds get no-hit at home for 1st time since '71
•
All-time no-hitters by club
•
Full game coverage
•
Flashback: Arrieta no-hits LA in August 2015
Sights & sounds
Arrieta's second career no-no
All 27 outs
Arrieta finishes no-hitter
#THIS: Arrieta no-hits Reds
Must C: Arrieta's 2nd no-no
Arrieta discusses no-no
Maddon on Arrieta
Ross on catching Arrieta
Game gallery
"You put it all together and have conviction with what you're throwing out there and good things can happen."
In Spring Training, Maddon and pitching coach Chris Bosio met with Arrieta, and they told him they were going to monitor his pitch count this year. The right-hander was coming off a season in which he threw a career-high 229 innings, and that doesn't include his three postseason starts.
After Arrieta had totaled 85 pitches through six innings, Maddon admitted he was a little concerned about whether the right-hander would finish what he started. But the manager also told pitchers this spring that if they were attempting to throw a no-hitter, pitch count wouldn't matter.
"You never want to interfere with somebody's greatness," Maddon said. "That's really special for him and the organization to have another no-hitter thrown. As a manager, you try to stay out of those moments."
Besides his two singles, Arrieta got plenty of offensive support as Kris Bryant matched a career high with six RBIs, hitting two home runs, including a grand slam, and Ben Zobrist, Anthony Rizzo and David Ross also added home runs as part of an 18-hit attack.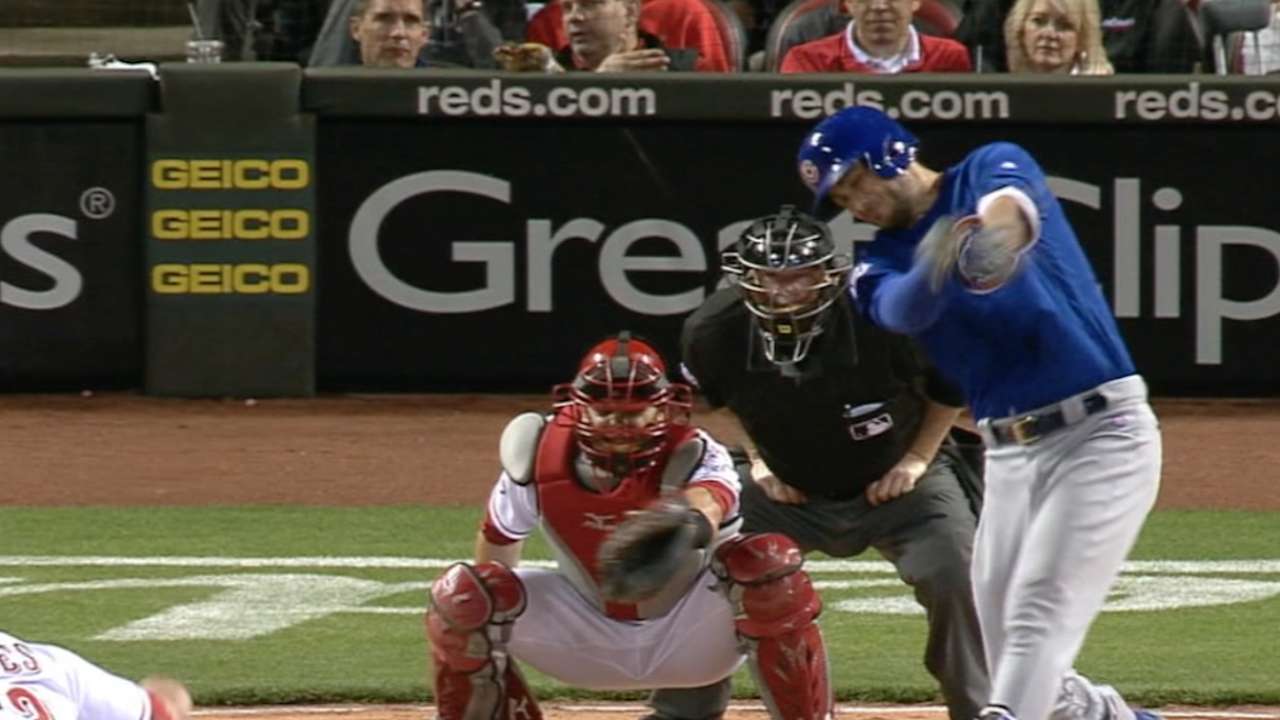 Maddon let Arrieta swing away in his first two at-bats, then asked him to take pitches later in the game. That was about the only advice the manager said.
"I kept giving him a fist-pump coming off the field like we normally did," Maddon said. "I didn't want to change that. There was really nothing to say. I wasn't going to ask him, 'How are you feeling?' I was just going to let it ride."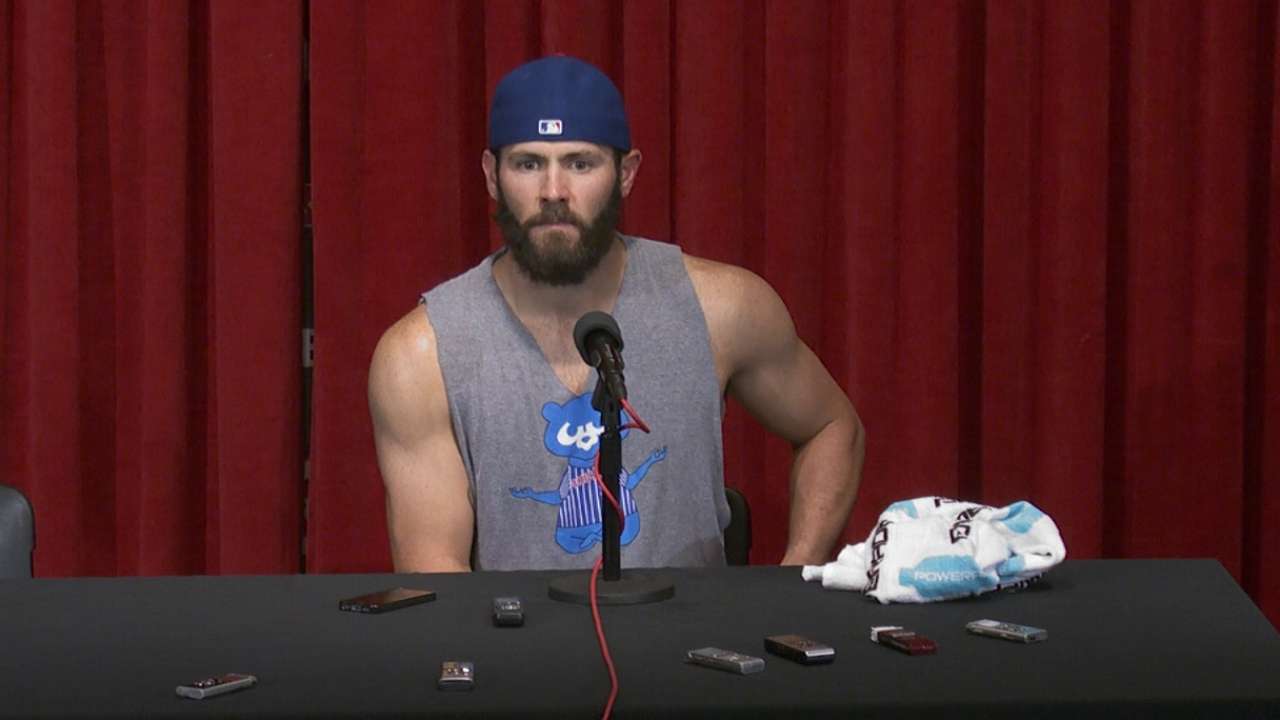 On April 22, 2013, the Orioles demoted Arrieta to the Minor Leagues. He had a 6.63 ERA at that point in the season after four starts. On July 2 that year, he was dealt to the Cubs, and he has thrived, winning the NL Cy Young Award last season with a 22-6 record and a 1.77 ERA.
Thursday was Arrieta's 24th consecutive quality start, and he now is 20-1 with a 0.86 ERA (17 earned runs over 178 innings) in those 24 games. He has hit as many home runs as he has served up in that stretch. Since Aug. 1, he is 15-0 and has given up seven earned runs over 119 1/3 innings.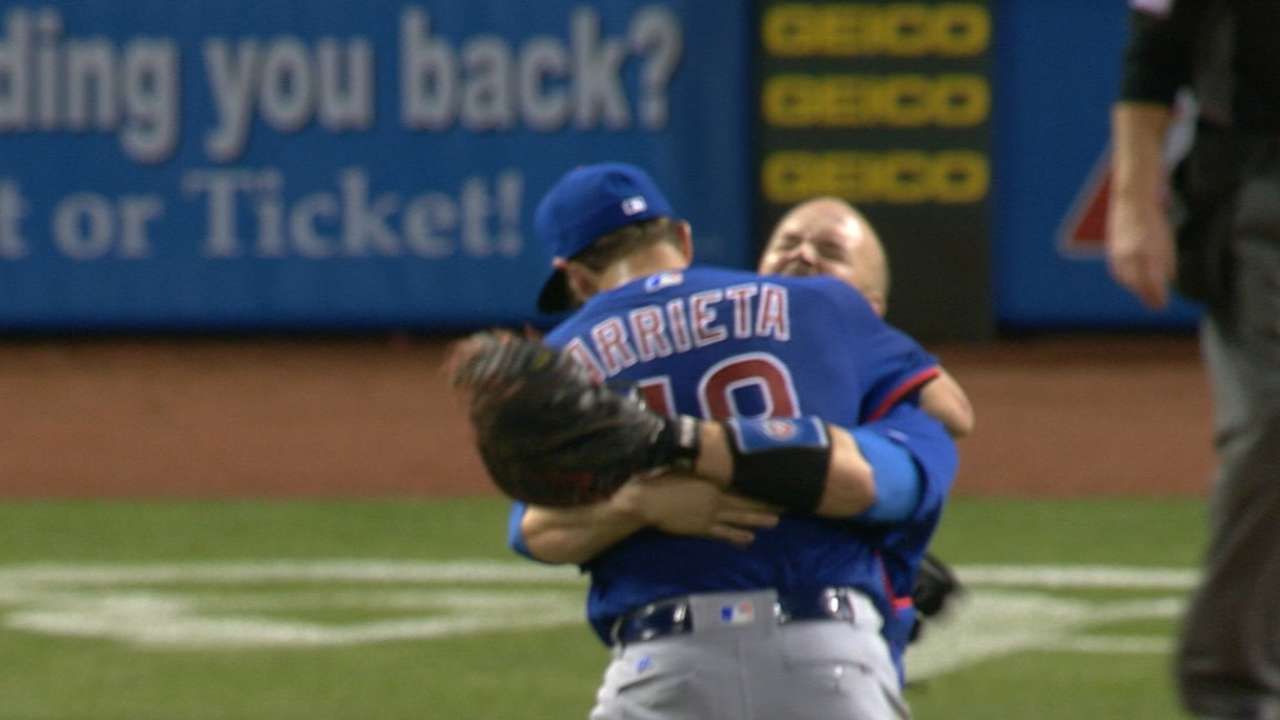 Arrieta may not have had his mustached onesie that he wore in Los Angeles last August -- part of Maddon's pajama party theme for the flight home -- but he was prepared to throw a no-hitter.
So ... pajama party? #TBT pic.twitter.com/KtVwsfMMwR

— Chicago Cubs (@Cubs) April 22, 2016
"I think that's a part of every pitcher's mental make up at this level [to think you can do it]," Arrieta said. "You have to expect certain things out of yourself. At the same time, be realistic in the sense that the guys on the other side are good, too. You're going to get beat and have some off-nights.
"The preparation is what allows the success to happen naturally. Even though you can't dictate the results, you can play a big part in the way certain things unfold. That's why I feel I have a good chance to win every time I take the mound."
Carrie Muskat is a reporter for MLB.com. She writes a blog, Muskat Ramblings. You can follow her on Twitter @CarrieMuskat and listen to her podcast. This story was not subject to the approval of Major League Baseball or its clubs.